When it comes to passing touchdowns, end-zone throws are where it's at. Simply put, receivers targeted in the end zone have the highest chance of scoring. The same thing can also be said for quarterbacks who throw to the end zone.
Despite their obvious importance, end-zone throws are a segment of passing attempt data that doesn't draw much attention from the football stat community. In fact, a quick google search on the topic yields no tangible results. There are some sites that display red-zone stats – which we've problematized numerous times on this site – but none that display how often quarterbacks throw to the end zone. That changes today.
One of the biggest benefits of what we do here at Pro Football Focus is the wealth of data we have at our disposal thanks to the tireless efforts of our many game charters. The "PFF era" goes back to the 2007 season, so I was able to take a look at the passing data for the last 11 seasons. My goal was to look at overall touchdown production and end-zone throws to see if there was any correlation between the two.
Since the 2007 season, 477 quarterbacks have attempted at least 100 passes in a single season. Here's what it looks like when we plot the touchdowns and end-zone throws from each of these quarterbacks.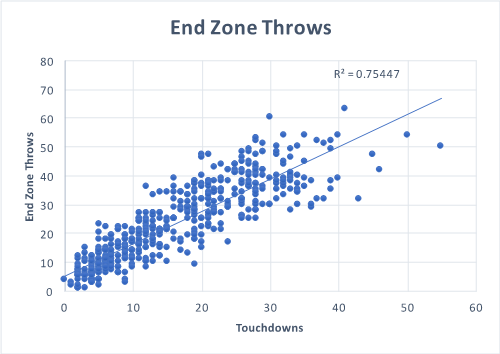 While the data doesn't form a tightly bunched line, there is significant clustering around the mean. Better yet, the r-squared value of over 75 percent suggests there's a strong correlation between these two pieces of data. It's complete fair to say that more times a quarterback throws to the end zone, the more likely he is to pass for a touchdown.
So which quarterbacks threw to the end zone the most over the last 11 seasons? Here are the top 10 signal-callers in end-zone throws over that span:
It isn't a surprise to see Stafford at the top of the list considering the sheer volume of passes he attempted in 2011. Stafford also has the most single-season attempts over the span of this study with 727 in 2012 – he threw to the end zone 47 times that season.
Stafford's 2011 campaign was one of just eight times a quarterback topped 40 passing scores since 2007. Of that group, only Andrew Luck in 2014 and Drew Brees in 2012 failed to throw to the end zone at least 40 times. Luck was just under that mark with 39, but Brees was the true anomaly with 43 passing scores while only throwing to the end zone 32 times.
Likewise, the top-10 list shows that passers who throw to the end zone at least 52 times are very likely to top 30 passing scores. While we have been somewhat spoiled by the passing productivity in recent seasons, let's not forget that 30 passing scores is a big number. Over the past 11 seasons, there's only one quarterback who topped 30 touchdown passes and did not finish as a top-12 fantasy quarterback: Derek Carr in 2015.
This past season, three quarterbacks threw for 30-plus scores: Russell Wilson (34), Carson Wentz (33), and Tom Brady. Those three finished first, seventh, and third, respectively, in fantasy scoring at the position. Where did this trio rank in terms of end-zone throws?
Among quarterbacks with at least 200 attempts, Wilson joined Ben Roethlisberger as the only other player with 50 end-zone throws. In fact, over the last 11 seasons, only 15 quarterbacks have topped this plateau with just three players from that group not topping 30 passing scores. Carr and Roethlisberger are displayed in the first table above. Stafford also narrowly missed 30 scores in 2013 when he had 29 on 51 end-zone throws.
After Roethlisberger and Wilson, there's a big dropoff to the trio of Cousins, Stafford (are we seeing a trend with him?) and Rivers. All three threw to the end zone 40 times, and not so coincidentally, all three finished as top-12 fantasy quarterbacks.
Winston, Ryan, and Brady are next on the list with 37 end-zone throws. Brady was significantly more efficient with his end-zone throws with a whopping 18 scores on end-zone throws. Only Wilson (22) and Wentz (19) had more. Ryan converted 12 of his end-zone throws for touchdowns and Winston had 13. These numbers suggest positive regression is in store for both players next season.
Perhaps one of the most interesting totals on this comes from Tyrod Taylor. It was a roller-coaster ride of a season for the Bills signal-caller, but he ended up tied with Carr for 12th among quarterbacks with 34 end-zone throws. That was more than Cam Netwon, Jared Goff, Alex Smith, Drew Brees, and Case Keenum, all of who finished ahead of Taylor in fantasy scoring. Remarkably, 13 of Taylor's 14 passing scores came on end-zone throws. That was, by far, the highest rate among quarterbacks last season, and it also suggests his receivers did very little to help out his cause.
More work will be done on end-zone throws in the offseason, but next up on our red-zone data analysis from the 2017 season, we'll tackle running back carries inside the red zone.