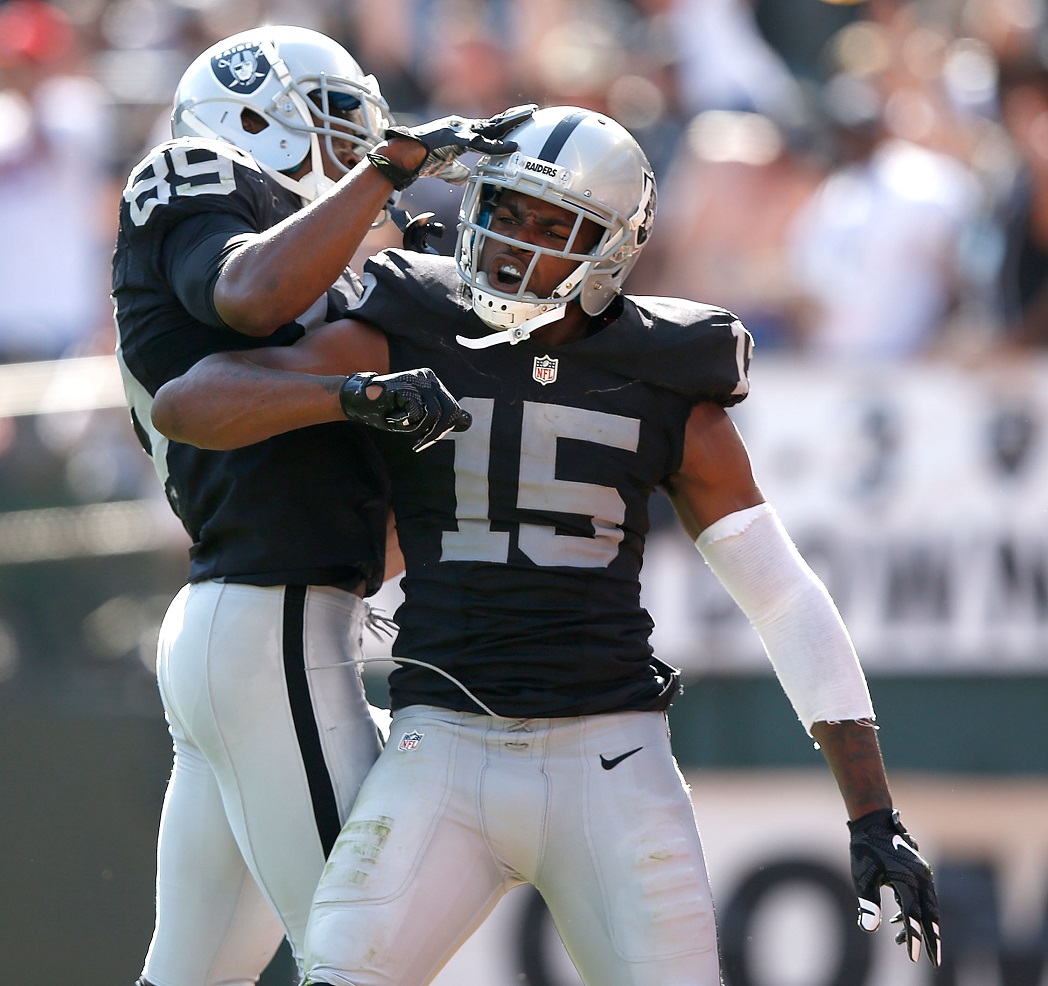 OAKLAND, CA - SEPTEMBER 20: Michael Crabtree #15 of the Oakland Raiders celebrates a touchdown in the third quarter with Amari Cooper #89 of the Oakland Raiders against the Baltimore Ravens at Oakland-Alameda County Coliseum on September 20, 2015 in Oakland, California. (Photo by Ezra Shaw/Getty Images)
A win in Week 16 of the 2016 season put the Raiders at 12-3, but it came at a costly price. QB Derek Carr broke his leg in the fourth quarter, leaving the season with a very unfulfilled feeling on what could have been a spectacular year. Back on the field and ready to pick up where he left off, Carr will look to build off 2016's success and see how far he can take this Raiders squad into the playoffs. Jack Del Rio will be entering his third season as the Raiders' head coach. He has put together a collective 19-13 record built around a rather well-balanced play-calling:
Team Offensive Stats

OAK
Rank
Lg Avg
Snaps/Gm
66.6
12
65.3
Pace (Sec/Sn)
25
22
24.28
Run %
40.8%
12
39.8%
Pass %
59.2%
21
60.2%
% Leading
34.2%
18
36.0%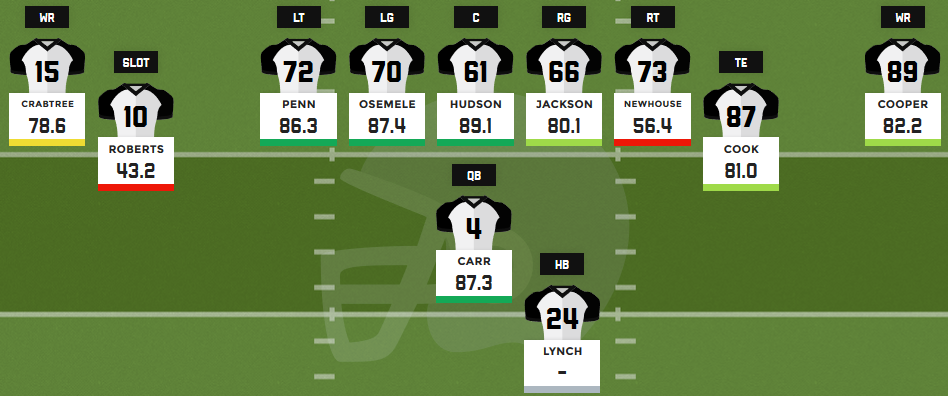 Quarterback
Carr continues an upward trajectory in his career and it's being reflected from a fantasy sense as well. Carr finished last year with eight top-12 weeks averaging 17.9 fantasy points per game (11th-highest). He threw multiple passing touchdowns in 8-of-15 and sported the lowest interception rate (1.1 percent) of his career. Carr may not be a plug-and-play QB1, but he'll certainly provide usable fantasy weeks. Carr's current ADP looks to be at his ceiling (QB6), considering the PFF Fantasy team has him ranked QB15.
Vacated Touches

2016 Touches
% Vacated
Carries
396
49.2%
Targets
566
10.8%
Total
962
26.6%
Running back
The Raiders leaned slightly more toward the run last year, and newcomer Marshawn Lynch figures to play an important part in this offense. The last time we saw Lynch on the field (2015), he posted an impressive 2.65 yards after contact per attempt, 14th-best in the league. That falls right in line with what the Raiders' collective backs did last year (2.69) among Latavius Murray (195 rush attempts), DeAndre Washington (87), and Jalen Richard (83). The offensive line is one of the best in the league, and we saw them excel in 2016 with inside zone and power runs. Those types of runs could be right up Lynch's wheelhouse with the potential to be heavily relied on in the red zone. Lynch is being drafted at the Round 3-4 turn, but it's very difficult to forecast how well he can do at 31 years old with a year off from football.

Washington looks like a great late-round option that should see snaps on passing downs with the potential for more if Lynch were to miss any time. Both Washington and Richard were top-10 in yards after contact per attempt and breakaway percentage (15-plus yard runs) last season. There's a lot of potential in this running game behind this terrific offensive line.
Rushing Stats

OAK
Rank
Lg Avg
YPC
4.42
10
4.18
YCo/Att
2.69
5
2.43
YBCo/Att
1.73
18
1.76
Inside Zone
29.3%
9
26.0%
Outside Zone
13.6%
30
27.7%
Power
26.3%
5
9.5%
Man
7.6%
17
15.0%
Wide receivers
There aren't many teams with a starting duo better than Amari Cooper and Michael Crabtree. Cooper's 2,223 yards through his first two seasons are the 12th-most in league history. Crabtree has led Oakland in red-zone targets (34), touchdowns (17), receptions (174), and overall fantasy points over the past two years combined. Both wideouts finished as top-12 receivers last season. That will be a tough task to repeat, but the two remain very viable fantasy receivers at their respective ADPs. However, the depth behind them isn't that appealing. Oakland just extended Seth Roberts (three years, $12 million) as their WR3. Roberts ran 80 percent of his routes from the slot last year, and is coming off back-to-back five-touchdown campaigns. The Raiders ran three-receiver sets 12th-most in the league last year (58.4 percent), but Roberts doesn't see enough volume (4.8 targets per game last year) to warrant much fantasy consideration. The team also added Cordarrelle Patterson over the offseason, but he's difficult to recommend in even the deepest of leagues.
Wide Receiver Sets

%
Rank
Lg Avg
Throw%
Rk
Lg Avg
2-Wide
21.4%
21
24.5%
42.1%
16
45.0%
3-Wide
58.4%
12
55.5%
67.5%
16
66.1%
4-Wide
2.5%
7
2.9%
96.3%
12
81.6%
Tight end
Oakland added Jared Cook from the Packers in free agency, signing him to a two-year, $10.6 million contract. Oakland rarely utilized their tight ends last year, with the position seeing just a collective 13.9 percent target market share. Cook is a major upgrade over Clive Walford from our Player Grades (Cook – TE11, Walford – TE60), and we could see a big difference in usage from the tight end position for the Raiders in 2017. When the Raiders used tight end formations last season, they weren't afraid to throw the ball as evidenced below. While the team should incorporate the tight end position more in the passing game, Cook doesn't necessarily garner much fantasy interest. Cook could buoy his fantasy relevance with touchdowns, playing in an offense that ranked top-10 in both red-zone trips last year (3.4 per game) and red-zone pass-play percentage (60.9 percent). Cook is a mid-range TE2 heading into the season.
Personnel Groupings

%
Rank
Lg Avg
Throw%
Rk
Lg Avg
11
50.0%
24
53.5%
69.4%
12
33.5%
12
5.8%
32
15.6%
59.7%
9
50.2%
21
4.3%
20
6.9%
63.0%
7
62.5%
(Keep up with all of PFF Fantasy's draft strategy and advice here!)