We're heading into Week 12 of the fantasy football season, and it's time again to look for streaming defenses to add off the waiver wire.
Week 11 was a topsy-turvy affair from a DST standpoint as well as an NFL one. There was a slew of victories for teams that have been scuffling of late.
Let's give a tip of the cap to the Lions, Raiders, NY Giants, and Broncos for their somewhat surprising Week 11 victories. From a DST standpoint, both the Giants and Broncos put up top-12 fantasy totals in most scoring formats.
This is the last week of byes, and we will be without the Chiefs and Rams DST units. Let's take a look at some of the top DST streaming options for Week 12.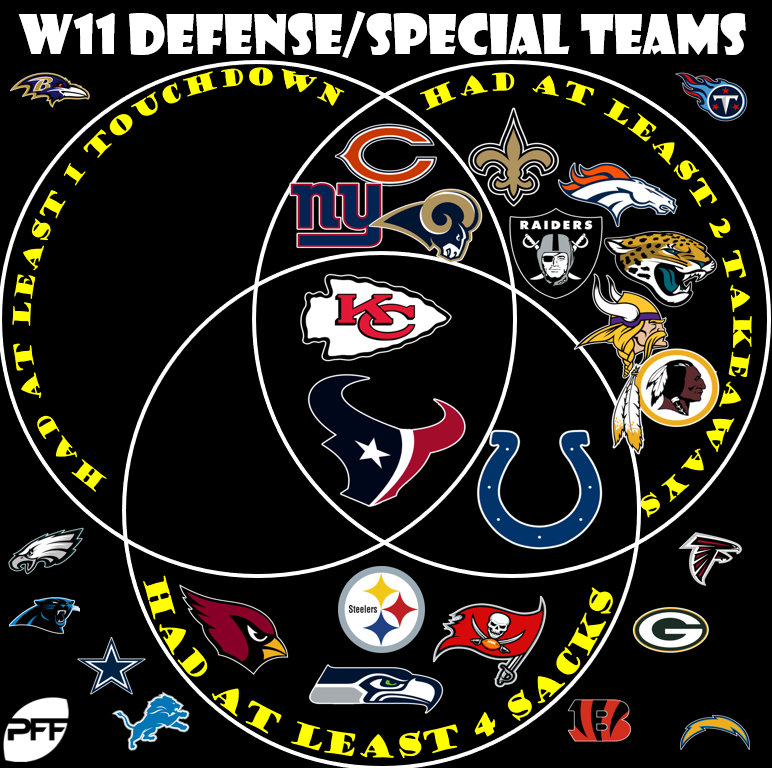 This is a prime matchup for New England's DST unit to shine in Week 12. It won't matter if it's Sam Darnold under center or the veteran Josh McCown, as this is simply an offense that struggles. In Weeks 6-10, the Jets allowed 13 sacks while turning the ball over 12 times and gave up a defensive touchdown. In that same time span, the Patriots DST has been on fire, putting up eight sacks, seven turnovers, a defensive touchdown, and two special teams scores. The Patriots will have a field day and are a must-stream option this week.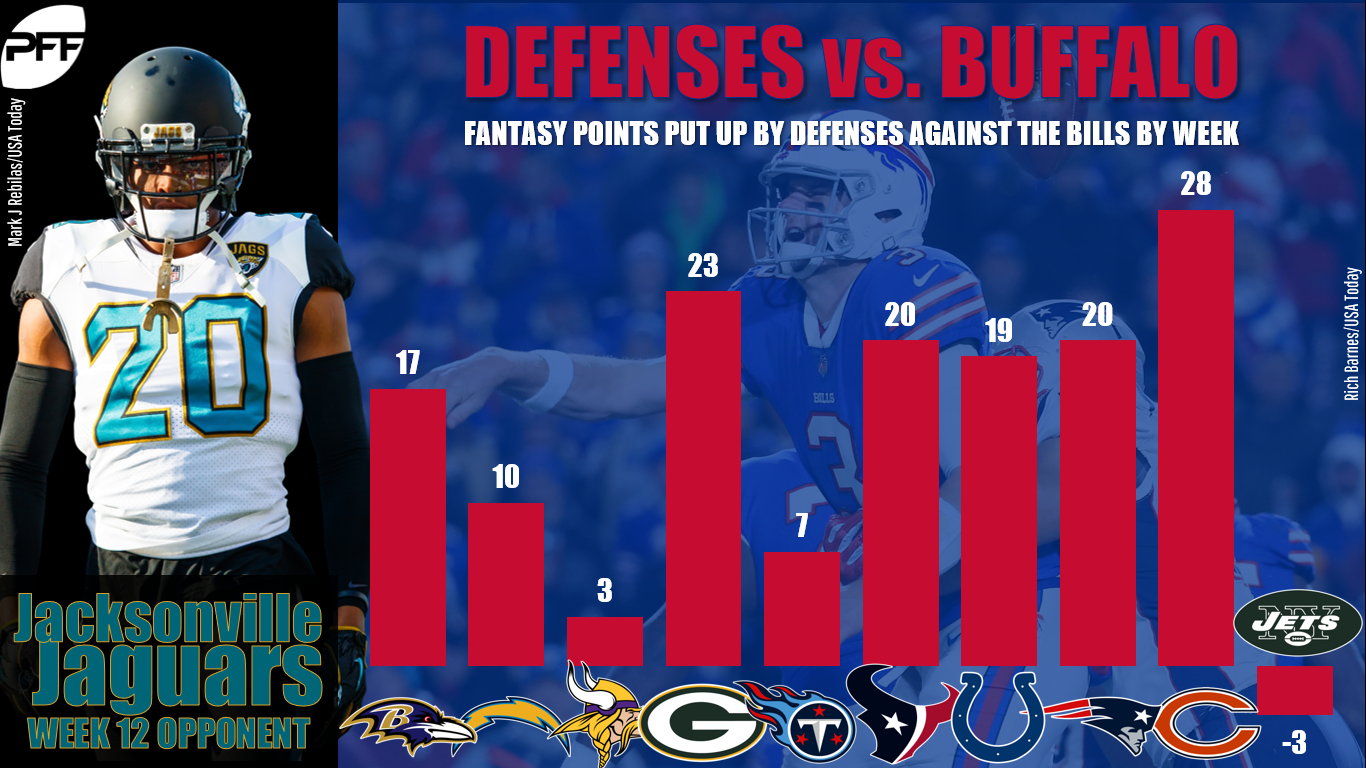 It's uncertain if rookie Josh Allen will start for the Bills this week, but we stream against this offense regardless. It has been a down season for the Jaguars, but this is a matchup for their DST to have a big game. Let's consider the Week 10 blowout victory over the Jets as an outlier game for the Bills as they have allowed six DST units to post double-digit fantasy totals. The Jaguars managed to pick off Ben Roethlisberger three times in Week 11 and put up a pair of sacks. The Bills have allowed 34 sacks on the season and thrown 16 interceptions while allowing four defensive touchdowns.
The terrible leg injury suffered by Alex Smith is a big blow to the Washington offense moving forward. Veteran backup Colt McCoy will now take over, boosting the Cowboys' chances for a big Week 12 performance. McCoy has appeared in 39 games over his career and turned the ball over 24 times. The Washington offensive line has been a bit suspect of late and allowed five sacks in the Week 11 loss to the Texans. The Cowboys DST has been producing top-12 fantasy numbers over the past three games with nine sacks and four turnovers.
The Cardinals continue to turn the ball over on a consistent basis, as rookie Josh Rosen threw two more interceptions in the Week 11 loss to Oakland. Rosen has now turned the ball over 12 times in the season and will be facing an angry Chargers defense this week. It will also be a Chargers defense that will likely feature a higher snap count for defensive end Joey Bosa. The Chargers failed to record a sack in their Week 11 loss to the Broncos but Bosa was credited with a quarterback hurry and a hit as he played 31 snaps. Look for a bigger workload for Bosa this week and for a pressured Rosen to be forced into a turnover or three.
The Buccaneers continue to be the gift that keeps on giving when it comes to allowing points to opposing DST units. The musical chairs continue at quarterback as Ryan Fitzpatrick was benched in favor of Jameis Winston after his third interception (one returned for a touchdown) last Sunday. True to form, Winston brought the interception total for the week to four with one of his own. Tampa Bay now has now thrown a league-high 23 interceptions and has given up multiple interceptions in eight straight games. The 49ers defense hasn't been a force to reckoned with but has generated 34 total quarterback pressures in their past two games leading to nine sacks. No sense in breaking down this defense more than that as we roll out whatever DST is lining up against Tampa Bay.
After a pair of strong performances against New England and Dallas, the Titans offense took a big step backwards in their Week 11 loss to the Colts. The Titans allowed five sacks against Indianapolis and threw a pair of interceptions. That bodes well for a Texans defense that has been bringing the heat on opposing quarterbacks over the past three games. The duo of J.J. Watt and Jadeveon Clowney has been credited with 24 total quarterback pressures and combined for five sacks in that time. Also working in Houston's favor is that Marcus Mariota is dealing with a stinger and may not be under center this week. The Titans offense is in for another long day in this Week 12 divisional matchup.
Indianapolis Colts (vs. Miami)
This is the deep sleeper streamer of the week. We're riding the hot hand here as the Colts DST unit is coming off its first top-10 fantasy finish since Week 7. The Colts have won four straight games and led by Jabaal Sheard (1.5 sacks) finished Week 11 with five total sacks and two interceptions. The Dolphins are heading in the opposite direction, having lost three of their last four games. In the last two games the Dolphins have allowed 10 sacks and turned the ball over twice. It's uncertain if Ryan Tannehill will be ready for this Wee 12 matchup, but whoever starts for Miami is likely to be under pressure, as the Colts had 25 total pressures in Week 11.
This is the short and sweet up/down theory streaming option of the week. The Broncos held the Chargers DST unit to a goose egg last week, keeping Case Keenum sack-free for the first time this season. I don't see that happening against a Steelers defense that has racked up 11 sacks over the past two games. A pressured Keenum will make mistakes and this unit productive from a fantasy standpoint.