As we head into Week 11 of the NFL season, byes and injuries and surprise performances have changed the defense/special teams landscape in fantasy football, meaning we need to be on the serious lookout for units worth streaming.
Let's face it: Week 10 was a bit brutal for DST units in general. There was a single defensive touchdown scored all week. In most balanced-scoring formats, there were 12 teams that scored three points or fewer. Ugh.
There is a light at the end of the tunnel, as there are just two more weeks until we will say goodbye to the bye. Unfortunately, Week 11 has six teams on a bye and quite a few of our favorite offenses to stream against. It is very slim pickings from a streaming standpoint this week.
The teams sitting out Week 11 are Buffalo, Cleveland, Miami, New England, NY Jets and San Francisco. Ouch.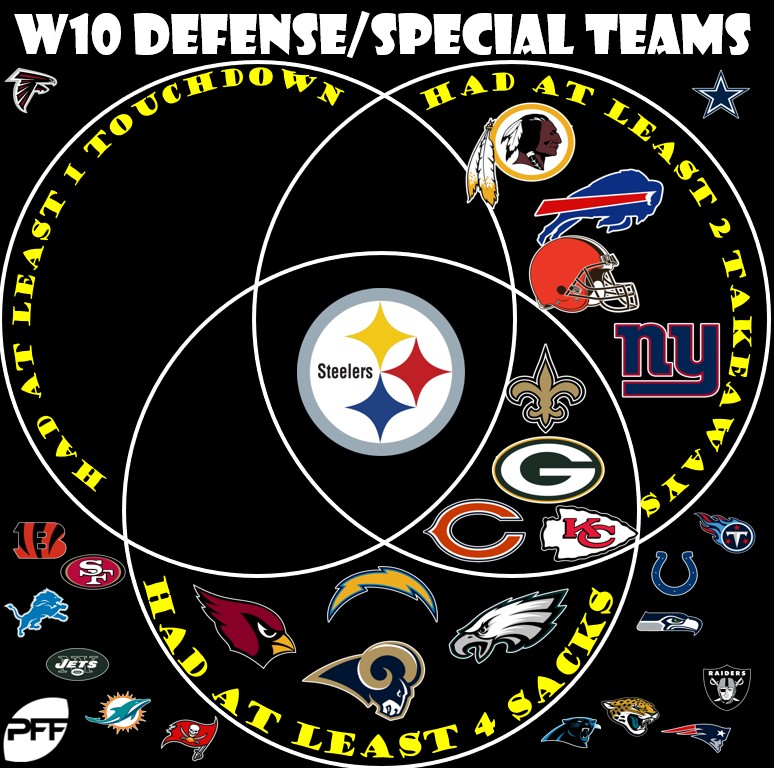 Let's take a look at the Week 11 streaming DST options.
It's time to make room for another offense that should be streamed against on a weekly basis. Due to injuries and some underwhelming play, the Lions offensive line has broken down over the past few weeks, and the offense is struggling mightily. Detroit had not allowed more than three sacks in a game through eight weeks, but has given up 16 in the past two games. Over the last three games the Lions have given up 19 sacks, seven turnovers, and a defensive touchdown. Look for a big week from Mario Addison and company as the Panthers defense rolls up big fantasy numbers at Detroit.
The Raiders haven't found the end zone in their past two games and this is another offense to chase on a weekly basis for streaming purposes. The Cardinals defense hasn't been creating many big plays of late but did manage to get to Patrick Mahomes for five sacks in their Week 10 loss to the Chiefs. Derek Carr has been sacked 12 times in the past two games and 28 times on the season. Both of the offenses in this game are likely to struggle and I can see the Cardinals' pass rush racking up multiple sacks and forcing Carr into at least one turnover.
The Steelers DST has been producing top-10 fantasy numbers over the last three weeks, excelling in all facets of the game. In their Week 10 victory over the Panthers, the Steelers put up five sacks, a fumble recovery, and an interception return for a touchdown. Over the last three games, Pittsburgh is averaging 24 total quarterback pressures and have produced nine total sacks. There is also the Blake Bortles factor at play — though he has now gone two straight games without a turnover. That streak is unlikely to continue against a surging Steelers defense that is poised for a big Week 11.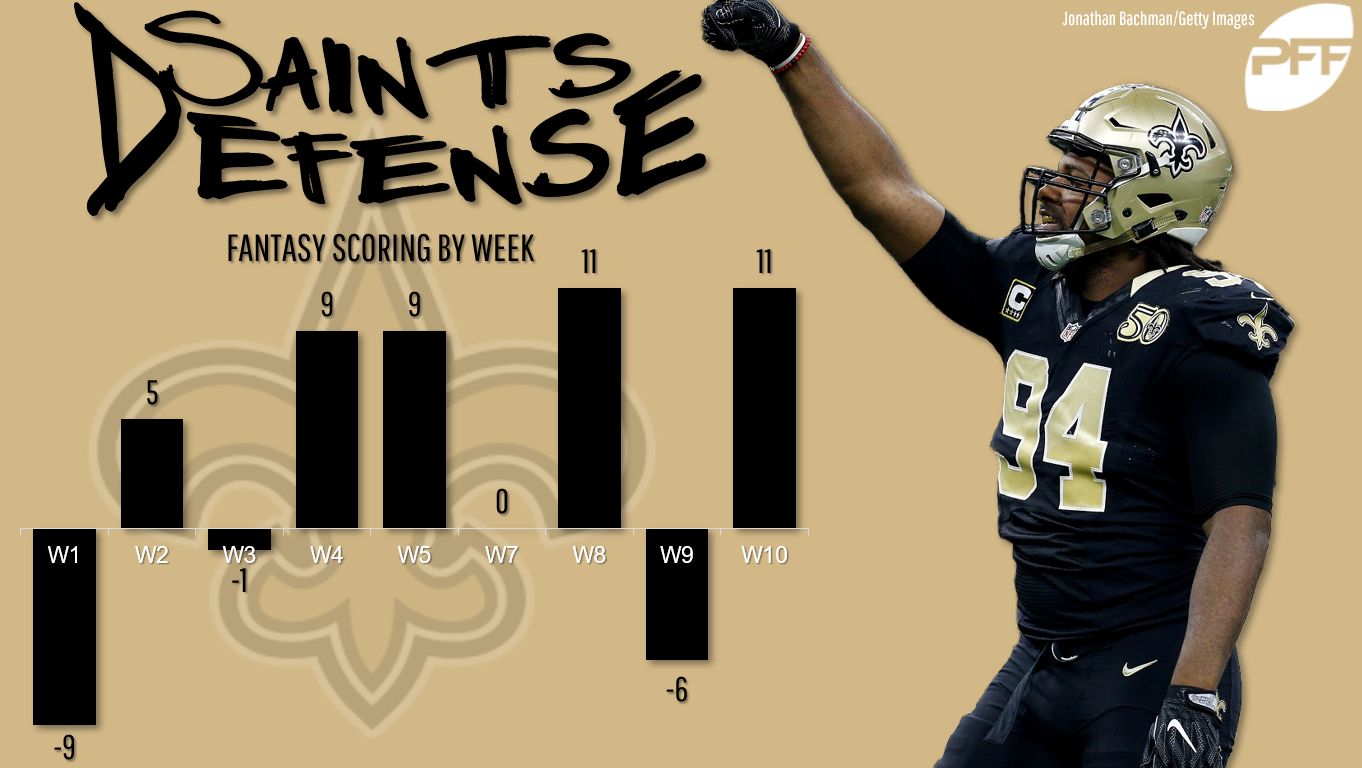 A slow start to the season has the Saints DST currently sitting outside the top-20 in most standard scoring formats. However, a closer look reveals that New Orleans has been putting up top-10 fantasy production over the past three games. In that time, the Saints have posted four sacks in two of the games while also intercepting four passes and have a defensive touchdown. The Saints potent offense forces teams to throw more than they'd like leading to sack and splash-play opportunities. In their last three games the Eagles have turned the ball over four times and are allowing an average of three sacks per game.
Short and sweet special of the week. Always start the DST unit facing the Buccaneers … always. No matter who is under center for Tampa Bay (it appears that it will be Ryan Fitzpatrick) or who is calling the plays, they continue to turn the ball over on a regular basis. In their Week 10 loss to Washington Tampa Bay turned the ball over four times. A closer look reveals that the Buccaneers have turned the ball over at least two times in eight of their nine games in 2018. This is an offense that just keeps on giving out fantasy production to their opponents so stream the Giants with confidence in Week 11.
This is a nice matchup between division rivals that features a surging DST unit facing an offense that can be turnover-prone. Despite the absence of defensive end Joey Bosa, the Chargers have put together back-to-back four-sack performances. More importantly, Los Angeles has put up three top-12 fantasy performances in their past four games. The trio of Melvin Ingram, Darius Philon, and Uchenna Nwosu have been credited with 75 total quarterback pressures this season and that bodes well against Denver. When he's been under pressure, Case Keenum is completing just 49% of his passes with two touchdowns and three interceptions. The Broncos have turned the ball over four times in the past three games and an average of three sacks per game.
Did I mention this week is thin with streaming DST options? Let's call this the Hail Mary, deep-sleeper selection of the week. Obviously, this is not based on the Raiders DST unit playing well (it isn't) but on the Cardinals' tendency to turn the ball over. In the past three games Arizona has turned the ball over nine times and allowed a pair of defensive touchdowns. The Cardinals have also given up 14 sacks in the past three games, so the Raiders' paltry pass rush may even stumble into a sack or two. This is definitely a "Do you feel lucky?" option for Week 11.