We're back again for our weekly check-in on streaming defense/special teams options in fantasy football. We can't all be so lucky and own the New England Patriots defense, a legitimate league-winner. And, I'm sure, not all of you listened to me earlier in the year and held onto San Francisco's defense — a likely top-three defense all year. For everyone else, you may want to consider streaming defenses.
Earlier this offseason, I recommended this approach, and outlined my preferred strategy for streaming defenses week-to-week. Obviously, we're looking to target good defenses against bad or inexperienced quarterbacks. Bonus points are awarded to defenses heavily favored and/or playing at home. Beyond that, the stats that matter most are opposing passer rating vs. passer rating and sacks per dropback vs. sacks per dropback allowed.
Each week in this space we'll be looking at the top team defenses available on your waiver wire (roughly 50% owned or less on Yahoo) to add for the upcoming week.
Here are the defenses you should be looking to add in Week 10:
@ Cincinnati Bengals (-10.0)
After finishing fifth in fantasy points per game last year, Baltimore's defense hasn't been nearly as productive for fantasy in 2019. However, they still have all the makings of a top real-life defense on paper, ranking second-best in rushing yards allowed per game (83.0) and sixth-best in opposing passer rating (84.5). At the very least, they're an easy bet for top-five production this week. With Andy Dalton under center, Cincinnati's offense ranked fifth-worst in sacks per game (3.6), sixth-worst in turnovers per game (0.9), and seventh-worst in fantasy points allowed per game (10.1). Now, with the Bengals fully embracing tank mode, with a fourth-round rookie quarterback making his first career start, Baltimore's defense should feast.
vs. Miami Dolphins (-11.0)
Pretty much every time a defense is less than 50% owned and playing against the Dolphins, you're going to be seeing its name near the top of this column. That's because Miami is giving up 15.3 fantasy points per game to opposing defenses, which ranks second-most among all offenses, and would rank second-most among all defenses. Indianapolis, of course, is no exception. They rank eighth-best in passing yards allowed per game (246.8) but have been more susceptible on the ground. Luckily, that shouldn't be an issue this week, against Kalen Ballage and his 2.0 yards per carry. Indianapolis is a safe bet to finish top-five at the position this week.
@ New York Jets (-2.5)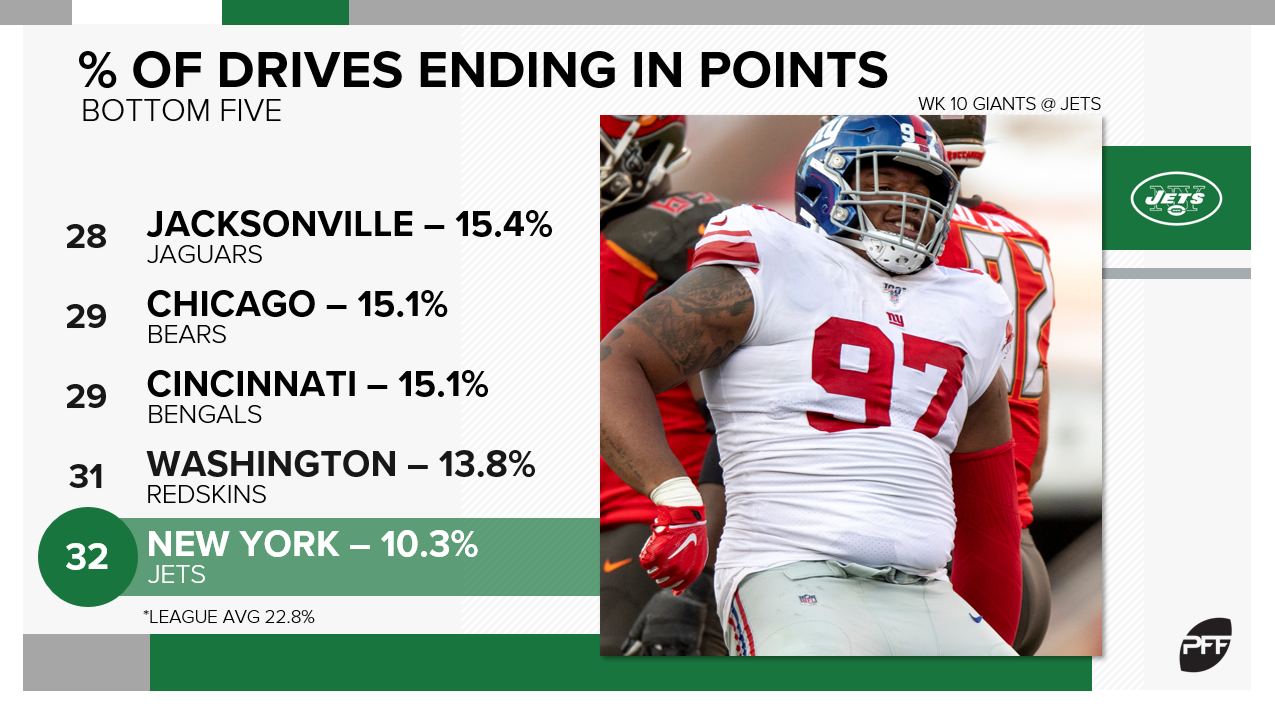 At least for fantasy purposes, the Giants' defense has probably been better than you'd expect. They rank 12th in fantasy points per game (7.2). Meanwhile, the Jets' offense has also probably been worse than you'd expect — unless of course you knew they were the worst offense in the league. The Jets are giving up a league-high 16.6 fantasy points per game to opposing defenses. Sam Darnold might not be the worst quarterback in the league, but he is playing behind the league's worst offensive line. The Jets rank worst in pressure rate (44.4%), worst in sack rate (12.5%), worst in points per drive (0.73), and third-worst in turnovers per game (2.1). Even the lowly Giants should be viewed as a borderline top-six fantasy defense this week.
@ Tennessee Titans (-3.5)
Kansas City's defense ranks 13th in fantasy points per game, and, for whatever reason, second in road fantasy points per game (13.3). Kansas City also ranks ninth in sacks per game (2.9), while Tennessee's offensive line ranks second-worst in sacks allowed per dropback (10.8%). Tennessee has been slightly better with Ryan Tannehill than Marcus Mariota, but they're still giving up the 10th-most fantasy points per game to opposing defenses (7.9). If Patrick Mahomes is back this week, expect the spread to move even farther in Kansas City's favor, and for Kansas City's defenses to approach top-seven production. If Mahomes is out again, they'd still be the No. 4 option of the week, though I'd bump them down a tier.