(This is our Fantasy Lookback, a review of the top fantasy football seasons at each position for each franchise over the last decade of NFL action. We'll look at some big names that are still going and some who have been gone long enough that they're in the Hall of Fame. Today: The Tennessee Titans)
It hasn't been a banner 10 years for the Titans. The team has one playoff appearance in the 10 years — a 9-7 Wild Card year in 2017 — with five losing records and no years with double-digit wins or first-place finishes.
It's an even worse stretch when you compare it to the 10 years before that. From 1999 to 2008, the Titans had three first-place finishes, six playoff appearances, and one of the most exciting Super Bowl losses of all time. It was one of the league's top franchises. Now? Well, it's definitely still around.
Let's take a look at the best Titans fantasy seasons of the last decade.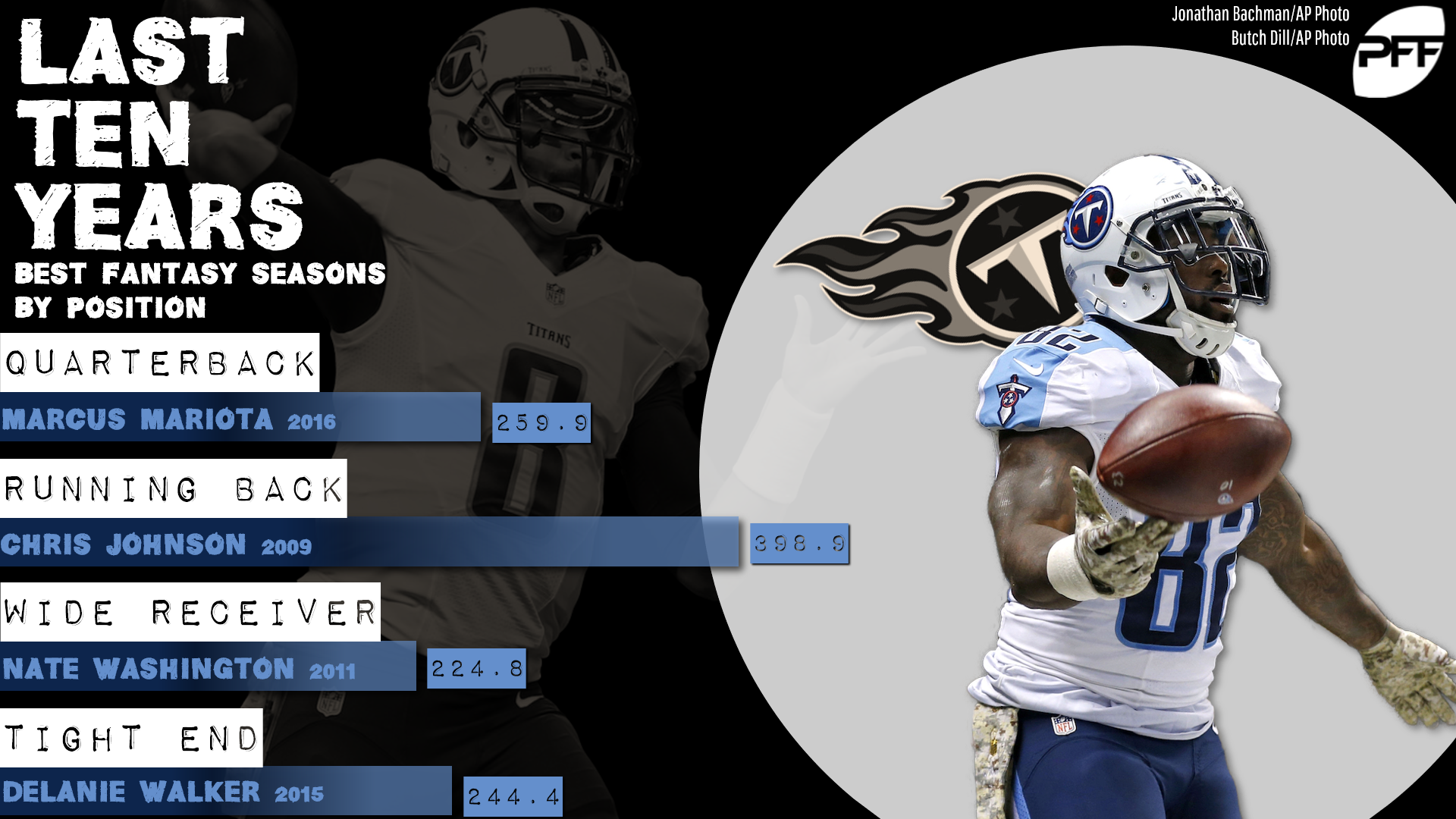 (Follow along with the whole series here.)
Quarterback
(276-451 passing, 3,426 passing yards, 26 TD, 9 INT, 342 rushing yards, 2 TD, 331.7 fantasy points, QB11)
More was expected out of Mariota after the Titans made him the second overall pick in the 2015 draft. He has four of the top five Titans QB seasons over the last 10 years, but the only other team his 2016 would lead is the Browns, and that was almost 50 points clear of his second-best season. The Titans have not had a good run at the quarterback position, and while 2016 featured Mariota's career high in passing yards and touchdowns, it wasn't even a top-10 season that year.
Running back
Chris Johnson, 2009
(358 rushes, 2,037 rush yards, 14 TDs, 50 receptions, 503 receiving yards, 2 TDs, 398.9 PPR points, RB1)
Johnson's 2009 was dominant, the best Tennessee running back season over the last decade by more than 100 full points and the second-best season by any running back in the last decade, behind only David Johnson's 2016 (a team that, coincidentally, also had Chris Johnson). It was the season that gave Chris Johnson his CJ2K nickname, and while he never cleared that threshold again, it's hard to hold that against him — 2,000 is a whole lot of rushing yards. He finished the 2009 season almost 70 points ahead of the second-place running back.
Wide receiver
Nate Washington, 2011
(74 receptions, 118 targets, 1,023 yards, 7 TDs [plus 1 rushing], 224.8 PPR points, WR15)
Random tight ends on non-TE-dominant teams aside, Washington is probably the most unlikely name to appear anywhere in this series. He had a perfectly fine career — 10 seasons, at least 500 years in all of them but one, almost 7,000 career yards — but his appearance here is more of a testament to the mediocrity of Tennessee's receiving options over the last 10 years. Kendall Wright in 2013 and Rishard Matthews in 2016 are the only other Titans receivers to reach even 200 PPR points since 2009. Can the Corey Davis/Adam Humphries duo do some damage starting in 2019? It doesn't have a high bar to clear.
Tight end
(94 receptions, 130 targets, 1,088 yards, 6 TDs, 244.4 PPR points, TE3)
Walker played the first half of his career as Vernon Davis' backup in San Francisco, little-used as a receiver and a non-entity for fantasy. He joined the Titans in 2013 and spent the next five years near the top of the TE leaderboard, a streak he might have continued in 2018 if not for a Week 1 season-ending injury. But he peaked in 2016, his lone season over 900 yards and with a career-high (by 20!) in receptions. The Titans, 49ers (George Kittle's 2018 over Michael Crabtree's 2012), and Eagles (Zach Ertz' 2018 over Jeremy Maclin's 2014) are the only years whose best tight end season over the last decade is better than their best wide receiver season, with Walker over Washington the biggest separation.