(This is our Fantasy Lookback, a review of the top fantasy football seasons at each position for each franchise over the last decade of NFL action. We'll look at some big names that are still going and some who have been gone long enough that they're in the Hall of Fame. Today: The Dallas Cowboys)
The Cowboys have four division titles in the last 10 years. They did that despite never winning the division in back-to-back years, which is a tough feat — I couldn't find any team in NFL history to win four division titles in 10 years without any consecutive titles (the Chiefs once did four in 11 years; the Eagles and Giants each once did four in 12). Making matters worse, the Cowboys sandwiched a 4-12 last-place 2015 season in between titles in 2014 and 2016, and has only had one season above .500 in the last decade without making the playoffs.
Is there a grand point to that? I'm not sure, but this is definitely a boom/bust franchise; the Cowboys haven't won consecutive division titles since 1995-1996, haven't made consecutive playoffs since 2006-2007. If those trends continue — and that's a big if, as there's no real predictive value in that information — Dallas could see some 2019 regression.
Let's take a look at the best Cowboys fantasy seasons of the last decade.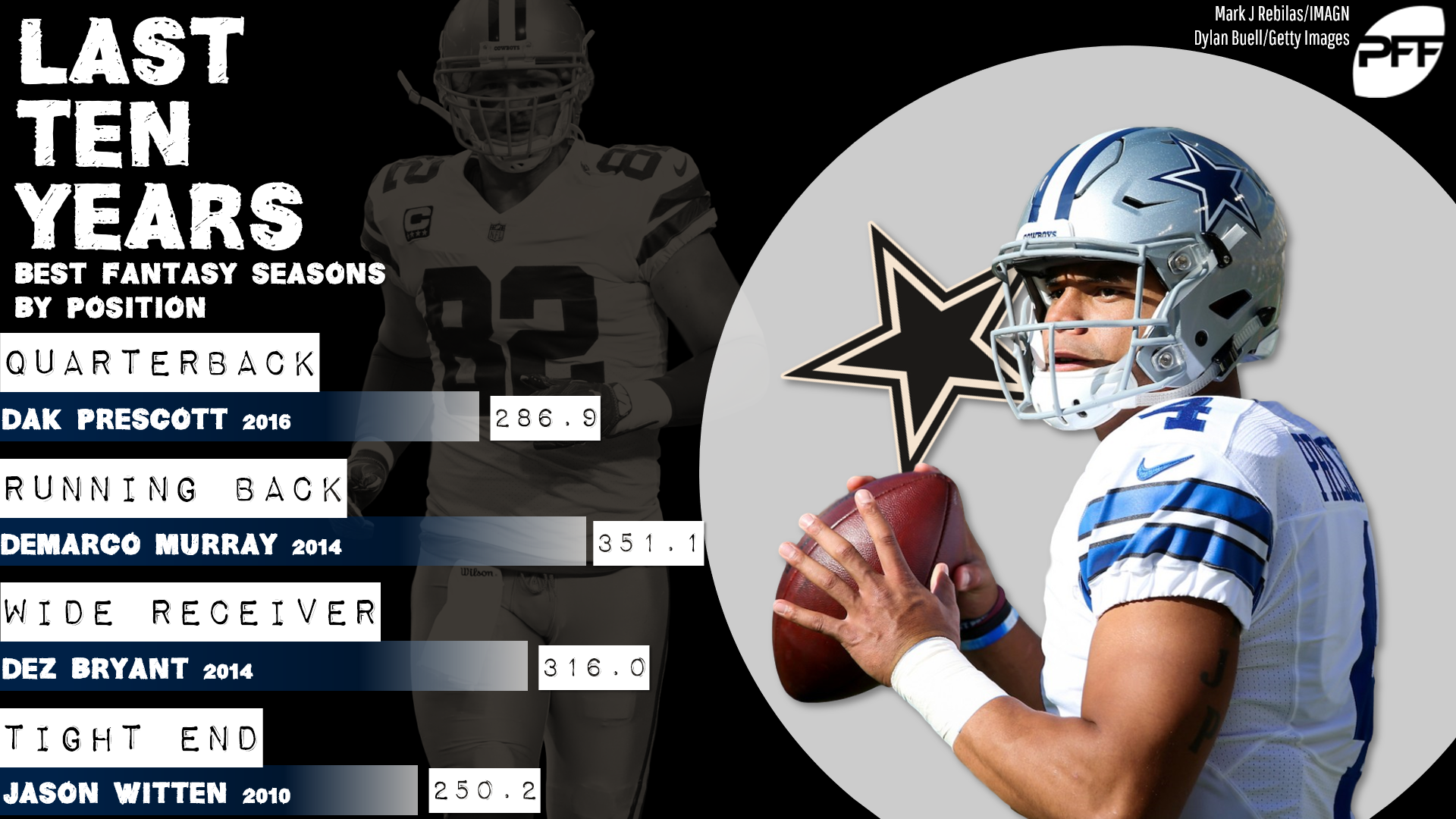 (Follow along with the whole series here.)
Quarterback
(311-459 passing, 3,667 passing yards, 23 TD, 4 INT, 281 rushing yards, 6 TD, 286.9 fantasy points, QB6)
The Colts going from Peyton Manning to Andrew Luck and the Patriots going from Drew Bledsoe to Tom Brady get the publicity, but the Cowboys stumbling into Prescott right as Tony Romo's injuries got the best of him is just as remarkable. Prescott was a fourth-round flyer pick for the Cowboys in 2016, a guy with lots of potential but one who wasn't supposed to see the field much for a long while. Instead, he got the job straight away, and while he hasn't been a superstar in his three years, he's been inside the top 10 fantasy QBs all three.
Running back
DeMarco Murray, 2014
(392 rushes, 1,845 rush yards, 13 TDs, 57 receptions, 416 receiving yards, 351.1 PPR points, RB2)
Notable things about Murray's 2014:
Most fantasy points since 2003, and fourth-most all-time, without a receiving touchdown;
Eighth-most carries in a season ever;
Most carries in a season since 2006;
One of only two seasons in his career when he played 16 games.
He'd never have a season like that 2014 again, but then he didn't really need to.
Wide receiver
(88 receptions, 135 targets, 1,320 yards, 16 TDs, 316.0 PPR points, WR4)
Only 20 players have ever had a season with at least 16 receiving touchdowns, and Bryant is the most recent. He never had a season like that again, as the injuries started in 2015 and he only caught 17 more touchdowns the rest of his career (assuming he doesn't return from last year's Achilles injury), but that 2014 season capped a three-year run with 41 receiving touchdowns, the only time since Randy Moss scored 47 in 2007-09 that a player has topped 40 over a three-year stretch
Tight end
Jason Witten, 2010
(94 receptions, 123 targets, 1,002 yards, 9 TDs, 250.2 PPR points, TE1)
Blake Jarwin's 2018, in which he caught three touchdowns in Week 17 after being essentially invisible the entire season before that, is the best Cowboys fantasy TE season in the last decade by a tight end not named Jason Witten. He has all the first nine on the list. But none was better than his 2010, when he scored a career-high nine touchdowns and let all tight ends in fantasy scoring by almost 60 full points. And now that he's back, maybe he'll jump onto the list again.