We're now in Week 14 of the NFL season. To help prepare, here's my weekly look at the top starts and sits for fantasy football players in IDP leagues.
Week 14 kicks off Thursday night, and things just got real. The fantasy football playoffs are now officially underway. Congratulations to all IDP owners that are still making lineup decisions and chasing their respective league championships.
Let's keep this introduction short and sweet and take a look at the IDP start/sit selections for Week 14.
Defensive linemen
Start
Cameron Heyward, Pittsburgh Steelers (@ Oakland)
This is a great matchup for Heyward to get back on track after a bit of a down showing in the Steelers' Sunday night loss to the Chargers. In the last three games the Raiders have given up 44 total tackles as well as 4.5 sacks and two forced fumbles to the defensive line position. Despite the hiccup last week Heyward has been trending in the right direction for fantasy purposes. Over the past four games, Heyward has 15 total tackles, 3.5 sacks, a forced fumble, and two batted down passes. In that time, Heyward is averaging 4.25 total quarterback pressures per game. Look for that pressure to translate to fantasy production in Week 14.
Denico Autry, Indianapolis Colts (@ Houston)
This is not simply a case of chasing the incredible 6/1/7, three sacks, and two forced fumbles Autry put up in his Week 13 stat line. Those numbers landed Autry atop the defensive line position for fantasy purposes last week. Despite battling both ankle and hamstring issues, he is putting together a career-best season in his first year with the Colts. Appearing as healthy as he's been since early in the season, Autry has played roughly 73% of the defensive snaps in the last two games. In the Week 4 matchup with the Texans, Autry put up nine (seven solo) total tackles and two sacks.
Sit
Geno Atkins, Cincinnati Bengals (@ LA Chargers)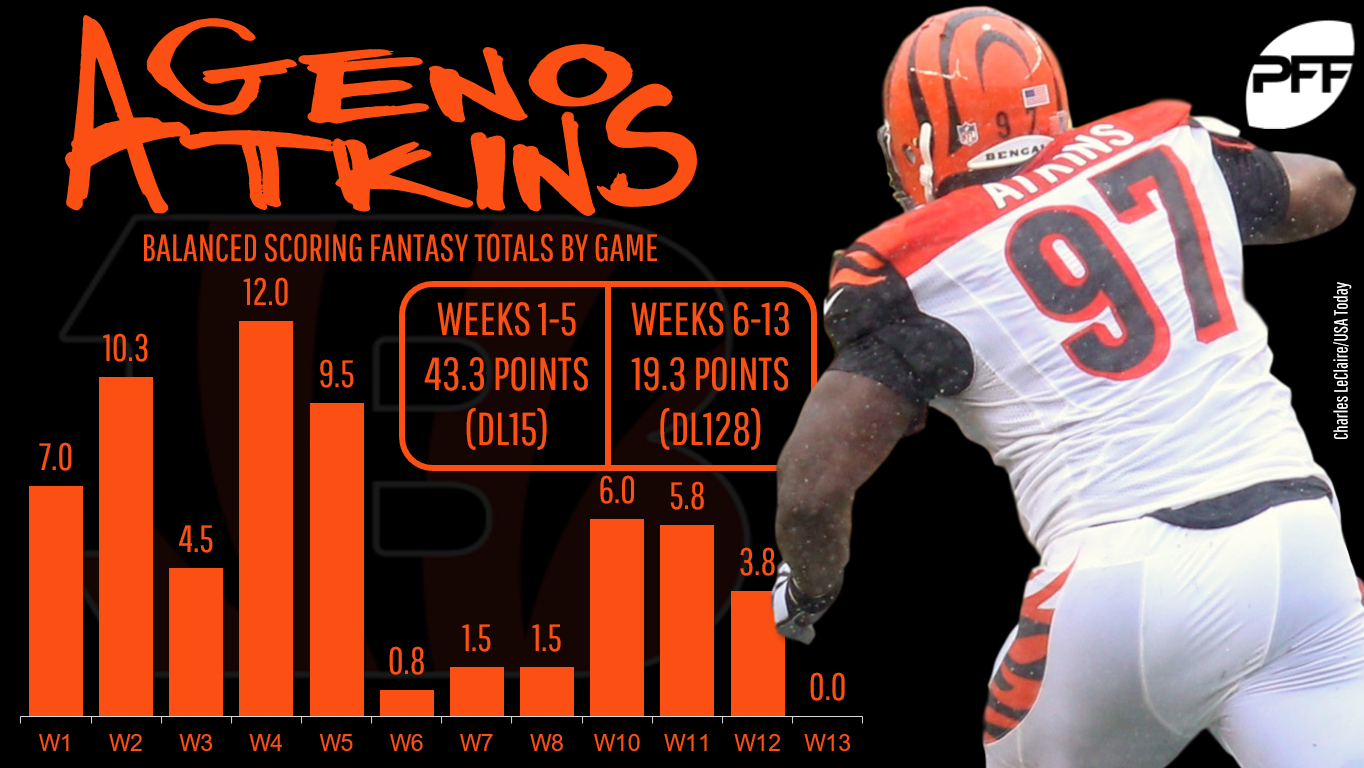 Through the first five games of the 2018 season, Atkins was a top-15 defensive lineman for fantasy purposes with 22 total tackles and six sacks. It's been all downhill since then, as over the last seven games Atkins has one sack and a has only 12 total tackles. Those totals have now seen Atkins fall outside the top 45 defensive linemen in fantasy production. The Chargers are a middle-of-the-road matchup for defensive linemen but it's too risky to roll out Atkins at this crucial point in the fantasy season.
Mario Addison, Carolina Panthers (@ Cleveland)
The 2018 season has been a roller coaster of sorts for Addison and is currently on a down slope. After notching 7.5 sacks through the first eight games Addison has just half a sack in the past four weeks. The tackle totals have also been sparse over that time as Addison has posted just eight total in that time. The matchup this week with Cleveland is unlikely to help him get back on track. Over the past three games, the Browns have not allowed a sack to a defensive lineman and an average of just 11 total tackles per game to the position.
Linebackers
Start
Anthony Hitchens, Kansas City Chiefs (vs. Baltimore)
This suggestion comes with the caveat that IDP owners need to keep an eye on practice reports out of Kansas City as Hitchens (who was a full participant on Wednesday) has been dealing with ribs and quadriceps issues. When on the field, Hitchens has been producing, with 17 solo (24 total) tackles along with a forced fumble in his last three games. The matchup this week is too good to pass up as the Ravens are among the most generous offenses in allowing fantasy points to linebackers. In their Week 13 over Atlanta, Baltimore rushed the ball 49 times. Falcons linebacker Deion Jones put up a 13/2/15, one-sack stat line. In their last five games, Baltimore has allowed four linebackers to post double digit tackles.
Wesley Woodyard, Tennessee Titans (vs. Jacksonville)
This is a great matchup for Woodyard to bounce back after a couple of down games in which he's posted just 13 total tackles. In the past four games, seven linebackers have posted eight or more total tackle against a run-heavy Jaguars offense. There have also been big-play opportunities as linebackers have posted four sacks along with four other splash plays in that time. The return of Leonard Fournette (suspension) will mean plenty of tackle opportunities for Woodyard this week. When the teams met in Week 3 Woodyard put up 12 total tackles and a sack.
Leighton Vander Esch, Dallas Cowboys (vs. Philadelphia)
This is a reminder to keep riding Vander Esch if and when Sean Lee returns. The rookie has shown the ability to put up big numbers while playing limited snaps. In Week 3 he had 11 total tackles playing 36 snaps and also put up 11 tackles in Week 6 while playing 47. Back in Week 10 Vander Esch had 13 solo tackles and an interception against the Eagles.
Sit
Jarrad Davis, Detroit Lions (@ Arizona)
Things have simply not worked out fantasy-wise for Davis in 2018 and that doesn't figure to change in this tough Week 14 matchup. Despite playing 98% of the defensive snaps, Davis has posted double-digit tackles just once this season and is putting up mid-LB3 total on the season. Missed tackles continue to be a concern as Davis leads all Detroit defenders with 13 this season. The Cardinals are one of the top offenses when it comes to limiting production from opposing linebackers. They have allowed just two linebackers to reach double-digit total tackles in the 2018 season.
Jamie Collins, Cleveland Browns (vs. Carolina)
This is the short-and-sweet special of the week. Since Joe Schobert has returned to a full-time role, Collins' production has fallen way off. In the last two games Collins has just eight total tackles while Schobert has totaled 19. There are better options at this critical point in the season.
Defensive backs
Start
Karl Joseph, Oakland Raiders (vs. Pittsburgh)
Things have taken a turn for the better of late for Joseph after he was basically benched earlier in the season and battled a hamstring issue. Joseph has played 73% of the snaps over the past four games putting up 22 (17 solo) tackles along with an interception. More importantly Joseph has lined up in the box or along the defensive line on 61% of the defensive snaps in those games. Over the last three games the Steelers are allowing an average of 30 total tackles per game to defensive backs who also have five interceptions in that time.
Shawn Williams, Cincinnati Bengals (@ LA Chargers)
The Bengals offense suffered another blow with the loss of A.J. Green (toe), which will likely lead to the defense being on the field quite a bit in Week 14. That will mean more opportunity for one of the top fantasy defensive backs to shine playing behind a banged-up linebackers corps. Williams has had eight or more tackles in six games this season and has been the top scoring defensive back since Week 7. Williams bring above-average tackle totals as well as big-play production into this matchup. Through 12 games Williams has a sack, forced fumble, and four interceptions.
Sit
Barry Church, Jacksonville Jaguars (@ Tennessee)
This is the second short-and-sweet special of the week. After 11 games of underwhelming performance, it appears the Jaguars have moved on from the veteran Church. While he did dress for the Week 13 game against Indianapolis, Church failed to play a single snap. Rookie safety Ronnie Harrison played all 76 defensive snaps last week alongside Tashaun Gipson.
Damontae Kazee, Atlanta Falcons (@ Green Bay)
This is a tough matchup for Kazee, who has become a bit of a splash-play-dependent option for fantasy purposes. Over the last four games, Kazee has managed just 16 total tackles but has added a pair of interceptions in that time bringing his season total to six. Unfortunately, the Packers haven't allowed a splash play to a defensive back in the past three games. It's too risky to ride with a splash-play-dependent option in the fantasy playoffs.