The exact definition of a fantasy football sleeper or bust is difficult to pin down. For my purposes, I keep it simple: Sleepers are players who I expect to outperform their norm or their expectation, even by a little, and busts are players I expect to fall short. Sometimes, this means a guy is in store for a monster week; sometimes it means a little-used player needs to crack lineups.
Either way, each week in this space I'll use PFF advanced stats to try to identify a handful of the week's key sleepers and busts for fantasy.
Week 8 fantasy football sleepers
Matthew Stafford, QB, Detroit Lions: The Giants have allowed 20-plus fantasy points to five of seven quarterbacks so far, with the two exceptions both rookies. They have PFF's fifth-worst coverage grade. And Stafford is without what was supposed to be his workhorse running back.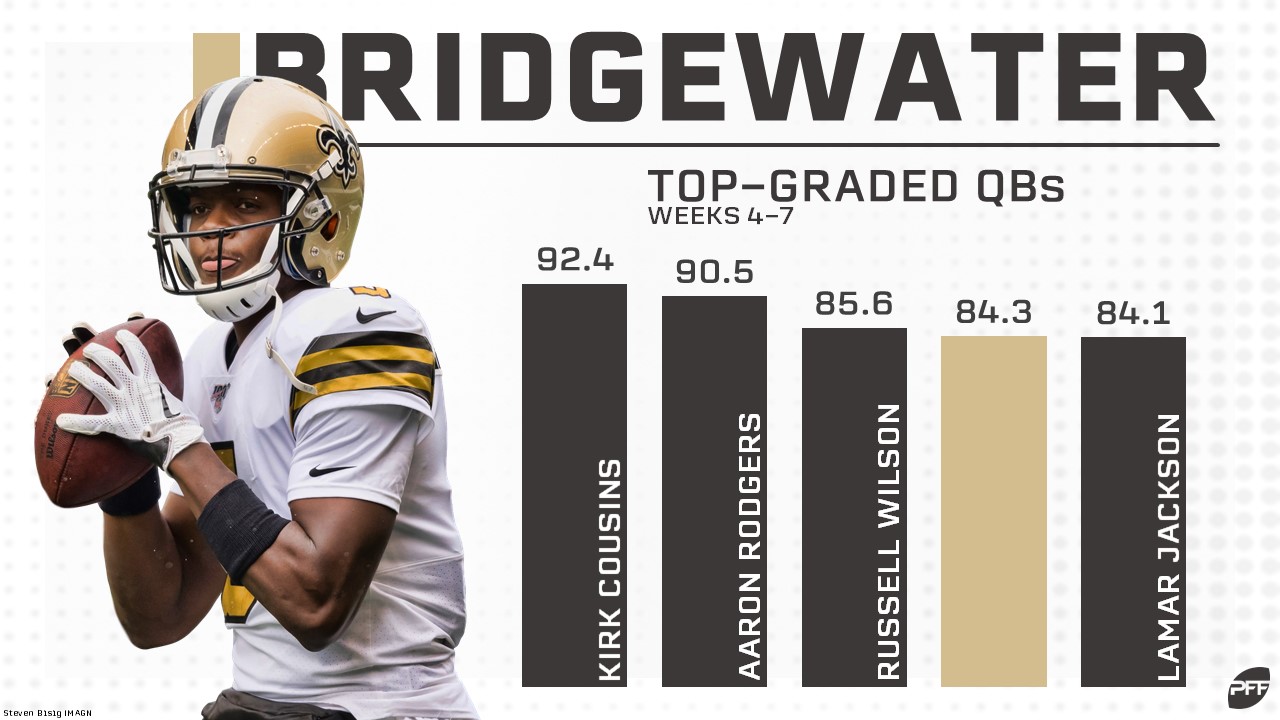 Teddy Bridgewater, QB, New Orleans Saints: As of the time I'm writing this, Drew Brees' status for this week is still up in the air, but with the Saints having a Week 9 bye, it seems logical (to me at least) to give him two more weeks. That gives Bridgewater another start against a Cardinals defense that has allowed the fifth-most points to opposing quarterbacks. Bridgewater is fantasy's QB9 the last three weeks.
Ryan Tannehill, QB, Tennessee Titans: Tannehill had a good first start for the Titans, coming in as the QB11 in Week 7, and now he gets a Tampa Bay defense that has allowed the sixth-most PPR points per game to opposing quarterbacks, second-most from Week 3 on.
Matt Moore, QB, Kansas City Chiefs: If you lost Patrick Mahomes to injury, the best approach might be to just grab his replacement. Yes, Moore and the Chiefs draw a tough Packers opponent, but there is no coach and no offense better-suited for a backup quarterback to come in and succeed. Big risk, but big potential reward.
Todd Gurley, RB, Los Angeles Rams: This could be a get-right spot for Gurley, especially if Malcolm Brown misses another game (but he would make this space either way). The Rams are comfortable 12.5-point favorite against the Bengals in London and the Bengals are allowing the most PPR points per game to opposing running backs this season, a recipe that could hook Gurley up with a massive workload and an easy opponent.
Latavius Murray, RB, New Orleans Saints: If Alvin Kamara is out again, Murray will likely into the weekend as mid-range RB2 in rankings. If Kamara plays, Murray will be a fantasy afterthought. And either way, I expect him to beat expectations. If he has the job, I think Murray makes for an RB1 against in a game the Saints are favored by 8.5 points, and if Kamara is back, the chances the Saints lean on him as much as they did earlier in the year are so slim I expect Murray to return at least flex value if not significantly more.
Mark Walton, RB, Miami Dolphins: Walton is still fairly anonymous, but he's taken over the No. 1 job in Miami, with Kalen Ballage struggling and Kenyan Drake being kept under glass as the team explores a possible trade. With the deadline next week, either Drake is gone — in which case Walton will be the No. 1 — or he won't be — in which case there's no reason to protect him anymore and Walton goes back to the No. 2. But for this week … well, the No. 1 in a bad offense, is still the No. 1, for what it's worth.
Dare Ogunbowale, RB, Tampa Bay Buccaneers: In the aggregate, the Titans are almost exactly average against running backs, allowing the 14th-most points to the position. It's worth noting, though, that their strength is on run defense — Tennessee has allowed the second-most targets and receptions and the third-most receiving yards per game to running backs. Of 34 targets that have gone to the Tampa Bay backfield this season, Ogunbowale has 20 of them.
Kenny Golladay, WR, Detroit Lions: Golladay had a miserable game in Week 7, putting up only a single 21-yard catch while teammate Marvin Jones had his second career four-touchdown game. It knocked him from an perfectly fine 11th in receiver points per game entering Week 7 to a disappointing 27th for the season. Despite that, Golladay still ties for second across the league in end-zone targets (8) and ties for third in red-zone targets (17). He'll be fine.
John Brown, WR, Buffalo Bills: At least 50 receiving yards in every game isn't a very high bar to clear, but right now, only Brown and Michael Thomas have maintained that number all season. High-floor, high-ceiling receiver against highest-ceiling opposing defense is a great mix.
Corey Davis, WR, Tennessee Titans: So maybe Ryan Tannehill didn't unlock Davis in his first Titans start. After all, Davis had more yards and a touchdown in Week 4 against the Falcons. Maybe it was just a fluke. But he's still the No. 1 receiver against a Tampa Bay defense that remains strong against the run and tissue paper against the pass. So the "unlocked Davis" narrative might go another week regardless.
Robby Anderson/Demaryius Thomas, WR, New York Jets: Jalen Ramsey's season has thrown the Jaguars' secondary into an unbalanced mess. Receivers lined up on the left have averaged only 9.6 PPR points per game (22nd-most) but on the right that number rises to 14.9 (third). Anderson and Thomas have roughly split the outside roles since Thomas started with the Jets. Either one could pop this week.
D.K. Metcalf, WR, Seattle Seahawks: Metcalf already leads the league in end-zone targets (9), a sign that touchdowns should follow. And Will Dissly's absence in Week 7 led to Metcalf setting a season-high with 8 targets. And now he gets the Falcons defense.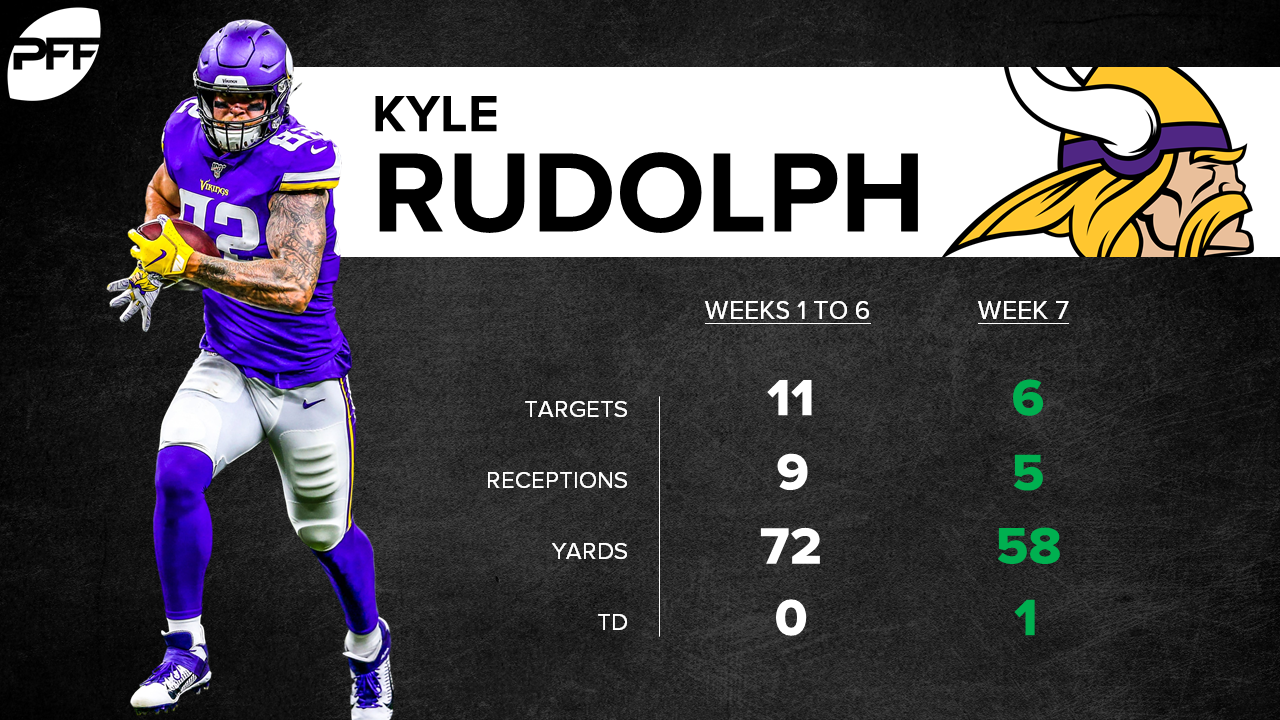 Kyle Rudolph, TE, Minnesota Vikings: For the entire season before Week 7, Rudolph's line was 9-of-11 receiving for 72 scoreless yards. Sunday (and it all came after Adam Thielen's injury), he put up a 5-of-6 line for 58 yards and a touchdown. With Thielen out this week, Rudolph could have another good performance.
Jonnu Smith, TE, Tennessee Titans: Delanie Walker missed almost all of Sunday's game and didn't practice Wednesday. You'd have to expect he'll miss this week, opening the door for Smith after he put up a career-high in yards in Week 7, and now gets to face a Tampa Bay defense who would be worst in the league against tight ends if the Cardinals weren't doing their Cardinals thing this year.
Busts
Kyler Murray, QB, Arizona Cardinals: For the seasons, the Saints have allowed the sixth-most fantasy points per game to quarterbacks. At a glance, that makes it a good match for Murray. But it's worth noting that the Saints have been two different teams this year. In Weeks 1-3, the Saints allowed 31.7 fantasy points per game to opposing quarterbacks. In Weeks 4-7, that number has dropped to 14.4, a number that would be fourth-best over the season.
Kirk Cousins, QB, Minnesota Vikings: Maybe the Vikings have turned the corner and will be pass-happier going forward. But with Thielen out this week and as 15.5-point favorites over Washington, this seems like the sort of week where the team will look back toward the run, which is why Dalvin Cook is firmly near the top of the running backs in our PFF Fantasy staff rankings.
Nick Chubb, RB, Cleveland Browns: As good as Chubb has been this year, he and the Browns are facing the Patriots, and if you have a choice (which, with Chubb, you probably don't), you don't want to use that.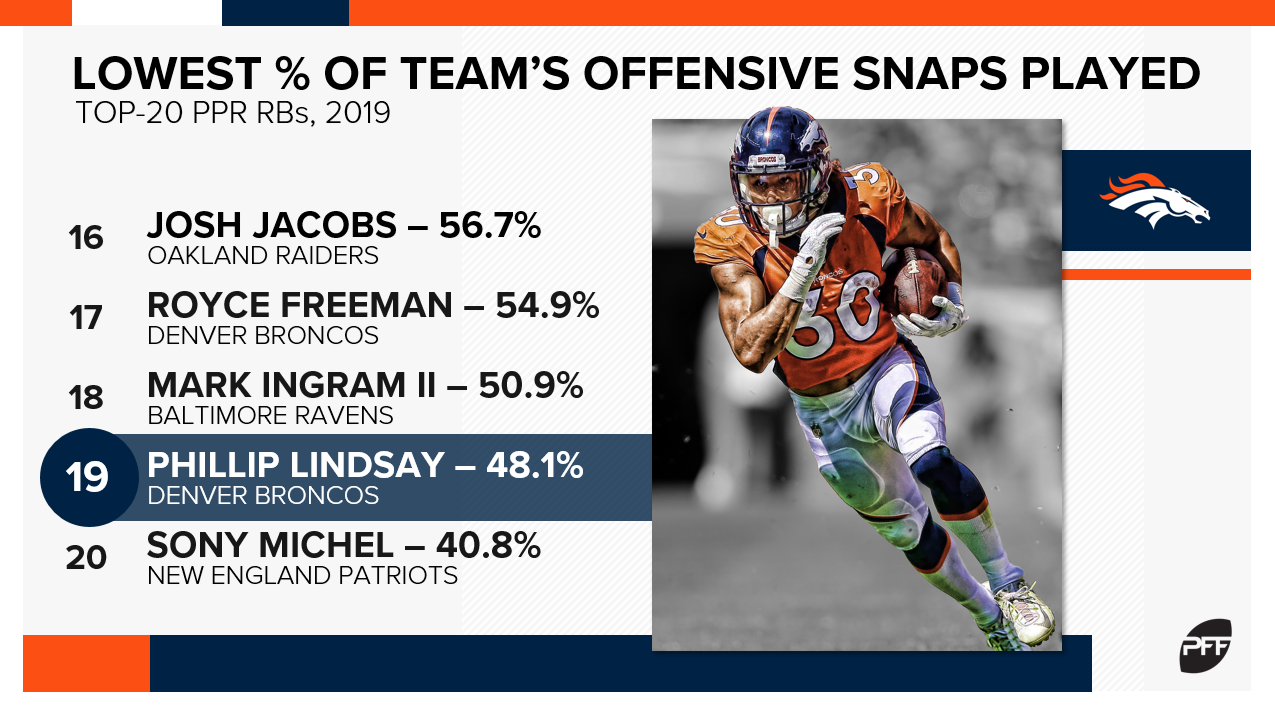 Phillip Lindsay, RB, Denver Broncos: Lindsay has generally performed pretty well this year (until last week), but he's done so on a smaller workload than other top running backs. Lindsay has played on 48.1% of the Broncos' offensive snaps this year; among the top 20 PPR backs, only Sony Michel (40.8%) has played on a lower percent, and Lindsay is one of only five who has played on under 50%. That will catch up to him eventually.
Chris Godwin, WR, Tampa Bay Buccaneers: Obviously "bust" is a conditional phrase, because Godwin should still be fine. But this has the making of a Mike Evans game, given the fact that Godwin has drawn 58.5% of his targets from the slot this year, where the Titans have allowed the sixth-fewest PPR points per game.
Julio Jones/Calvin Ridley, WR, Atlanta Falcons: Jones was the No. 2 fantasy receiver in Weeks 1-3, during which he drew 8 red-zone and 3 end-zone targets and scored three of his four touchdowns on those end-zone looks. And then it vanished. Jones is the WR19 in Weeks 4-7 (not awful, but not what you have him for), and hasn't had a single target inside the red zone in that time. Add in the potential of Matt Schaub or a hobbled Matt Ryan at QB, and both Jones and Ridley could be on the wrong end.
T.Y. Hilton, WR, Indianapolis Colts: As our Austin Webster noted in his weekly DFS preview, the Broncos (and notable Chris Harris Jr.) have had plenty of success limiting opponents' No. 1 receivers since Week 1, holding Davante Adams, Keenan Allen, D.J. Chark, and Allen Robinson to an average of 39.8 receiving yards per game. Hilton's next.
Mohamed Sanu, WR, New England Patriots: Sanu is suddenly going to have plenty of buzz now that he's on the Patriots, and buzz often leads to heavy ownership in DFS. But at the very least, it would be wise to give Sanu a week or two to see how he integrates into the offense. The Patriots have a Week 10 bye. Week 11? We'll talk about Sanu.
Zach Ertz, TE, Philadelphia Eagles: Ertz leads all tight ends in targets … 3.1 per game below what he was averaging at this time last year. Of the big three entering the year (Ertz, George Kittle, and Travis Kelce), Ertz was clearly the most quantity-dependent last year, so much so that even a small dip in quantity like he's experienced this year has been enough to hurt him. And this week, he gets a Buffalo team that is allowing the second-fewest PPR points per game to tight ends.
T.J. Hockenson, TE, Detroit Lions: Every offseason, I do a piece on that season's "one-game wonders," guys who pack the highest percentage of their season-long fantasy points into a single week. And it can be silly to look at it this early, but Hockenson has all but locked up the lead in that number among tight ends this year. Right now, 48.4% of his PPR points came in Week 1 — last year, Dallas Goedert's 22.5% was the highest percentage. Hockenson hasn't topped 32 yards since that big Week 1.