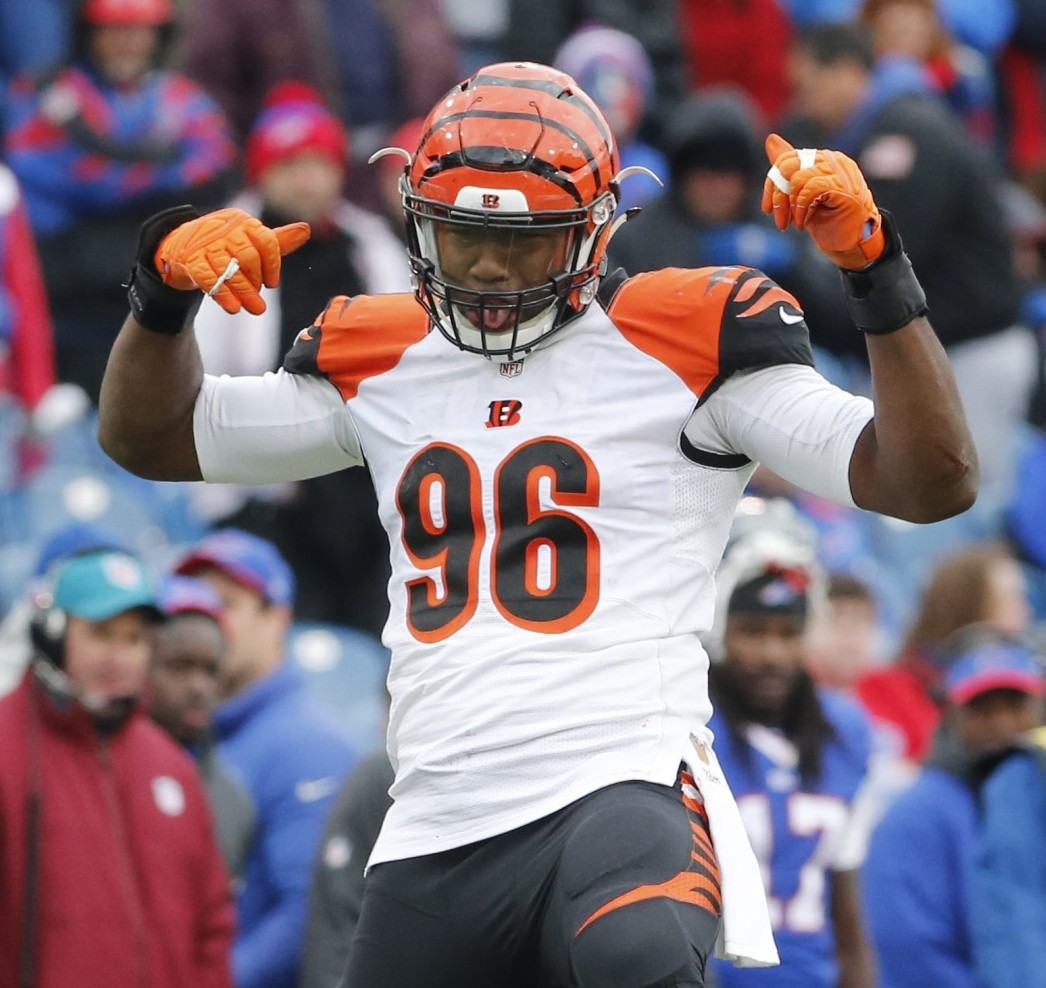 Cincinnati Bengals defensive end Carlos Dunlap (96) celebrate his sack of Buffalo Bills quarterback EJ Manuel during the second half of an NFL football game on Sunday, Oct. 18, 2015, in Orchard Park, N.Y. Cincinnati won 34-21. (AP Photo/Bill Wippert)
The bye weeks are now in the rear-view mirror as we head into Week 12 of the NFL season. It's also Thanksgiving week so we get to feast on three NFL games on Thursday.
The fantasy playoffs are nearly upon us and the IDP start/sit decisions are vital as owners either scramble to make the playoffs or look to improve their seeding.
A few broad things to keep in mind. Start "edge rushers" against the Lions, Texans, Colts, and Broncos. Start inside linebackers against Buffalo and Baltimore. Defensive backs excel against the Broncos, Texans, and Seahawks.
Now let's take a closer look at some start/sit options for Week 12 in IDP leagues.
Defensive linemen
Start
Carlos Dunlap, Cincinnati Bengals (vs. Cleveland)
It's been a disappointing season for veteran defensive end Dunlap as he's managed to put up just four sacks through 10 games and sits outside the top-20 in most scoring formats. On the bright side is that Dunlap has picked up his play in the past two weeks by posting nine solo tackles with two sacks and a batted-down pass. The Browns have struggled to contain defensive linemen since losing tackle Joe Thomas in Week 7 with a torn triceps. In Weeks 8-10 Cleveland has allowed 36 solo tackles, 11 sacks, and four forced fumbles to defensive linemen. This is a good week to roll with Dunlap.
Jason Pierre-Paul, New York Giants (at Washington)
This has been a rough year for the Giants and Pierre-Paul as well of late. He hasn't registered a sack since he put up three in Week 6 and is dealing with a knee issue. The good news is that Pierre-Paul is practicing on a limited basis and is on track to suit up for this Thanksgiving Day divisional tilt. The even better news is that he's matched up against a Washington team that's been generous in handing out fantasy points to defensive linemen. In the last five games Washington has allowed 70 total tackles as well as 14 sacks and three turnovers to the position.
Sit
Trey Flowers, New England Patriots (vs. Miami)
The third-year defensive end Flowers was an early season force off the edge for New England notching three sacks in the first three games. Fast forward to Week 12 and things have certainly gone south for Flowers as well as the Patriots pass rush in general. The Patriots have just 17 sacks in 10 games and Flowers has put up just one total sack in Weeks 4-11. The Dolphins are a bad matchup for defensive linemen having given up only 1.5 sacks and an interception to the position over the past five games.
Cameron Wake, Miami Dolphins (at New England)
We'll stay in New England for this sit option. As much as it pains me to write this it appears that Father Time (who remains undefeated) has caught up to the longtime IDP producer Wake. He has not posted a sack since back in Week 7 and has totaled six tackles in the last four games. Wake just doesn't produce the tackle numbers to justify a start unless he brings along the threat of sack production that simply isn't there. Throw in the fact that New England has allowed just two sacks to a defensive lineman since Week 7 and Wake can be sat.
Linebackers
Start
Deone Bucannon, Arizona Cardinals (vs. Jacksonville)
This has the potential to be the start suggestion of the year, folks. Bucannon is producing top-five fantasy totals over his past three games with 29 total tackles (22 solo) along with a forced fumble and pass defended. This week the Cardinals host one of the most generous offenses when it comes to allowing points to opposing linebackers in the Jacksonville Jaguars. Last week against the Browns the Jaguars allowed double-digit tackles to Christian Kirksey, Joe Schobert, and James Burgess along with a pair of sacks. Bucannon goes off this week in a prime matchup.
Vince Williams, Pittsburgh Steelers (vs. Green Bay)
This game is a great matchup for Ryan Shazier (a weekly must-start) and Williams. Since losing Aaron Rodgers the Packers have been a fantasy gold mine for linebackers giving up tackles as well as big plays. Green Bay has given up 85 total tackles along with six sacks and five turnovers since in the past four games. In the past two games Williams has posted 10 solo tackles (12 total) and recorded a sack in back-to-back weeks. The Packers have been running the ball on 45 percent of their offensive snaps since losing Rodgers and that will lead to nice tackle numbers as well as big play opportunities for Williams this week.
Sit
Brandon Marshall, Denver Broncos (at Oakland)
Things are trending in the wrong direction for Marshall as Denver heads out west to face the Raiders. Marshall is coming off his poorest performance of the season having managed just three total tackles against the Bengals. A matchup with Oakland will not make it easy for the veteran to have a bounceback game. Over the past four games the Raiders are allowing just 15 total tackles per game to linebackers and only a half a sack. Oakland has allowed seven turnovers to linebackers in that time but hoping for a big play against a tackle stingy offense is not an advisable strategy.
Eric Kendricks, Minnesota Vikings (at Detroit)
Much like the aforementioned Marshall, this is a case of a player coming off a bad week and heading into a tough matchup. Last week against the Rams Kendricks posted his lowest tackle total since Week 3, amassing only four stops. Big plays have not been a huge part of Kendricks' game this season as he has only one sack and one forced fumble. Again, relying on lightning to strike twice is not a viable reason to start a player. The Lions have allowed just two linebackers to post double-digit tackles on the season.
Defensive backs
Start
Budda Baker, Arizona Cardinals (vs. Jacksonville)
All aboard the Baker hype train! The 2017 second-round draft pick has stepped in for the injured Tyvon Branch at strong safety and is taking the IDP world by storm. In the past two games Baker has put up 22 total tackles, a sack, and two forced fumbles, along with a fumble recovery and two passes defended, playing 114 snaps. Those are great totals and Baker will build on them against a Jaguars offense that's given up eight big plays to defensive backs in the past four games.
Eric Reid, San Francisco 49ers (vs. Seattle)
It's basically a last-man-standing situation with Reid in the San Francisco secondary. The unit has been ravaged by injuries and after a brief stint at weak-side linebacker Reid has been moved back into the starting strong safety position. Over the last two games he has mixed in nice tackle numbers (12 total) as well as big plays with an interception and fumble recovery. The Seahawks are a positive matchup having allowed 84 total tackles as well as four big plays to defensive backs in the past three weeks.
Sit
Barry Church, Jacksonville Jaguars (at Arizona)
It's time to face the fact that Church is simply not going to put up the tackle numbers that were expected after he signed with the Jaguars. He's yet to top seven tackles in a game this season and has had five or fewer in six games. That renders Church to being a big-play-dependent starting option and that's not his forte. Through 10 games he has one sack and one interception (that he did return for a score). It's too risky at this crucial point in the season to roll out Church regardless of the matchup.
D.J. Swearinger, Washington Redskins (vs. NY Giants)
The much-traveled Swearinger has settled in nicely as the starting strong safety for Washington and is on a fantasy roll of late. Flashing big-play potential, Swearinger has intercepted three passes in the past two games. That's the good news. The bad news is that through the first eight games Swearinger had only 32 total tackles and one sack. Counting on a third straight week with an interception is unrealistic and Swearinger doesn't post enough tackles to warrant a start.