The Green Bay Packers traded wide receiver Davante Adams to the Las Vegas Raiders to reunite him with college teammate Derek Carr. Adams finished 2020 as the top wide receiver in both PFF grade and fantasy points, which he followed up with a second-place finish in both categories last season. This move has wide-ranging impacts on the Packers and Raiders' quarterbacks and wide receivers.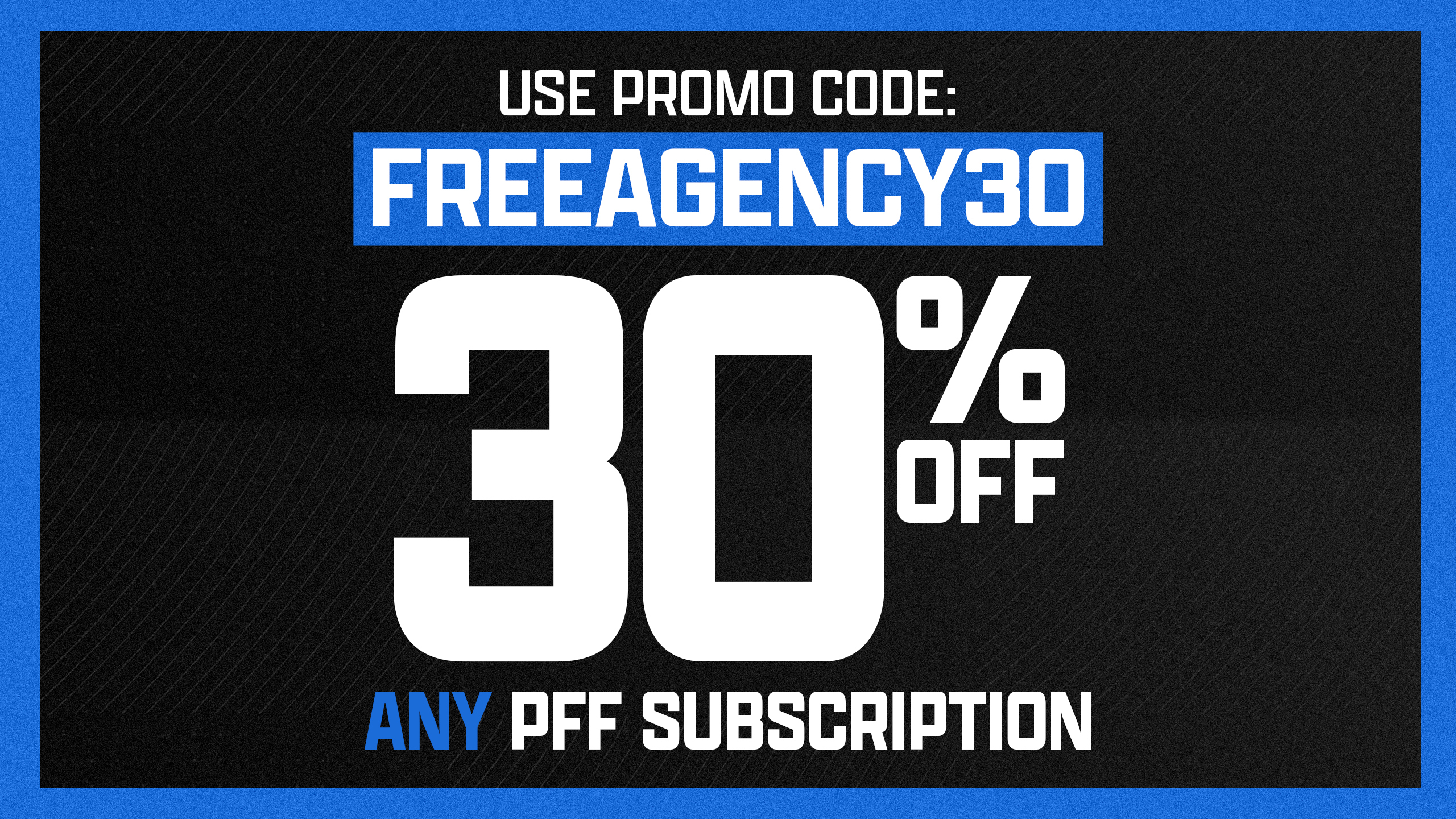 Click here for more PFF tools:
Draft Guide & Big Board | Mock Draft Simulator
Dynasty Rankings & Projections | Free Agent Rankings | 2022 QB Annual
Player Grades
---
Fantasy impact on Raiders
The Raiders' inside receivers have been among the best in the league with Hunter Renfrow in the slot and Darren Waller at tight end. Conversely, their outside wide receivers have been among the team's weakest links. Bryan Edwards, Zay Jones and DeSean Jackson rotated among the two outside receiver spots, and Edwards is the only one who is likely to return in 2022.
Carr benefits the most from the trade, as Adams will be the best wide receiver he's played with in the NFL by a distance. Adams' presence will free up Renfrow and Waller to see more open targets. Carr was QB13 last season, but this move should push him into the top-10 fantasy quarterback conversation. Carr is unlikely to reach the top-five due to his lack of mobility even if the offense lives up to expectations.
Adams, Renfrow and Waller will all be hurt by this move. The former Packer benefited from back-to-back MVP winner Aaron Rodgers throwing to him in addition to a weak group of receivers around him that enabled Green Bay to pepper him with targets. His 30.1% threat rate ranked third among wide receivers while Renfrow ranked 25th (23.1%) and Waller finished top-five among tight ends (23.5%). There won't be enough targets to go around for all three players to reach the heights they hit last season.
All three players should see their ADP drop by a round.
Running back Josh Jacobs is the other Raider who should benefit from the move. He's consistently put up fantasy production when Las Vegas is winning while hurting fantasy managers when playing from behind. Adams can only help the Raiders win more games and get to the end zone more often, which means more touchdown opportunities and fourth-quarter rushing yards for Jacobs.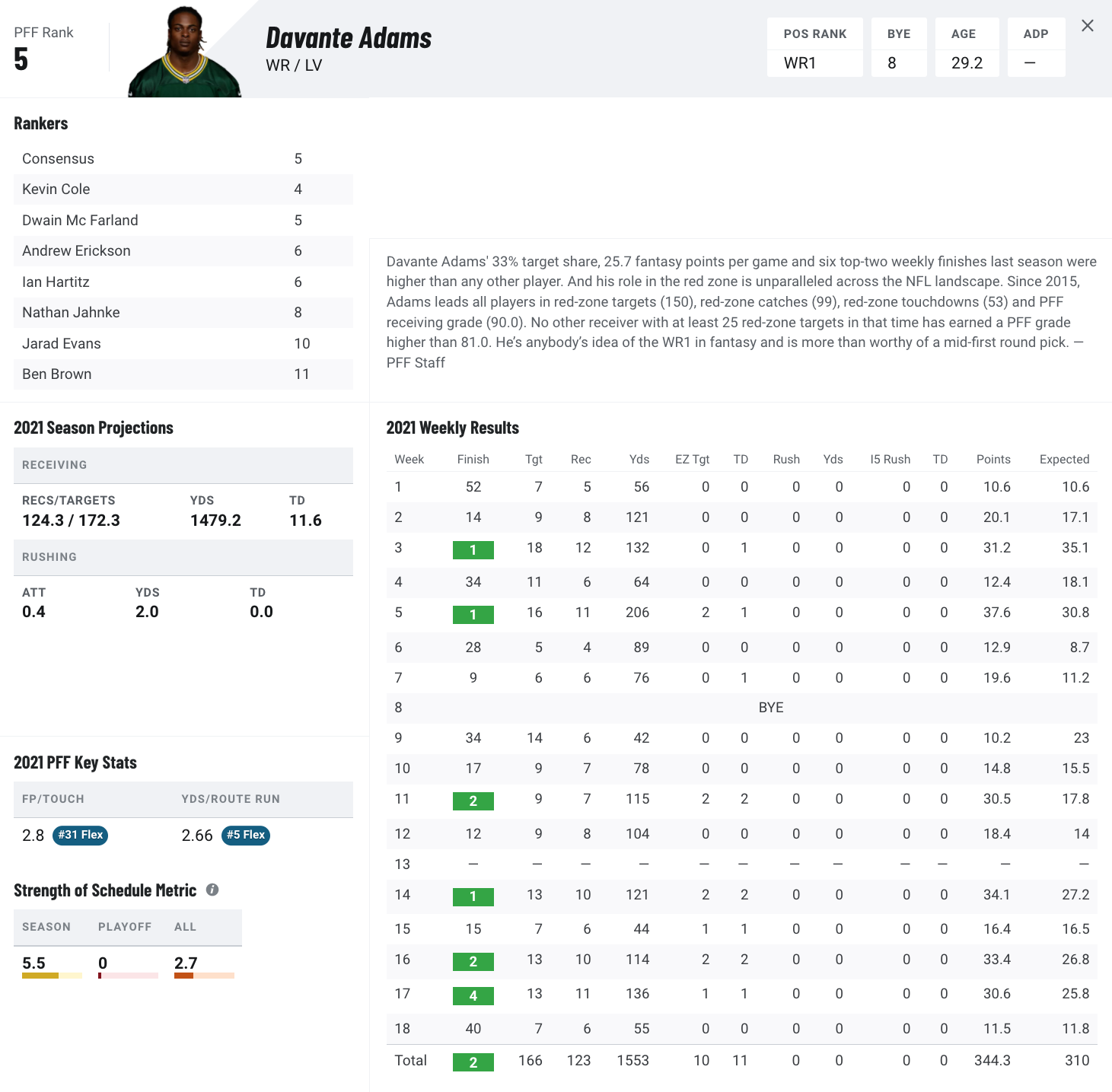 Fantasy impact on Packers
First and foremost this will hurt Rodgers' fantasy value. He was only QB6 last season, and that was only going to decrease given his age and lack of mobility. The Packers will make more changes between now and the start of the season, but none of that will add up to Adams' production. Assuming the Packers add at least two or three receivers, Rodgers can still be a top-12 fantasy quarterback, but he won't have the same upside. If the Packers only add one new receiver, Rodgers could fall out of the top-12.
Allen Lazard and Randall Cobb currently sit at the top of the wide receiver depth chart. Marquez Valdes-Scantling is among the top free-agent wide receivers available, and the Packers now have the cap space to bring him back. The rest of the free-agent wide receiver class is uninspiring. It's a combination of older veterans, players coming off injury or players who primarily play in the slot, which is Cobb's spot.
The Packers have two first picks in the first round, and one will likely be spent on a wide receiver. Add in a veteran, and it's unlikely Lazard or Cobb see a significant increase in targets. They will likely see an increase in ADP in best-ball drafts, but it's best to avoid reaching for them.
Green Bay received very little production out of the tight end position this past year. Robert Tonyan missed half of the season and is now one of the top free-agent tight ends available. It seemed unlikely that he would return prior to the trade for cap purposes, but there is a chance he returns. Tonyan has a chance to be a top-10 fantasy tight end again, as he could become Rodgers' top red-zone target.