The 2020 rookie tight end draft class lacks elite, early-round talent, which comes as no surprise considering there wasn't a single player at the position who was selected in the first round of the 2020 NFL Draft.
The tight end spot is an interesting one in fantasy football circles, as people deploy differing strategies. And outside of a handful of elite options, many of the names quickly become indistinguishable from each other. The tight end position is one of the toughest to transition to going from the NCAA to the NFL, but the players listed below are ranked from worst to first based on their talent, ability and potential workloads/target shares in their rookie campaigns.
Late-round options
All of the names under this "late-round option" moniker lacked production in college, particularly in their final seasons in 2019.
Worner's final season saw him total only nine receptions for 78 receiving yards, registering a 0.35 yards per route run figure. The bad news doesn't end there, though, as Woerner is joining a 49ers team that already employs George Kittle, recently signed former star Jordan Reed and even has players such as Ross Dwelley, who've produced in small samples.
Worner's lack of production and late-round draft status will be tough to overcome, particularly in his rookie campaign.
Davis enters an interesting situation with the Jaguars. While the depth chart appears to be relatively solid, the injury issues surrounding Tyler Eifert could very easily create a clear path to playing time for Davis. In addition to Eifert's extensive injury history, James O'Shaughnessy registered only five games of playing time in 2019 due to injury.
Davis' 2019 statistics don't provide a ton of excitement. The rookie registered only 17 receptions on 32 targets for 148 yards in his final college season.
Sullivan was the last tight end drafted, though some people actually believe he might be better suited at wide receiver. Regardless, even the thought of moving to receiver should explain what kind of player Sullivan is. He received only 12 targets in 2019 with the LSU Tigers, though he came down with 11 of them. His 11.5 average depth of target (aDOT) suggests he could be a downfield weapon if he continues to develop as he enters the NFL, but it'll likely be a while before he can contribute for the Seahawks.
Seattle signed veteran Greg Olsen (81 targets in 2019) this offseason and already roster Will Dissly, one of the NFL's more exciting, young and well-balanced tight ends. Injury issues have sapped Dissly's playing time throughout the first two years of his career, but he still ranked 14th in yards per target and 17th in points per touch last year.
Potential Contributors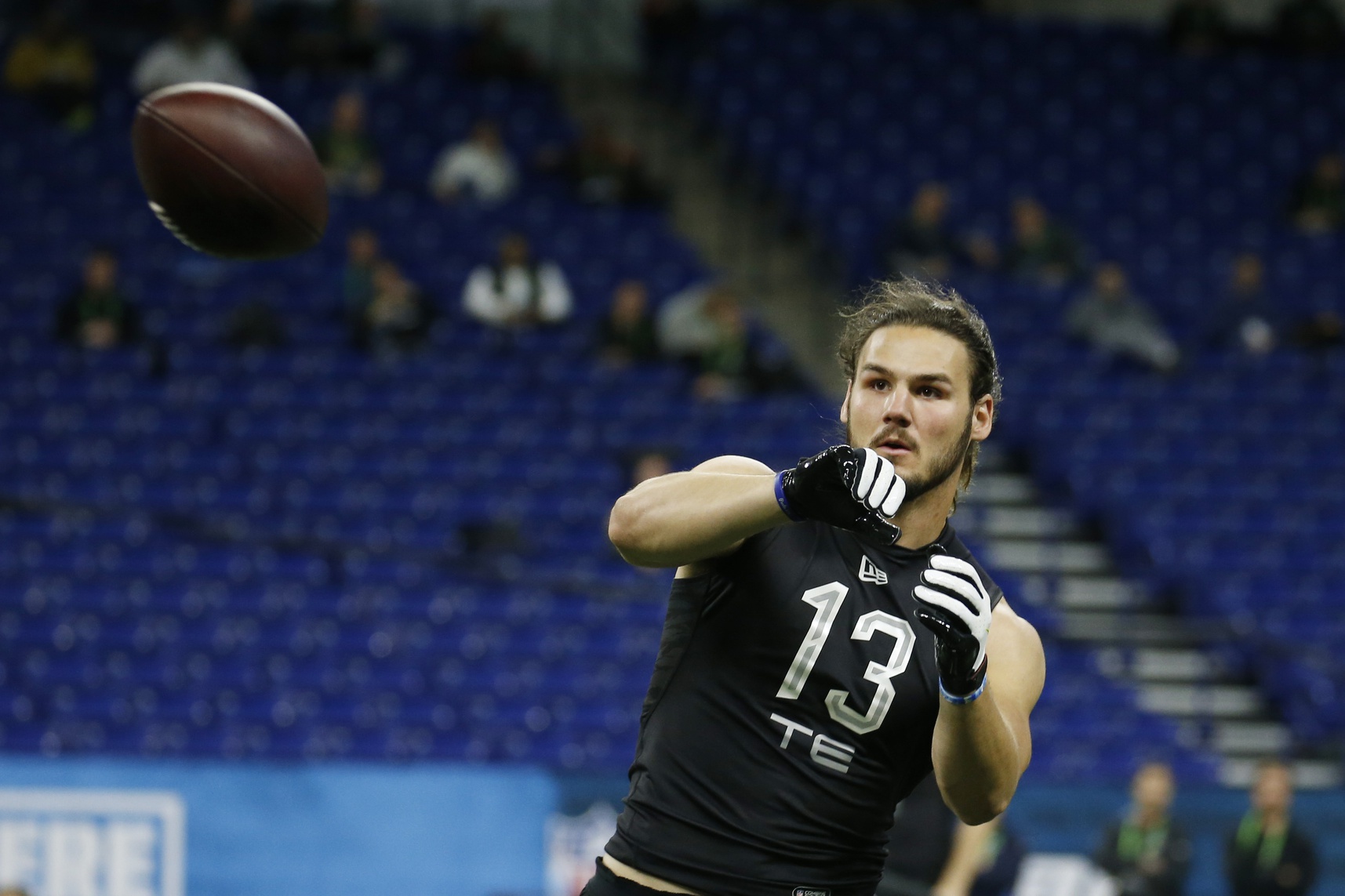 Parkinson is the first player of this rookie tight end class who actually proved his worth as a receiver in extended usage. In 2019, he registered 48 receptions on 88 targets for 589 receiving yards and one touchdown. It's not those the raw box-score stats that provide intrigue, though, as his potential has more to do with his 12.3 aDOT and 12.3 receiving yards per reception figures.
While Parkinson proved to be a quality receiving option in college football, the path to playing time in the NFL will be a tough one, just as it will for fellow rookie Stephen Sullivan. One positive for Parkinson — and even Sullivan — is the extensive injury history of the aforementioned Dissly, who has appeared in only 10 games over the past two seasons. If the injury woes continue, there could certainly be a path to playing time for Parkinson as a rookie.
PFF's strength of schedule (SoS) metric ranks the Seahawks' tight end schedule as the eighth easiest in 2020. The ease of their schedule is another potential positive for Parkinson if he can find his way onto the field.
The Broncos' tight end depth chart is incredibly deep and will need to be sorted out before we can properly project Albert O's playing time, but the speedster is expected to make the roster and could potentially become a factor as a backup tight end.
We're now into the part of the list where the tight end options have proven their receiving prowess to some extent, and Albert O's 26 receptions on 44 targets in 2019 follow that trend. While his production was still subpar (306 receiving yards, six touchdowns), it's the Broncos' penchant for using their tight ends in high-value situations that brings forth some excitement for the rookie — the team ranked 17th in red-zone targets to tight ends and ranked seventh in goal-line targets to the position.
While many of those opportunities are likely to go towards players like Noah Fant and even Troy Fumagalli, Albert O could find himself in a position to produce if one of these players loses time due to injury.
It was tough slotting Hopkins in with the potential contributors, but that's exactly what he appears to be headed into 2020. Hopkins — who separates himself from the majority of the names on this list — is one of the best receiving weapons at this position, but he joins an absolutely loaded roster that already has Tyler Higbee and Gerald Everett ahead on the depth chart.
Still, Hopkins' production in the passing game was downright impressive in 2019. He ranked second in targets (89) and in receptions (61), third in yards (832), sixth in touchdowns (seven), fourth in explosive pass plays (21), 13th in receiving yards per reception (13.6) and 14th in yards per route run (1.83) among all tight ends with 40 or more targets.
Although it appears Hopkins will operate as the TE3 and receive a very limited amount of work, he could be in line for a very nice workload if an injury pops up. The Rams ranked second in red-zone targets to tight ends (26), fourth in goal-line targets to tight ends (seven) and 12th in 12-personnel percentage (21.7%) in 2019.
Likely Contributors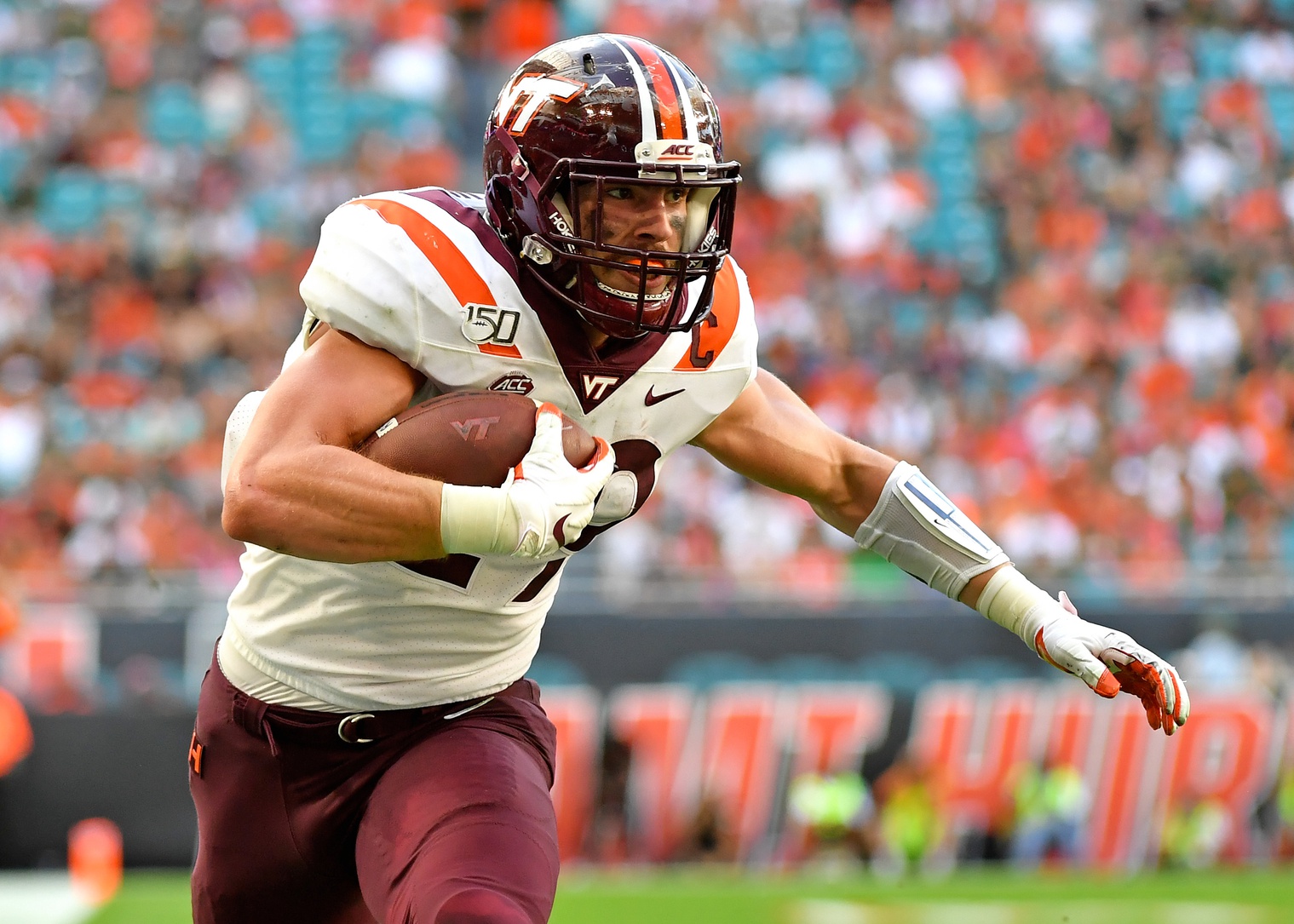 This rookie tight end duo could not have landed in a better spot, as the Patriots lack any truly established legitimate TE1 on their roster. That paves the way for clear-cut playing time for any player who is capable of stepping up and seizing the starting job.
Keene is one of the two options for the Patriots, though his 2019 statistics weren't highly impressive — he totaled only 20 receptions on 25 targets for 234 receiving yards and four touchdowns. While Keene chipped in to some degree, he wasn't even the most productive tight end for the Virginia Tech Hokies. His inability to stand out in a college program that lacks any star power is alarming and is the reason he ranks among the lowest options of the "likely contributors" list.
There are positives for Keene's situation, though, as the Patriots ranked first in red-zone and goal-line plays, but they ranked 32nd and 28th in targets to tight ends in those situations, respectively. Some of that can certainly be chalked up to a lack of legitimate tight end options in 2019, but it's also something to make a note of moving forward.
Deguara is an interesting evaluation, as he is expected to transition into the fullback role in Green Bay. The lack of established passing-game options sans Davante Adams could result in some decent usage and maybe even a small target share for the rookie, but his potential usage as only a fullback would be absolutely detrimental to his potential fantasy production in 2020.
One positive for Deguara is his actual college production — he secured 34 receptions on 61 targets for 470 receiving yards in 2019. While that is a far cry from dominance, it still stands out in this extremely weak tight end class.
Deguara could be a fun, lowkey sleeper option on a team that is still searching for any standout receiving options, but he isn't expected to become a big factor in his rookie campaign, which ultimately dwarfs his value in redraft leagues.
Another tough hurdle for Deguara to clear is his sixth-toughest schedule, according to PFF's SoS metric.
The former Notre Dame tight end was selected in the second round of the 2020 NFL Draft and should figure into the Bears' plans immediately. The signing of veteran Jimmy Graham is sure to complicate his potential role and market share, though. Kmet does have a shot at surpassing Graham at some point this season, though, as Graham looks to be aging at a rapid rate (he registered a PFF grade that ranked 44th out of 67 qualifying tight ends in 2019). In addition to Graham's lack of quality play at this point in his career, Kmet had a decent amount of production in his final college season. He ranked 15th in targets and receptions, 19th in touchdowns and 27th in yards per route run among all tight ends with 40-plus targets.
One area of concern for Kmet is Chicago's lack of tight end usage stemming from 2019. The team ranked 31st in red-zone targets and 28th in goal-line targets to tight ends, as well as 29th in general targets to the position.
The Saints didn't have many draft picks, but Trautman was one of the few, and he's one of the more intriguing ones to boot. The issue for Trautman is that he doesn't have a clear path to TE1 time with Jared Cook on the roster, but Trautman's 2019 production should absolutely give him a great shot to take over TE2 duties from Josh Hill.
Trautman led all college football tight ends in targets, receptions, touchdowns, first downs, missed tackles forced and explosive pass plays in 2019, and he finished the year ranked third in yards per route run among all tight ends with 40-plus targets.
Another potential issue for Trautman is his second-toughest tight end schedule in 2020, according to PFF's SoS metric. But Trautman's productivity, talent and Drew Brees' affinity for targeting the position allow him to rank highly on this list. The Saints ranked fifth in red-zone targets and first in goal-line targets to tight ends in 2019.
Asiasi joins Keene in an extremely weak position on the depth chart for head coach Bill Belichick's roster. The major difference between Asiasi and Keene is that the former has very solid collegiate production to lean on. The former UCLA Bruin ranked 10th in targets, 11th in receptions, sixth in receiving yards, fifth in explosive pass plays, eighth in receiving yards per reception and 16th in yards per route run among all college tight ends with 40 or more targets in 2019.
The intrigue doesn't end there, though, as PFF's SoS metric ranks the Patriots' tight end schedule as the easiest in 2020. The lack of any established tight ends on the Patriots' roster and their cakewalk of a tight end schedule are exactly why Asiasi ranks first among all rookie tight ends in projected fantasy points, with his current ranking of TE33 according to PFF's fantasy projections.