Just as it matters in real NFL games, scoring differential is also important in fantasy football. The difference in scoring can oftentimes help project players' usage rates or the play-calling tendencies of teams/coordinators. Using PFF's new strength of schedule metric, we can identify the teams that spent the most time leading in 2019, which of those teams are most likely to repeat in 2020 and which players to subsequently target in fantasy football.
[Subscribe to PFF EDGE or ELITE to gain access to our fantasy football rankings and projections, PFF Player Grades, premium content and more.]
No team spent more time leading in 2019 than the Baltimore Ravens — registering a total of 644 snaps (run and pass plays) in such situations. Not surprisingly, you would be wise to target the players involved in the Ravens' rushing attack, though we will break it down a step further.
Quarterback Lamar Jackson has typically been the first quarterback selected in fantasy football drafts in 2020, and for good reason — he scored over 75 points more than the next closest quarterback, totaling 425.7 fantasy points. Not only were his totals dominant, but Jackson averaged 0.91 fantasy points per dropback, another league-leading statistic. He also registered 105 rushing attempts and 258 passing attempts when leading in 2019. Both stats should provide comfort to fantasy players, even if the Ravens are once again so dominant that they have the luxury of benching players in fourth quarters. According to PFF's new strength of schedule metric (SoS), the Ravens' quarterbacks have the sixth-easiest schedule in 2020.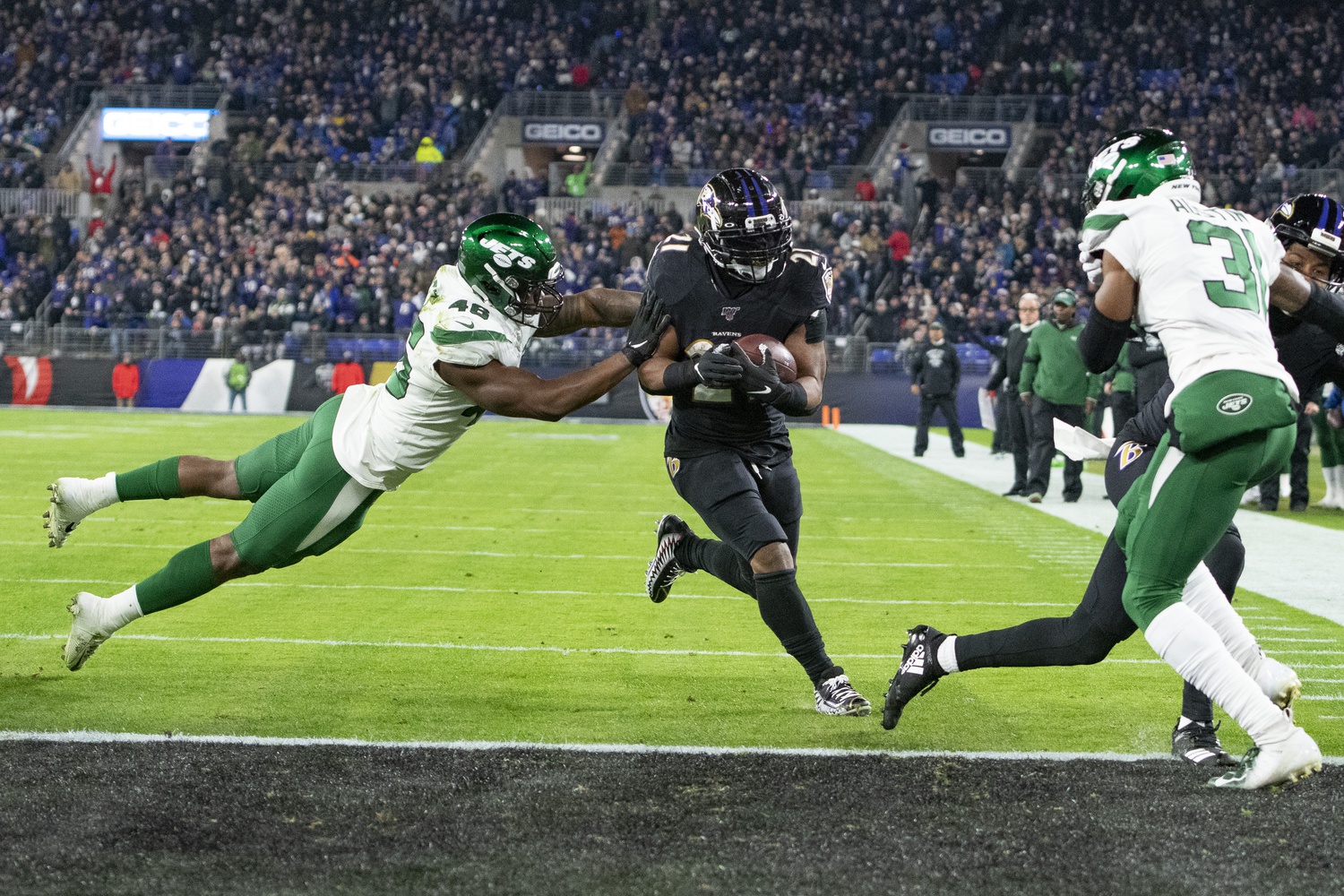 The Ravens' running back group is also a wise target. Both Mark Ingram (114 attempts) and Gus Edwards (93 attempts) had plenty of rushing attempts when leading, though the expectation is that second-round rookie J.K. Dobbins will replace Edwards as the second back in the rotation. Both Ingram (sixth) and Edwards (16th) ranked inside the top 16 in carries while leading, proving there's enough of a workload to go around for both players. Lastly, PFF's SoS metric also favors their schedule — the Ravens' running backs have the seventh-easiest schedule this season.
The last positional group you should look to target is their tight end group. The Ravens' tight ends own the fifth-easiest schedule according to PFF's SoS metric, providing both Mark Andrews and Nick Boyle with many point-scoring opportunities. Andrews received the most targets on the team when leading last season (50), while Boyle's 26 targets ranked fourth on the team. The potential for Boyle's usage rate to increase is possible, given the trade of former teammate Hayden Hurst. PFF's fantasy projections have Andrews slated for a TE3 finish in full-point PPR leagues (248.7 points).
Subscribe to PFF Edge to continue reading
Already have a subscription? Sign In