A few different Davids have slain the Goliath that is Tom Brady over his near two-decade career, but none of them were quite as improbable as Nick Foles. When Foles took over for the injured Carson Wentz in December, it had been close to four full years since his magical 2013 season. In the time since, Foles had thrown about as many interceptions (20) as touchdowns (23) and failed to complete 60 percent of his passes. None of that seemed to matter as he browbeat his way through a trio of formidable playoff opponents, and now fantasy players are left with stars in their eyes over Foles' future fantasy prospects. It's an amazing story, but if it sounds a bit like one you've heard before, that's because it is. In fact, Foles' playoff outburst is eerily similar to Joe Flacco's from five years ago, and Flacco's ensuing regression should caution you to keep your expectations for Foles in check.
The easiest way to visualize Foles' and Flacco's similar paths is with passer rating. Between the start of the 2014 season and the end of the 2017 regular season, Foles had a pedestrian rating of 77.6, which is basically the same as what Mitchell Trubisky compiled in his 12 games as the Bears quarterback this year. But in the playoffs, Foles jumped his rating to 115.7, way better than any quarterback managed for his 2017 season. Flacco experienced a similar spike from his run as an 88.9-rated passer over the 27 games leading into the 2012 playoffs to 115.3 in his final three playoff games. Meanwhile, a chart of Foles' and Flacco's three-game rolling passer ratings in the buildups to their Super Bowl victories shows that each produced his best three-game stretch of passer ratings in those most critical playoff runs.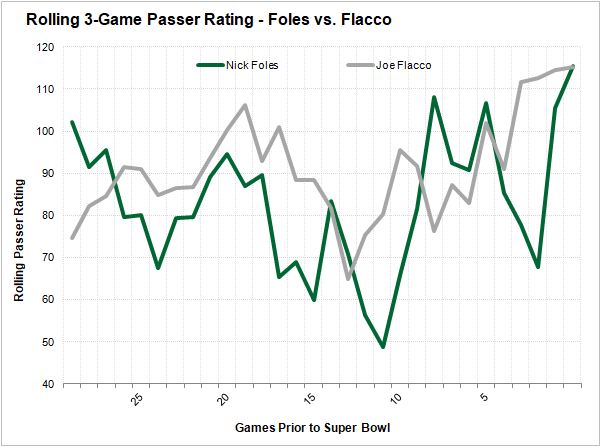 The important thing to consider is that, apart from the timing, a three-game run of that quality of a passer rating isn't unusual, even for a run-of-the-mill fantasy quarterback. Alex Smith had three such stretches in 2017, Andy Dalton had two, and even Blake Bortles had one. Foles got hot at the best possible time, but that doesn't mean he is suddenly a QB1.
I expect many NFL teams will share my expressed caution in their evaluation of Foles, but it only takes one to have conviction in the reality of his breakout and become willing to trade more for him than the Eagles can reasonably decline for their presumed backup quarterback. I'm not even sure that's the wrong approach to take for teams who need a quarterback. That question requires teams to weigh the odds Foles is closer to what he showed in the playoffs than what he showed in the several previous years against the odds they can acquire a franchise passer via the draft or free agency. And Foles certainly wouldn't be the first quarterback to demonstrate his breakout in a three-game passer rating spike. The most obvious example of that in recent seasons is Kirk Cousins, who parlayed his improvements from late in the 2015 season into back-to-back top-five fantasy years.
Biggest Late-Season Passer Rating Spikes from Non-Elite QBs, 2011-17
Season
Weeks
Passer
Prev 27 Gms
3-Game Run
Diff
2015
15-17
Kirk Cousins
85.7
142.8
57.1
2017
13-15
Blake Bortles
79.0
128.6
49.6
2014
13-15
Ryan Fitzpatrick
82.4
131.6
49.2
2014
15-17
Geno Smith
67.0
111.8
44.8
2015
13-15
Cam Newton
85.0
127.2
42.2
2015
15-17
Matthew Stafford
88.2
128.3
40.1
2013
13-15
Alex Smith
89.6
127.9
38.3
2011
17-19
Eli Manning
88.7
126.8
38.1
2017
19-21
Nick Foles
77.6
115.7
38.1
2014
14-16
Eli Manning
77.0
111.7
34.7
2017
12-14
Philip Rivers
88.5
122.7
34.2
2014
13-15
Matthew Stafford
82.9
114.0
31.1
2016
14-16
Matt Moore
82.4
113.4
31.0
2011
16-18
Matthew Stafford
81.8
111.2
29.4
2014
12-14
Joe Flacco
81.1
109.9
28.8
2013
14-16
Andy Dalton
84.4
112.8
28.4
2017
14-16
Jameis Winston
86.6
115.0
28.4
2013
15-17
Kellen Clemens
65.6
93.3
27.7
2011
13-15
Tarvaris Jackson
77.6
104.5
26.9
2011
15-17
Matt Ryan
88.5
115.3
26.8
2017
13-15
Cam Newton
76.9
103.6
26.7
2012
19-21
Joe Flacco
88.9
115.3
26.4
Where Cousins and to a lesser extent Ryan Fitzpatrick succeeded, many more quarterbacks, from Geno Smith to Matt Moore to Kellen Clemens, failed to maintain the jump in their quality of play they showed in a three-game hot streak. And that all-in approach teams might reasonably take with Foles because of the outsized importance of quarterback play to team success should not apply to fantasy players who do not face the same scarcity at the position. Yes, sleeper hits can make your fantasy season, but this analysis sees Foles' playoff run as a similar harbinger of fantasy potential as the spikes Blake Bortles and Jameis Winston saw late in 2017. Before you treat Foles any differently, consider whether your only reason is the halo effect of Foles' Super Bowl victory.