• Austin Ekeler: 10 carries, 122 yards, 2 touchdowns; 4 receptions, 39 receiving yards
• Cam Akers: 19 carries, 123 yards; 1 reception, 10 receiving yards
---

Jump to another recap:
[email protected] | [email protected] | [email protected] | [email protected] | [email protected]
[email protected] | [email protected] | [email protected] | [email protected]
[email protected] | [email protected] | [email protected] | [email protected] | [email protected]
---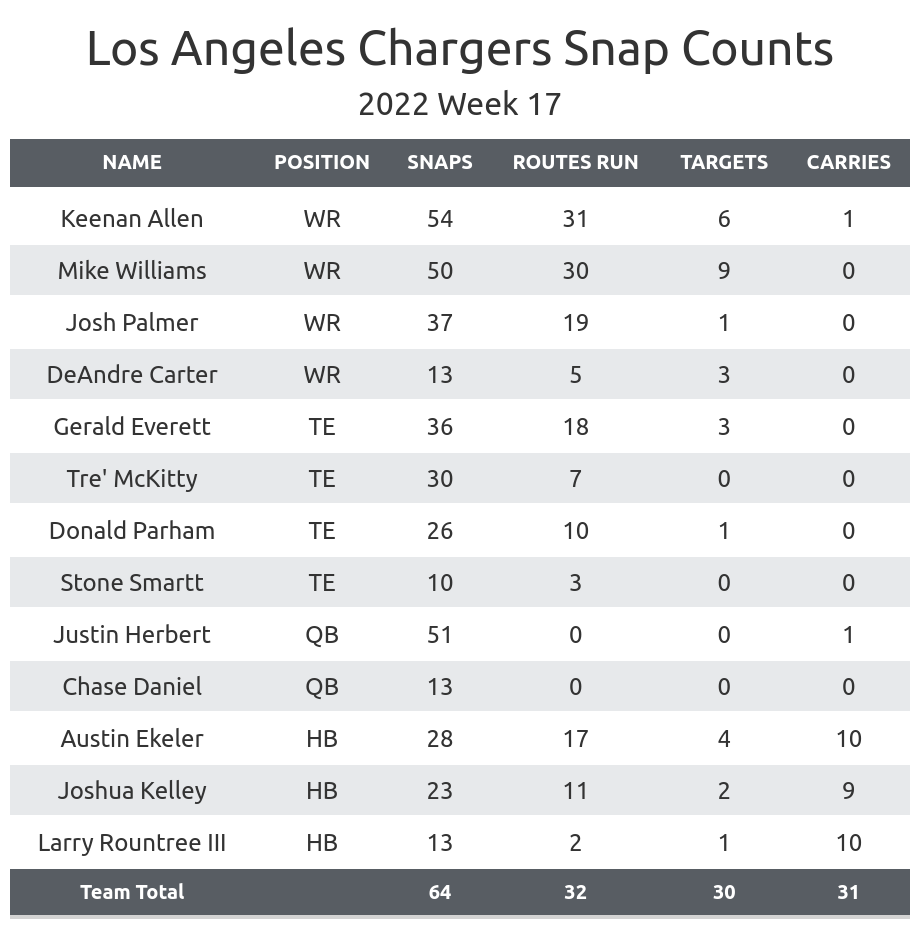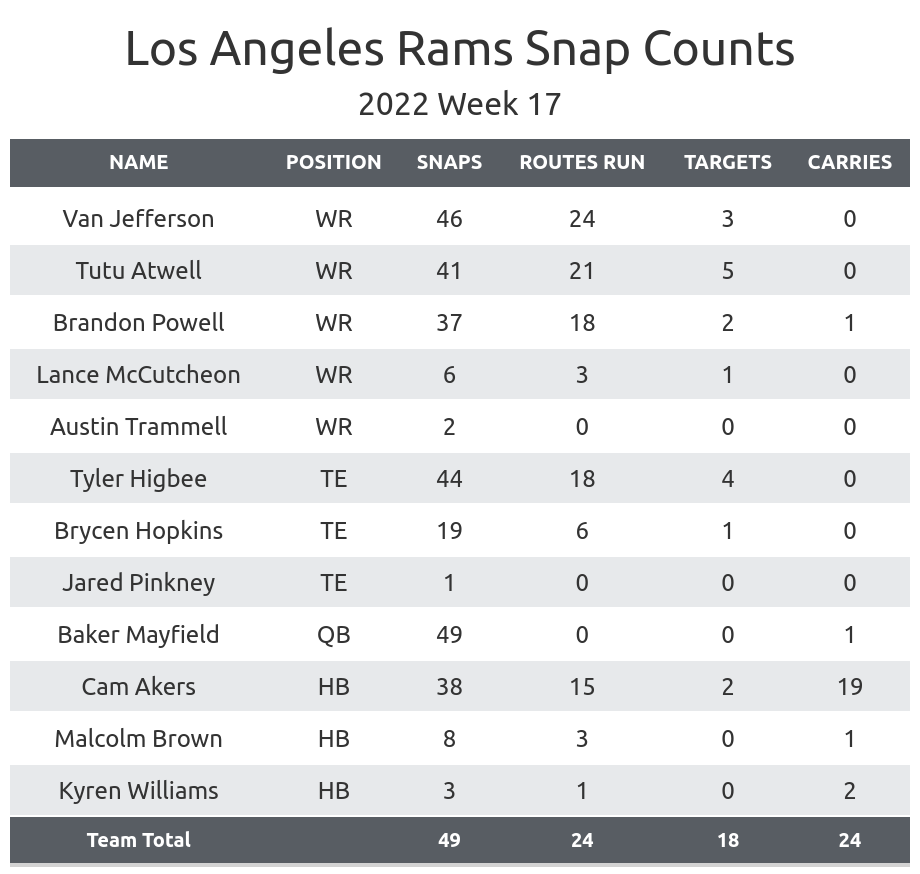 Don't worry about Austin Ekeler's playing time: The Chargers ran the ball 31 times, with Ekeler responsible for just 10 of those attempts. However, this shouldn't be a cause for concern.
The Chargers held a 21-point lead with 12 minutes left in the game, giving them the opportunity to remove their starters.

Los Angeles stuck with a two-man backfield for the first three quarters. Ekeler and

Joshua Kelley

split carries, but Ekeler ran the most pass routes.

Larry Rountree III

played only two snaps late in the third quarter with the starters. The rest of his snaps came with the backups.

Sony Michel

used to be part of the running back rotation but was released yesterday.

Los Angeles should continue to use a two-man rotation throughout the playoffs.

It wouldn't be surprising if the Chargers upgrade their backup running back in 2023, given the talent available in the draft and free agency.
Van Jefferson with his best game of the season: Jefferson caught all three passes thrown his way for 77 yards.
The rest of the Rams players gained 55 passing yards combined.

Jefferson started the season on injured reserve. They began easing him into action in Week 8.

From there, his playing time started to decline rather than increase until the Rams started to lose players to injury.

He was a clear starter once the team lost

Cooper Kupp

and

Allen Robinson II

.

Bennett Skowronek

was still receiving more snaps than Jefferson most weeks until he also landed on injured reserve.

He seemed destined to be phased out of the Rams offense next season, but this performance helps his odds of being part of the wide receiver rotation.

Kupp and Robinson remain under contract in 2023 and are unlikely to be moved. Skowronek and

Tutu Atwell

remain on manageable contracts, which means Los Angeles will likely have all of their noteworthy receivers back next season.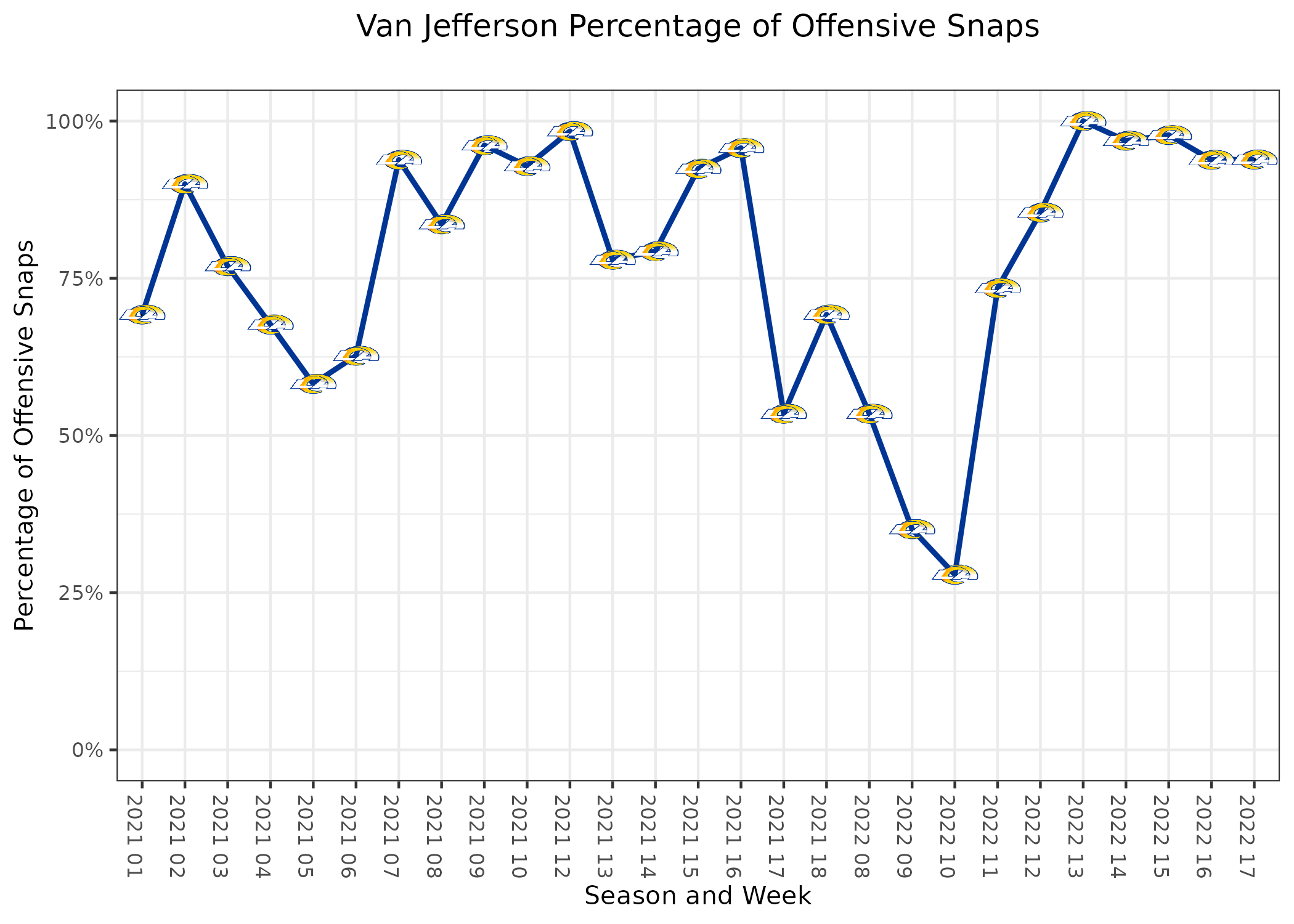 ---
Table Notes
• Snaps include plays called back due to penalties, including offensive holding or defensive pass interference. The other three stats have these plays removed.
• Targets may differ from official NFL sources. The most likely discrepancy would be from a clear thrown-away pass, where the NFL may give the target to the nearest receiver, while this data will not.
• Carries are only on designed plays. Quarterback scrambles won't count for the total number of carries in the game.