We've officially reached the point of the preseason where ADP movement in fantasy football draft happens pretty rapidly. Over the last month, there are some big-name players who have seen some fairly significant moves either upward or downward. In some cases, these moves are justified. But in others, players have risen to a point where they're no longer good values. Given all of this movement, let's break down the biggest ADP movers and shakers over the last month.
ADP 1.12
The jury was slightly out on Chubb for a good chunk of the offseason after the Browns added Kareem Hunt to their roster. But following the Duke Johnson trade, Chubb's ADP has shot up roughly a full round since this time last month last month. Getting Chubb in the late-second felt like a nice value, but we're not at the point where there's essentially no meat left on the bone. While he certainly has big-time upside, Hunt's return could put a damper on Chubb's late-season fantasy value.
ADP 2.11
Here's another running back on the rise due to a roster move. Johnson's value held steady in the early fourth round for a good part of the offseason, but he came screaming up the board following Theo Riddick being waived. Riddick's departure certainly means the potential for a bigger target share for Johnson, but this also feels like a steep price tag.
There's certainly optimism surrounding Johnson's upside, but let's not overlook C.J. Anderson on this roster. In the first half of Detroit's Week 2 preseason game, Johnson and Anderson split reps with the first team offense and both backs played eight snaps. Sure, it's a small sample size, but it could also be a reason to no value Johnson any earlier than the mid-third on draft day.
ADP 3.10
One of the most obvious names on the list, Montgomery's draft stock saw an initial bump after his performance in Week 1 of the preseason and has continued to rise with each new glowing report from Chicago. At this point, we're all but maxed out on his value. Let's not forget that Tarik Cohen is still in this offense and will be a big part of the passing game. His presence puts a cap on Montgomery's overall upside.
ADP 3.09
Fears of the holdout lasting into the season are very real for fantasy drafters, as Gordon has plummeted from a first-round pick all the way down to the late-third. Additionally, we've seen positive movement for Austin Ekeler from 8.06 in July to a current ADP of 6.04, and Justin Jackson has jumped from 14.04 to 12.08.
ADP 3.11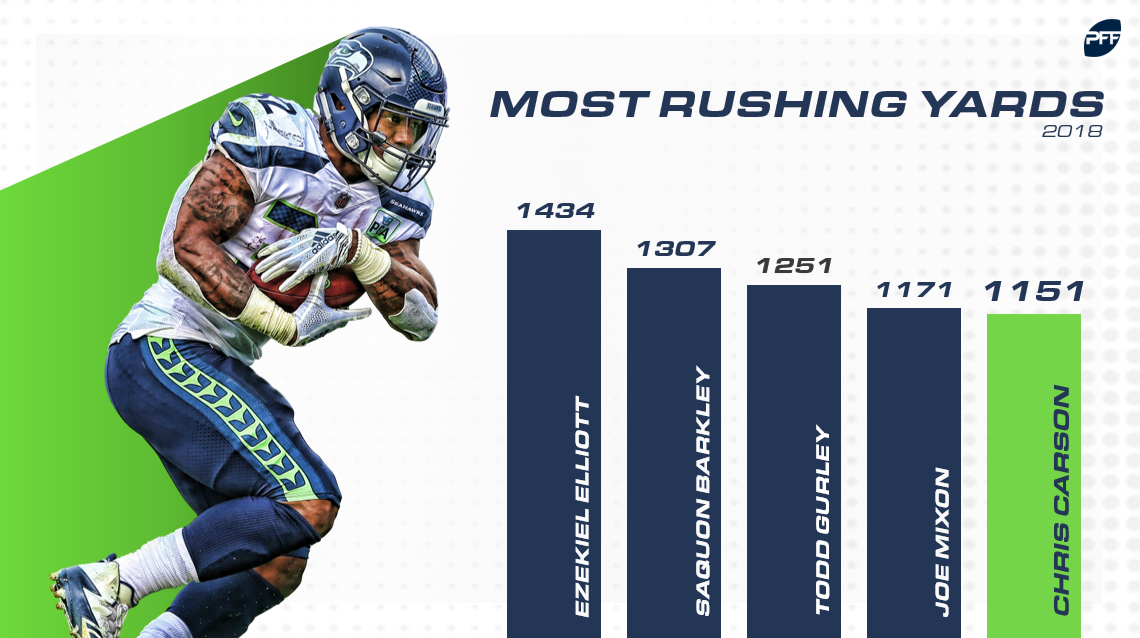 The drafting public seems to have wised up to the fact that Carson is in a position where he's going to touch the ball a lot. Carson was overlooked for a good part of the offseason with his ADP sitting at 5.01 just over a month ago. Since then, reports that he should see a much bigger role in the passing game have caused a steady move up the board. This is the exact right range to be looking at Carson.
ADP 6.03
Even the Jordan Howard truthers have to admit that Sanders looks like the better player in the Eagles' first two preseason contests. The rookie back was coming in at a nice discount in the eighth round or much of the offseason, but those days are over. If you do end up drafting Sanders in this range, keep in mind that it may take him a bit to truly take over in this backfield. But it's a good bet that your patience in the regular season will be rewarded.
ADP 7.06
Not every running back is moving up right now. Drake was going at the turn of the fourth and fifth rounds a month ago, but his ADP has dropped two-and-a-half rounds. This fall was due in part to a foot injury that currently has him sidelined, but it's also the result of the Kalen Ballage hype train. The second-year back got some buzz early in camp and since then his ADP has shot up from 14.03 to 8.09. That's a hefty price to pay for the No. 2 running back on what could potentially be a bad offense. At the same time, Drake is now actually a value at his current ADP. Let's not forget that he was the No. 14 running back in PPR scoring last season.
ADP 8.03
With little clarity in Luck's situation, drafter have acted decisively and dropped his ADP three rounds over the last month. With Luck still looking iffy for Week 1, we're now getting into the range where the risk of picking will justify the reward of him making back on the field. If you do go down that path, make sure you have another safer quarterback on your roster for any time Luck misses.
ADP 9.03
In less than a week, Murray's ADP took a sharp downturn from 8.03 following the Cardinals second preseason game. That's some bitcoin-esque movement for Murray that indicates a bit of a market correction. The perception of Murray before the preseason got a bit out of hand. While the young signal-caller certainly comes with upside, he's far from a sure thing. This needs to be considered if you're thinking of drafting him in this range of drafts.
ADP 10.09
As far as late-round running backs go, Singletary has emerged as one of the more intriguing options after a solid start to his preseason. Consequently, we've seen about a round-and-a-half of upward movement for him over the last month. While LeSean McCoy is the incumbent in the Bills backfield, there's no guarantee that he's the Bills starter this season. That makes Singletary an intriguing late-round lottery ticket.
ADP 13.01
Here's another rookie who has moved up the board in the preseason. Thompson was essentially a fantasy afterthought before camp opened. He then cracked the 14th round of ADP in late-July. Since then, the Utah State product has steadily moved up and is now likely to hit the 12th round for the end of fantasy draft season. With speculation circling that Carlos Hyde does not make the Chiefs' 53-man roster, Thompson could be the No. 2 to Damien Williams in arguably the league's most potent offenses.