The age of 30 is a magic number through much of fantasy football, and usually in a bad way. Quarterbacks can last a long time, and wide receivers don't exactly hit an expiration date, but running backs are usually out to pasture long before they hit that so-old age (that I passed five years ago, sad face).
Still, there are enough players at 30-plus kicking around in the league that I thought it would be an interesting exercise to fire up the PFF Fantasy DraftMaster and see if I could build an entire best ball roster for 2019 out of only players 30 and older.
There's only so much analytic information you can pull out of this, because artificial limitations are always going to introduce silly variables, but it's an interesting exercise in roster construction. For example, I had to occasionally draft a running back earlier than I otherwise might have, lest I risk some of my limited options falling by the wayside. So while you wouldn't want to actually play a league this way in 2019, it's a useful exercise in paying attention to roster construction and noting when you'll have a shot at certain moves and capitalizing on opportunity.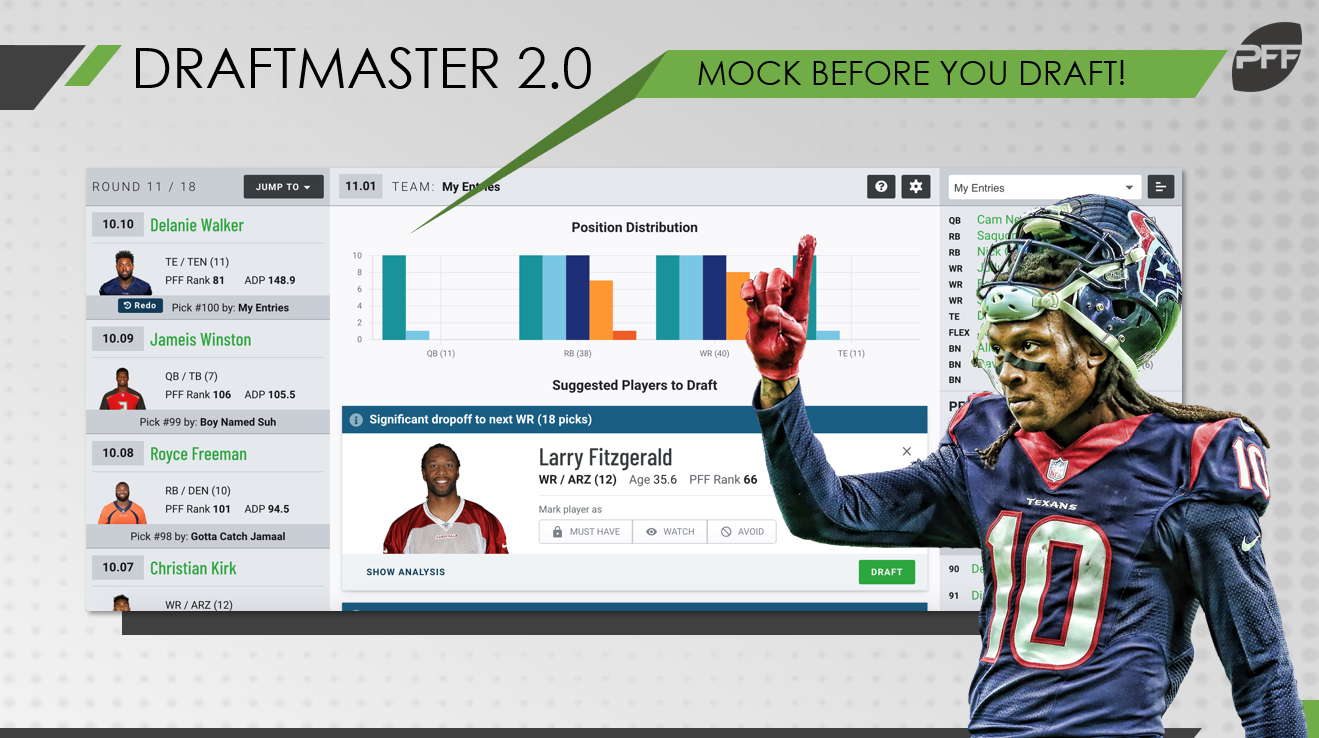 (One more note: I allowed myself the caveat of "players who will be 30 by the end of 2019" instead of "currently 30," strictly because my running backs would have been miserable without Mark Ingram. If that's cheating, that's cheating.)
Round
Player
Team
Position
1
Julio Jones
ATL
WR
2
Antonio Brown
OAK
WR
3
Aaron Rodgers
GB
QB
4
Mark Ingram
BAL
RB
5
Golden Tate
NYG
WR
6
Jared Cook
NO
TE
7
LeSean McCoy
BUF
RB
8
Larry Fitzgerald
ARZ
WR
9
Adrian Peterson
WAS
RB
10
DeSean Jackson
PHI
WR
11
Tom Brady
NE
QB
12
Greg Olsen
CAR
TE
13
Frank Gore
BUF
RB
14
Ted Ginn
NO
WR
15
Baltimore Ravens
DST
16
Jason Witten
DAL
TE
17
Buffalo Bills
DST
18
Doug Martin
OAK
RB
19
Cole Beasley
BUF
WR
Quarterbacks
Quarterback wasn't hard to fill here, and after going receiver in the first two rounds and without an obvious running back to take yet, I was actually able to splurge on Rodgers. I went Brady in the 11th as my second quarterback, and easily could have gone with any of several names, from Nick Foles, to Matthew Stafford, to Joe Flacco, as my QB3 if I had wanted a third one.
Running back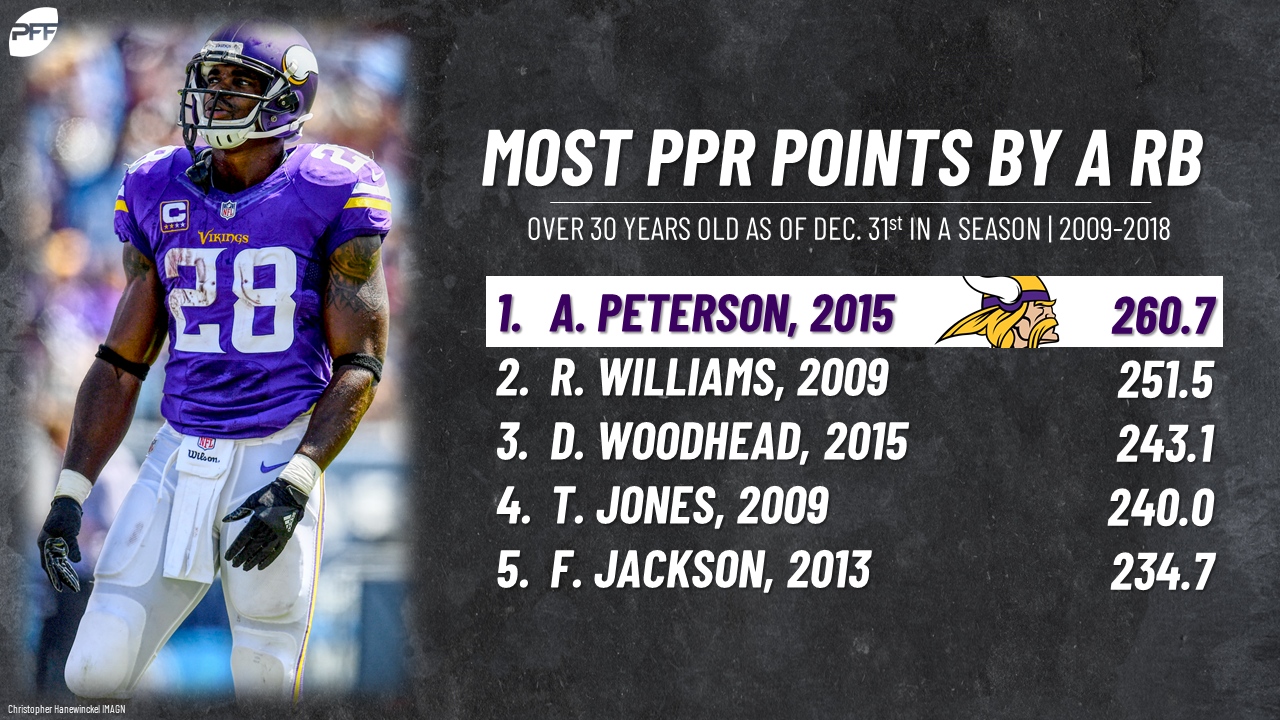 The five running backs on this roster are almost literally the only viable options in drafts this year, and even that required me to stretch to include Ingram. (Maybe actually literally — I couldn't find another back on an active roster who would qualify, but it's certainly possible I missed someone.) As such, I had no point but to pounce on the backs when I did, lest they get snapped up before they got back to me and I was stuck without even a full position.
As it is, this is not a backfield that is going to excite anyone coming into the season. That said, it's not a total lost cause. Ingram could genuinely be an RB1 based on workload alone, and in McCoy and Gore, this team could capitalize on the Buffalo backfield. Peterson and Martin could both be total drains, but with two guys with zero pro track record ahead of them (Derrius Guice and Josh Jacobs, respectively), it's not out of the realm of possibility they could at least have occasional productive weeks. It's not an elite backfield by any stretch, but it can be worthwhile if there's a decent receiver corps around it … which, well:
Wide receiver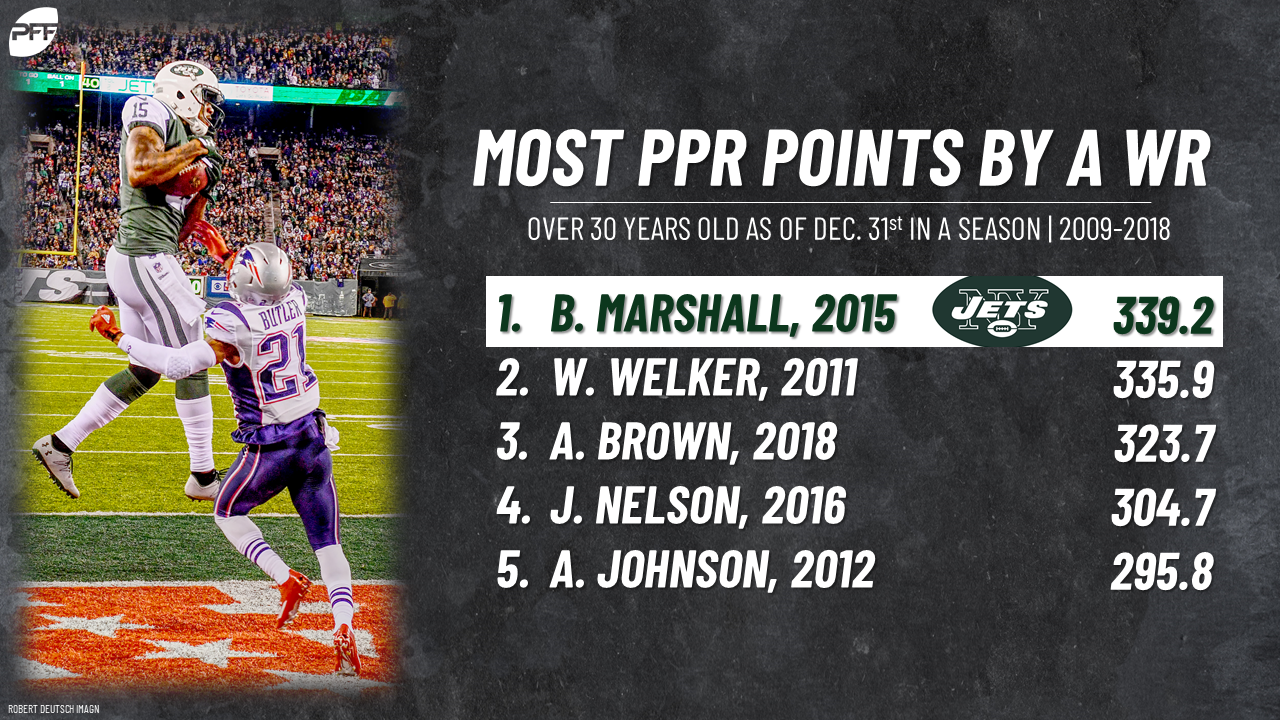 You could probably have ended up with a better group of receivers for fantasy without the over-30 limitations, but not by much. This is just about as elite as it gets, especially considering this is for best ball and includes specialists for that style in Jackson and Ginn. The group of running backs above would definitely need an elite group of receivers to pick up the slack, and they got that.
Notable here: Jones, Brown, and Tate (and A.J. Green, who I couldn't fit onto this roster but would have fit) all hit the age of 30 over the past year, which means this group is worlds ahead of the group put together for this exercise in 2018, when the starters were Fitzgerald, Pierre Garcon, and Mike Wallace. It's a sign of the times, with a group of receivers reaching the upper level of age at once. That means we'll be good with veterans for another year or two or three, but we'll be in store for a real changing of the guard in not much time.
Tight end
With the recent phasing out of big-name receivers like Rob Gronkowski (who would have been eligible for this list this year), Antonio Gates, Martellus Bennett, and others, the tight end position is younger on average than it has been in some time. Cook, now with the Saints, is the closest thing to a safe bet among the over-30 contingent, though this exercise also could have landed Delanie Walker and Jimmy Graham. Still, Olsen was productive when healthy in 2018, and if he can show that health in 2019, this unit has potential.
Overall impressions
Would this team win a best ball league in 2019? Probably not. The running back group alone is probably enough to hold the roster back. That said, the answer isn't definitely no. This is a team that could compete if things break right, especially with that ridiculous group of receivers and a possible bounceback out of Rodgers, and it could compete despite a unit entirely of "old" guys.
Obviously, you wouldn't want to build your roster around only players 30-plus. But that's not the point of the exercise. The point here is to play around with mock drafts and improve your 2019 acumen for draft season so you are ready when it's time to draft for real. Want to experiment yourself? Check out the PFF DraftMaster and go for it.