("Metrics that Matter" is a short feature that appears every weekday, highlighting a notable fantasy lesson to be learned from PFF's advanced stats.)
Hello and welcome to the third installment of Metrics that Matter. Each weekday we'll look at an intriguing metric or chart developed through PFF-exclusive statistics. This week, our focus is on quarterbacks. Today we'll look at Jameis Winston and his glaring discrepancy in terms of passer rating when targeting tight ends as opposed to all other positions.
Since entering the NFL, Jameis Winston has the fifth-best passer rating when targeting tight ends, but ranks third-worst when targeting all other positions. This is the largest discrepancy among all quarterbacks over this stretch.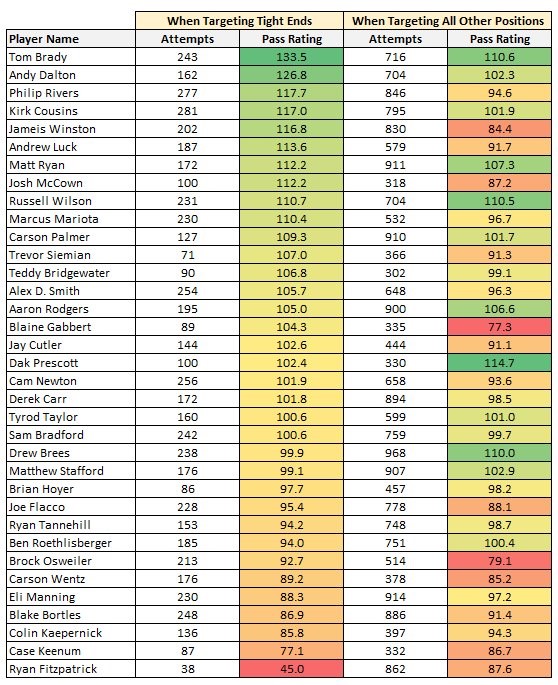 What does this mean?
I know what you're thinking, "Yeah, yeah. Cool stat, Scott. But what does this mean for my fantasy teams?"
I don't think this means we should temper our expectations for DeSean Jackson in his first year in Tampa Bay. Nor do I think this is an accurate representation of Winston as a passer. I think, really, this is mostly a product of the poor wide receiver play Winston has been forced to deal with during his short NFL career. Here are all of Winston's intended targets over the past two seasons: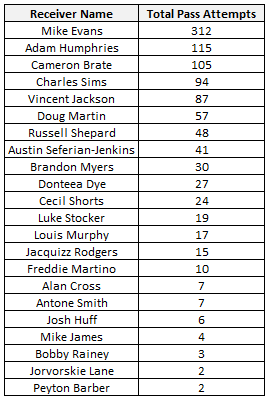 Needless to say, this isn't a very impressive list of names. An undrafted 23-year-old slot receiver in Adam Humphries is Winston's second-most-targeted receiver. A now 34-year-old Vincent Jackson who will likely not play a snap this season ranks fifth. After that, several more names of players unlikely to see more than a handful of targets this season.
The additions of Jackson and first-round rookie tight end O.J. Howard should only help Winston in terms of efficiency. Over the past two seasons, he's had little choice but to force-feed the ball to his one reliable option – Mike Evans. Evans led the league last season in air yards per game, targets per game, end-zone targets per game, air yardage market share, target market share, touchdown market share, first-down market share, and a number of other volume-based statistics. Even though Jackson has never really been a target-hog himself, all of these numbers are likely to dip for Evans, but his efficiency too should climb.
Jackson clearly uplifted Kirk Cousins in terms of efficiency while in Washington and there's no reason he shouldn't do the same for Winston in Tampa Bay. So, obviously, I suspect Winston's non-tight-end passer rating will climb in 2017.
However, at the same time, Winston really might just favor tight ends and continue to be highly effective when targeting them. In his final year of college, Winston targeted his primary tight end, Nick O'Leary, 80 times, which ranked third-most at the position that year. These metrics may be why Tampa Bay decided to spend their No. 19 pick on Howard despite having an established dependable receiving tight end in Cameron Brate.
I'm typically wary of rookie tight ends in fantasy, but post-draft comments from the team's GM have me atypically optimistic for Howard.