("Metrics that Matter" is a short feature that appears several times a week, highlighting a notable fantasy lesson to be learned from PFF's advanced stats.)
Throughout their careers, Tom Brady averages a 133.7 passer rating when targeting Rob Gronkowski. Over the past decade (min. 350 targets), no quarterback-to-receiver connection has yielded a higher passer rating.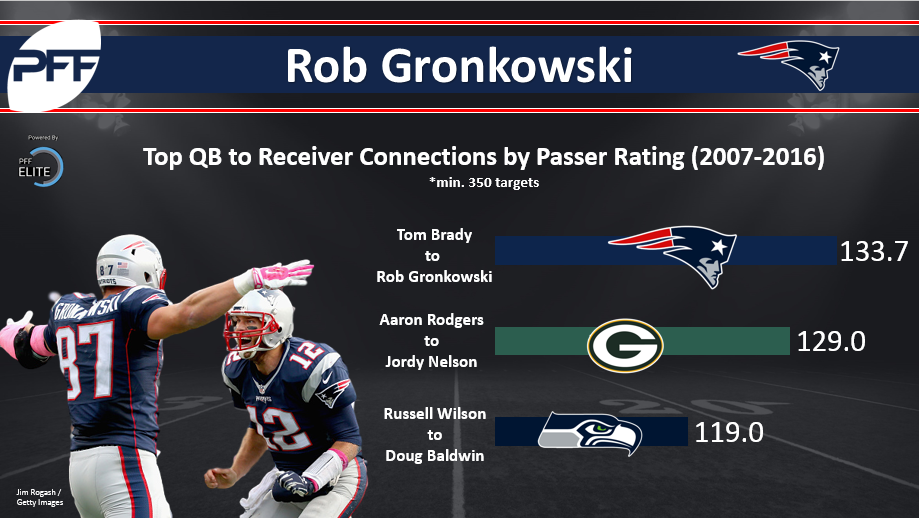 I'm not sure this should be a major surprise. We know Brady is good. He ranks third-best all-time in passer rating — actually, every passer on the above chart ranks top-three all-time in passer rating. We also know Gronkowski is good. Or, at least, we should.
Since the 1970 NFL merger there are 203 instances of a player recording at least 400 receptions over the course of their career. Gronkowski leads all tight ends on this list in receiving yards per game (69.3) and receiving touchdowns per game (0.77.) Among all players, he ranks best in receiving touchdowns per game (next-closest is Randy Moss with 0.72) and 19th-best in receiving yards per game (only 0.8 behind Moss.) Of the 28 names on this list to join the NFL since targets became a statistic (1992), Gronkowski leads all players in yards per target average (9.88) and touchdown percentage (11.0 percent).
He's been just as dominant in or near the end zone throughout his career. Over the past decade, he's the only player to rank top-five among all players (min. 30 such targets) in touchdown percentage on end zone targets and targets inside the 10- and 20-yard lines.
Not only is Gronkowski arguably the best receiving tight end of all-time (at least statistically on a per-game basis), but he's also one of the most statistically efficient receivers we've ever seen.
There's also no denying what Gronkowski's impact has meant for Brady. Since Gronkowski entered the league, Brady has a 103.4 passer rating in games Gronkowski played (including postseason). In games Gronkowski did not appear, he averages a lowly 88.6 passer rating.

This makes New England's 2016 Super Bowl run that much more impressive, and their 2017 roster that much more imposing.
What does this mean for fantasy?
On a PPR fantasy-point-per-game basis, over the last six seasons, Gronkowski has finished first, first, second, first, second, and eighth among tight ends. It may look like he had a down-year last season, but his numbers are unfairly skewed by injury. Gronkowski didn't start in Weeks 3 and 4, and he played just seven snaps in Week 12. If we exclude these weeks, he would have victory-lapped all tight ends in fantasy points per game by 4.8 – and finished third-best among wide receivers.
There's no denying Gronkowski is a considerable injury risk, missing 24 games over the past five seasons, but he also offers the greatest positional advantage in fantasy football. Since 2011, Gronkowski has finished as a top-six fantasy tight end in 60 percent of his games and a top-12 tight end in 79 percent of his games. This leads every player at every position over this span. Among tight ends, that's 17 percent and 13 percent more than the next-closest player (Jimmy Graham.)
I might be more injury-risk tolerant than most, but I'm fine selecting Gronkowski nearly anywhere in the second round. As for the guy throwing him the ball – Tom Brady – the only quarterback I can see myself drafting ahead of him is Aaron Rodgers. Playing in just six games with Gronkowski last season, Brady ranked third at the position in fantasy points per game. After adding wide receiver Brandin Cooks this offseason (who we will get to in an upcoming Metrics that Matter) to pair with Julian Edelman, assuming everyone stays healthy, this might be Brady's most-potent stable of pass-catchers ever.