(Metrics that Matter is a regular offseason feature that examines some aspect of fantasy through a microscope to dive into the finer details.)
Peyton Manning leads all quarterbacks (since 1960) in game-winning drives with 54. Tom Brady leads all active quarterbacks and ranks fourth all-time with 42 – perhaps just as impressive, if not moreso, given how infrequently his teams are trailing. It's no surprise then that these two quarterbacks are considered two of the greatest and most "clutch" quarterbacks of all time. When the game is on the line, these legends always appear poised, calm, and confident – like they already know the end result of the game and it ends with their team having scored the most points. Sometimes too, the opposition looks as though they feel the same way – we're up by six here with 48 seconds left, but it's Tom freaking Brady.
Meanwhile, I'm at the other end of the spectrum, constantly buckling under pressure. I can make about 40 percent of my shots in 1-on-1 basketball games, but when I get to game point that number shrinks to 10 percent. I mean, even if there's just a longer line than usual behind me at Chipotle I'll be a nervous wreck stumbling and stuttering through my order. "B-b-brown rice … no wait, white!"
In the NFL, quarterbacks also deal with another kind of pressure – mainly, a 270-pound defender breathing down your neck as you're attempting to hit an open receiver. It's no surprise then that quarterback efficiency dramatically declines when pressured by an opposing defender. Over the past decade, the average passer rating when a quarterback is pressured is 73.3, while on average, the passer rating from a clean pocket is 98.5. For perspective, last season, Trevor Siemian's 73.3 passer rating ranked 31st (of 35 qualifying quarterbacks) in passer rating, while Case Keenum ranked eighth (98.3).
These are the average rates, but I wanted to look back over the past three seasons to determine which quarterbacks were the most "pressure-sensitive" by contrasting their clean pocket passer rating with their passer rating when pressured.
Among all quarterbacks with at least 600 pass attempts over the past three seasons, here are your most  to least pressure-sensitive quarterbacks: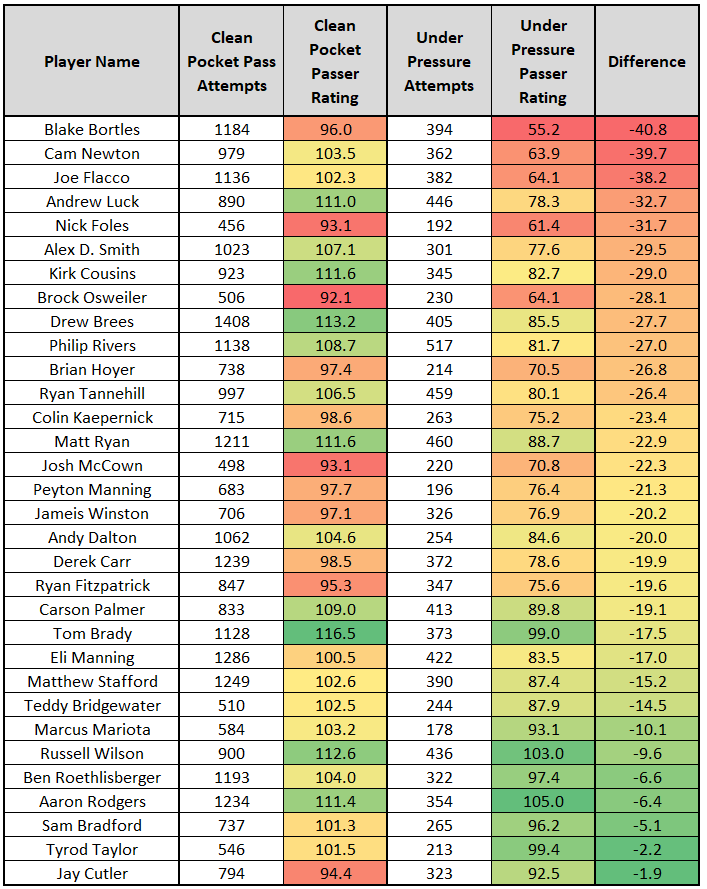 What does this mean for fantasy?
Basically, the data suggest that in DFS, or when making close start/sit decisions, you're better off avoiding an especially pressure-sensitive quarterback up against a defense that ranks highly in pressures per dropback. Or, if you're looking to stream a fantasy defense, I'd suggest breaking ties by playing one of these defenses when up against one of our most-pressure-sensitive quarterbacks.
Who stood out?
Jay Cutler – Kudos to Smokin' Jay, who stood out as being the most unphased by pressure (or anything, really) of any quarterback within our sample. I mean, he did rank fourth-worst (of 32 qualifying) from a clean pocket, but he also ranked eighth-best when under pressure. He'll probably never start another game in the NFL, but it is exhilarating to note the data backs his reputation.
Blake Bortles – On the other end of the spectrum we have Bortles, our most pressure-sensitive quarterback, who ranked worst under pressure and sixth-worst from a clean pocket. His general overall efficiency (or rather, inefficiency) might be the greater concern, but it should be encouraging for Jacksonville fans that the team went out of their way to make improvements to the offensive line, signing Andrew Norwell, who ranked as our third-highest-graded guard last season.
Cam Newton – To my surprise, Newton was our second-most pressure-sensitive quarterback within our sample, ranking third-worst when under pressure, but 14th-best from a clean pocket. In contrast to Bortles, his offensive line looks far worse after free agency, losing Norwell to the Jaguars. Although Newton may make up some of the ground (for fantasy) on the ground (pun unintentional) – because quarterbacks average more yards per carry when blitzed or pressured – it's still something I'd be concerned about for fantasy.
Aaron Rodgers – Rodgers leads all quarterbacks in our sample in passer rating when under pressure and has also faced pressure at the third-lowest rate (as a percentage of overall pass attempts). I suspect Rodgers' maneuverability within the pocket plays a role in the low percentage of pressured attempts, but Green Bay's offensive line deserves the bulk of the praise. Over the past three seasons Green Bay has ranked third, first, and 12th in team pass-blocking grade. While it might matter less for him than most quarterbacks, I'm sure he's grieving the recent losses of J.C. Tretter and Pro Bowl guard T.J. Lang.
Russell Wilson – Wilson was one of the quarterbacks most consistent when under pressure, ranking third-best from a clean pocket and second-best when under pressure. Sadly, for him, he's also attempted the third-highest percentage of his passes when under pressure (behind Andrew Luck and Carson Palmer). The Seahawks have ranked bottom-three in team pass-block grade in each of the past three seasons, and the team only signed one offensive lineman this offseason – D.J. Fluker, our third-worst-graded pass-blocking guard last season. That being said, he ranked first in fantasy points per game last season, so while the poor pass-blocking play is unfortunate, it's not likely a major concern.
Drew Brees – Brees ranked surprisingly high in pressure sensitivity (ninth), ranking second-best from a clean pocket and only 13th-best when under pressure. To be fair, he also attempted the fifth-lowest percentage of passes when under pressure, which is likely by design, ranking top-six in (quickest) average time to throw in each of the past three seasons.
Kirk Cousins – Cousins ranked fourth-best from a clean pocket over the past three seasons but was just about average (ranking 17th) when under pressure. Washington has a great offensive line on paper, but the team struggled through injuries last season, with 11 different offensive linemen playing at least 140 snaps. Unluckily for Cousins, we had Minnesota's offensive line ranking one spot below the injury-marred Redskins last season, and they've made no major moves this offseason and just lost Joe Berger to retirement Friday. However, he still ranked top-six in fantasy points per game last season, and the upgrade in receiving talent should help make up for some of this.