The Denver Broncos have a lot of exciting young talent and also made one of the bigger moves in this year's free agency with the signing of Melvin Gordon. However, the team hasn't been able to hit at quarterback since Peyton Manning's retirement. Denver is currently set up with unproven second-year man Drew Lock in the driver's seat for the starting job at the position. Let's break down what the initial release of our 2020 fantasy football projections have to say about the Broncos fantasy prospects for this upcoming season.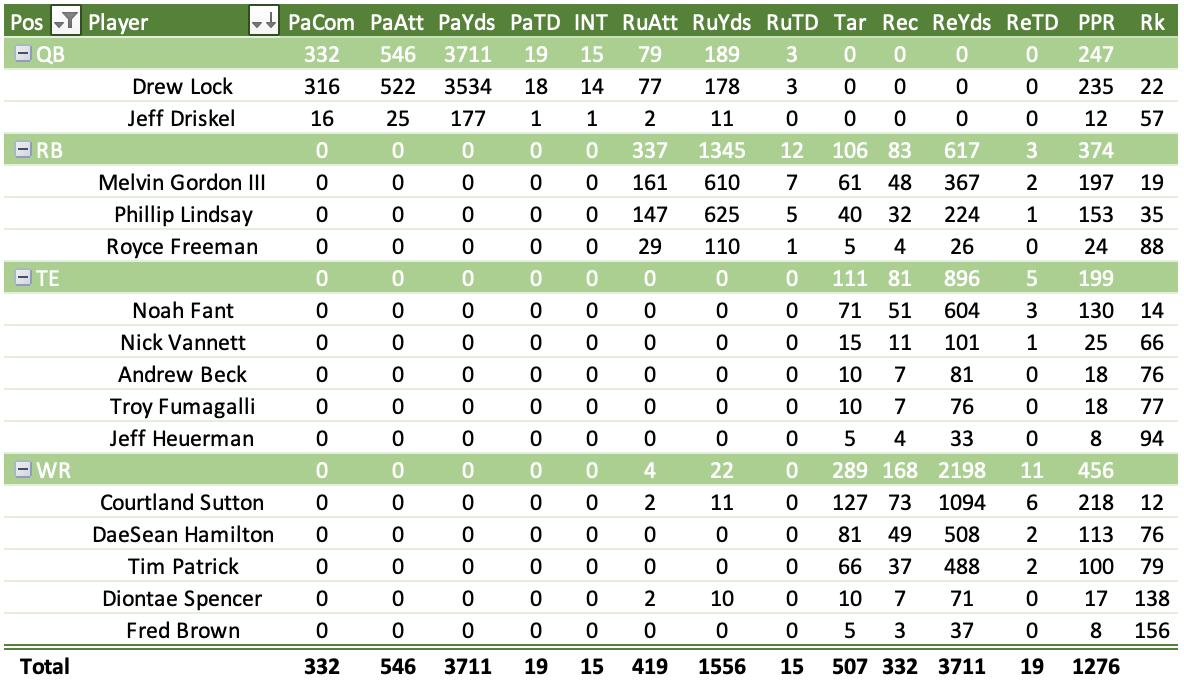 In terms of free agency landing spots, the Broncos certainly weren't the top of the list for Gordon's fantasy prospects. He enters a crowded backfield with Phillip Lindsay and Royce Freeman already in-house. At this point, dividing up the touch shares in this trio is a bit tricky. We have Gordon as the clear lead back but are giving Lindsay nearly 44% of the running back carries. 
This distribution could certainly change as we get more information throughout the offseason, but for now the numbers position Gordon as a mid-range RB2 option with Lindsay as more of a handcuff. While neither player is as appealing as he was last season, both are very draftable for fantasy purposes. The same cannot be said for Freeman, whose value essentially falls off a cliff. 
As of now, the Broncos appear to be entering the season with Lock under center. There's an outside chance the team signs a quarterback, as oddsmakers have positioned Denver as a sneaky favorite to land Cam Newton's services. A move like that would certainly change a lot of the numbers, but for now Lock is on the QB2 radar. Lock took over as the starter in Week 13 last season. While he was far from consistent, he did flash upside and ranked 24th among quarterbacks in fantasy scoring from that point on. So this projection is perfectly reasonable. 
Our numbers look especially good for Courtland Sutton, as the young wideout projects as the No. 12 wideout in PPR scoring. Sutton broke out last season, finishing as fantasy's No. 19 wide receiver. While the projection may seem ambitious, keep in mind that the receivers from 12 to 18 are tightly bunched and separated by less than a point per game. We should also note that some mocks have the Broncos selecting a wide receiver in the first round. Sutton's outlook would take a major hit if that takes place.
The numbers also look good for Noah Fant, who projects just outside the top-12 in the exact same spot he finished in last season. Young tight ends typically take awhile to ramp up for fantasy purposes, but Fant impressed in his rookie season with 40 catches for 562 yards. His three catches of 40-plus yards tied with Travis Kelce for the most among tight ends. You'll notice that Fant does come in slightly higher in our fantasy football rankings. Remember that projections and rankings are not the same thing — projections serve as a good starting spot, but in rankings we can better account for things like ceiling and floor. In this case, Fant's higher ceiling pushes him up into the 11 spot in our rankings. He's a very appealing late-round tight end option who figures to take a step forward this season.
[Find the full collection of analysis and insights on PFF's 2020 fantasy football projections for all 32 NFL teams. Check back as more articles will be added each day.]