The Kansas City Chiefs started Saturday with an underwhelming veteran running back vying for a role in its backfield and ended Saturday with a different one. For fantasy football, the change from Carlos Hyde to LeSean McCoy is tremendously frustrating.
Hyde joined the Chiefs in March after a disappointing 2018 split between Cleveland and Jacksonville. At first he seemed like a candidate to back up starter Damien Williams and possibly even push him for starting reps. By the middle of training camp, though, it was clear that Hyde was behind not only Williams but also Darwin Thompson in the backfield and was a candidate to be cut. Instead, the Chiefs dealt Hyde to Houston Saturday afternoon, apparently clearing the way for Williams to contend for bell-cow work and Thompson to be his clear handcuff.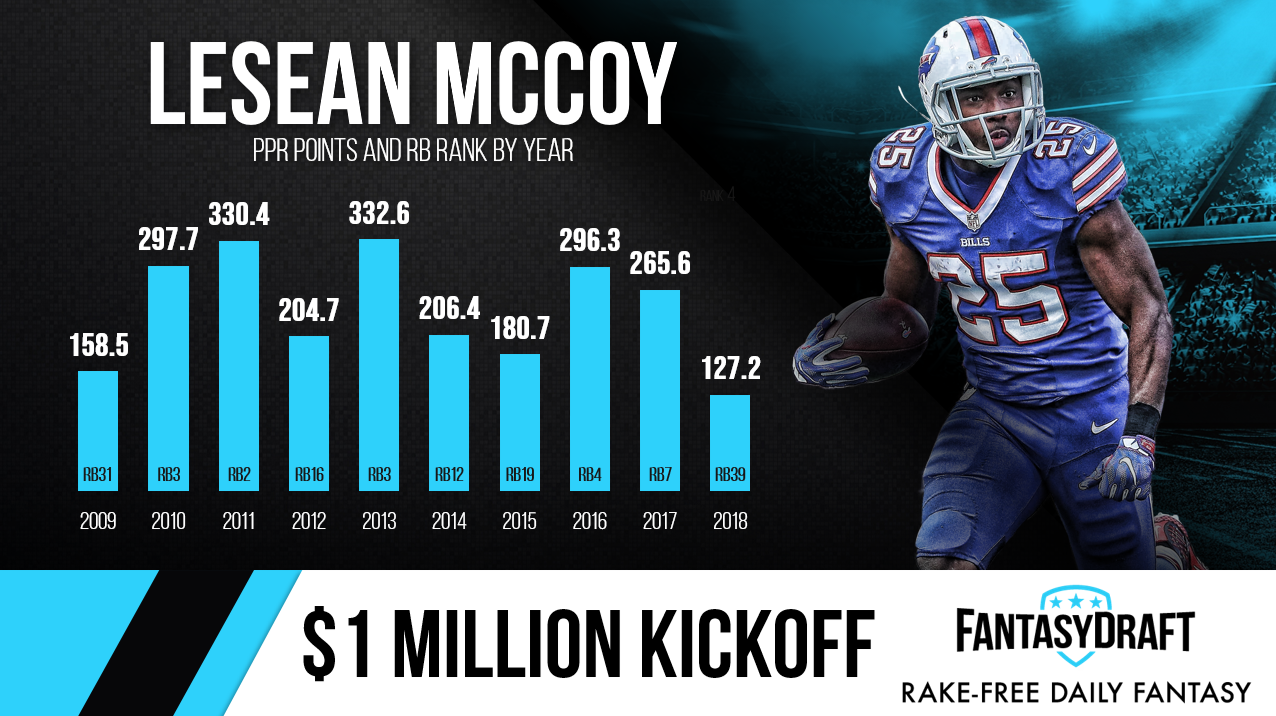 Enter McCoy, who was released by Buffalo earlier Saturday. The 31-year-old back reunited with his former head coach Andy Reid late Saturday, agreeing on a one-year deal worth $3 million guaranteed. Notably, that's more than Williams got on his extension last December. McCoy struggled mightily in 2018, putting up a career-worst 3.2 yards per carry and a PFF grade of 62.5 that was his second-worst since his rookie season. In his defense, he dealt with injuries during the season and was stuck behind one of the league's worst offensive lines; he had topped 1,200 rushing yards in back-to-back years before 2018's 514-yard output.
Still, McCoy isn't the back he once was, and definitely isn't the back he was when he was paired with Reid in Philadelphia years ago. If he were, he'd still be a Bill. But the Chiefs didn't give him $3 million not to be involved, and considering Williams is five years into his career and has 183 career carries (291 career touches) and a productive-for-fantasy track record of exactly four regular season games, anybody relying on Williams to have a 27-year-old breakout is probably kicking themselves now.
Williams was flirting with mid-level RB2 status before this deal, while Thompson had risen to the mid-40s among running backs. Pump the brakes now. Williams is still the back you want in Kansas City if you want one, but McCoy's arrival pushes him down to the high 20s or early 30s at the position. McCoy will slot in around 40 in the running back rankings, while Thompson — arguably the highest-ceiling option at this point in their respective careers — could see his value evaporate. He's only worth a flyer in the deepest of leagues.