Not only are the Kansas City Chiefs the reigning Super Bowl champions, but the team is also home to three elite fantasy football options. No other team in the NFL can make that claim. And the good news is that we don't see this changing anytime soon. So let's dive into what our initial 2020 fantasy football projections have to say about Kansas City.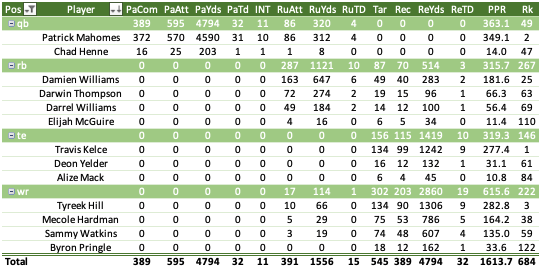 As far as our initial projections go, the Chiefs are about as straightforward as they come. Patrick Mahomes slides in right behind Lamar Jackson in the No. 2 spot thanks to a league-high 31 projected touchdowns. In fact, that number is a whopping four more than the second-most. And, thankfully, Mahomes' value has evened out a bit since last year's high, so you might actually be able to get him in the fourth round. While we don't advocate taking a quarterback that early in 1QB leagues, it's tough to argue that isn't a fair market price for the young standout.
With Mahomes projecting for elite numbers, it's no surprise that Travis Kelce and Tyreek Hill also pop. Kelce is a fantasy football rock star and is showing no signs of slowing down. But Hill is especially interesting. The Chiefs wideout has arguably the highest weekly fantasy ceiling among wideouts, but consistency can sometimes be an issue. However, our numbers absolutely love him and position him in exactly the same spot as our 2020 fantasy football rankings. There's a good chance Hill goes in the first round of a lot of fantasy drafts this year.
Beyond those two, things become slightly tricky on this roster. We saw last season that the explosive upside that Mahomes provides in the passing game can lead to massive weeks from receivers, but it isn't easy to predict which receiver will have the big day. Currently, we're giving the season-long edge to Mecole Hardman over Sammy Watkins, but that could flip flop in any given week.
The backfield is a bit of a conundrum as well. I really want to believe in Damien Williams, but Andy Reid kept giving us reasons to doubt him last year. As of now, we have Williams projecting as a fringe RB2, but that could certainly change if the team addresses the position in the draft. The Chiefs only have five picks, but three of them come in the first two days. A running back would be unlikely on Day 1, but spending a Day 2 pick on the position would certainly call Williams' status into question.
[Find the full collection of analysis and insights on PFF's 2020 fantasy football projections for all 32 NFL teams. Check back as more articles will be added each day.]