Last year was a rough one for the Cincinnati Bengals, but exciting times are brewing for the franchise. The team holds the coveted No. 1 pick in this month's draft, and that pick will almost certainly aid an exciting nucleus of skill position players. Year 2 of the Zac Taylor regime should be an improvement, but we're still in a bit of a holding pattern until we see how the draft unfolds. Regardless, our initial 2020 fantasy football projections have some interesting things to say about the Bengals.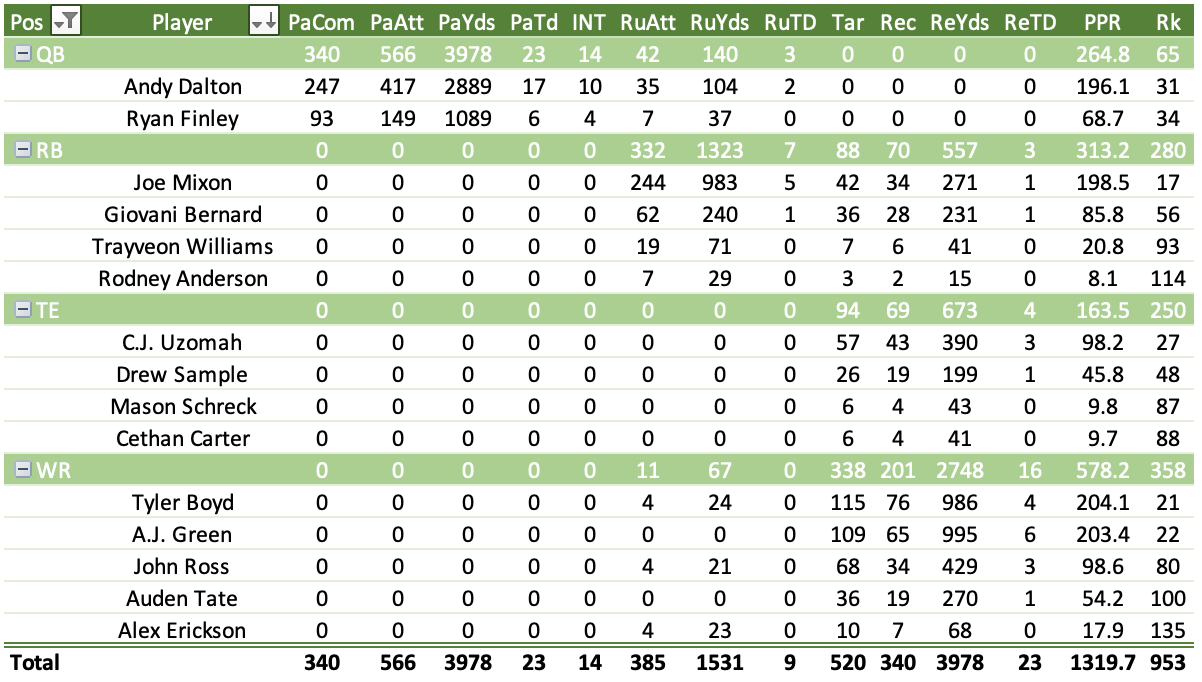 I'm not going to lie. The numbers don't look particularly good for Joe Mixon, and I know that isn't going to go over well with many fantasy players, as he's currently coming off the board as the No. 6 back in ADP. But it's important to remember what projections are actually telling us. These numbers aren't concrete. Rather, they're designed to show the midpoint of a wide range of outcomes. Given the current state of the Bengals offense, it isn't hard to understand why our numbers aren't especially bullish on the team, and that will have an impact on individual numbers.
Fortunately, we know the numbers are going to change after the draft. Cincinnati is expected to use the No. 1 overall pick on Joe Burrow, which should pull these numbers up a bit across the board. For now, it's wise to not read too much into the projections, like we did in our 2020 fantasy football rankings. That's where we're looking beyond the present numbers and have Mixon ranked at RB8, which is much more in line with his current ADP.
Even if Mixon's numbers don't improve that dramatically after the draft, he'll likely still be ranked in the same range. Let's not forget that he was fantastic over the final eight weeks of the season last year. Mixon ranked fourth among running backs in fantasy scoring despite playing on a team that went just 2-6 over that stretch. Our rankings are going to favor Mixon's ceiling given his recent track record of success.
Speaking of the first overall pick, the strong likelihood that the Bengals pick a quarterback essentially renders Andy Dalton's projection null. Likewise, it's tough to get a good grasp on what to expect out of Tyler Boyd and A.J. Green from an efficiency standpoint. However, we can at least look at projected volume with these two. Currently, we have Boyd leading the team in target shares with Green right behind him. While Green does come with name-brand appeal, he's entering his age-33 season and has missed 29 games over the past four seasons. His fantasy arrow is pointing down regardless of who is under center for the Bengals this season.
[Find the full collection of analysis and insights on PFF's 2020 fantasy football projections for all 32 NFL teams. Check back as more articles will be added each day.]