Each week, PFF's fantasy football analysts post our rankings in PPR, non- PPR and 0.5 PPR formats for the league's offensive skill positions. Jon Macri and I then add our IDP rankings, making the PFF rankings pages the go-to resource for all your fantasy football decisions.
Subscribe to
According to FantasyPros, my rankings were the third-most accurate among 129 experts in 2019, and they were also the most accurate for running backs. After 10 weeks of 2020, they are fifth-best among 166 fantasy experts.
Of course, our rankings are in a constant state of flux, with changes being made due to injury reports and personnel/usage updates, among other factors. But regardless of any changes that may occur between now and Sunday, here are 10 borderline fantasy starters whose rankings I feel confident about heading into the 11th week of the fantasy football season. These rankings are based on PPR scoring settings within their positions as of Wednesday morning.
BIG-GAME POTENTIAL
Newton started the season on fire with the third-most fantasy points per dropback (0.73) after the first three weeks. He landed on the Covid-19 list and had a slow return, but since then he's back to being third-best in fantasy points per dropback over the last three weeks — again at 0.73. Jakobi Meyers is a big part of Newton's resurgence. Meyers' 2.99 yards per route run is third-best for wide receivers.
The Patriots play the Houston Texans this week, which is great news for Newton. Houston has given up 5.2 yards per rush, so Newton should have plenty of success running with the ball. The Texans didn't have Bradley Roby track any receiver last week, so there's a chance he won't follow Meyers, either. The Patriots already keep Meyers on the right side of the field most of the time, while Roby plays on the opposite side. Newton should be able to find success throwing as well, bringing him back to the QB1 category.
David Johnson landed on injured reserve last week after suffering a concussion in Week 9, and Duke Johnson took over as the starter against the Cleveland Browns. Duke didn't put up big fantasy numbers, but there is reason to be more optimistic this week — he saw 100% of the Texans' running back carries, though the team didn't run that many plays overall.
Cleveland has been a top-10 team at stopping running backs, but the matchup should be more forgiving this week. Houston gets the New England Patriots, who have allowed four running backs to go for 80 or more yards against them in the last five weeks. The Texans threw to running backs only two times last week, but they average five targets to backs per game over the whole season. Duke should see more targets and be more effective on his touches than last week.
Johnson has been a major part of the Steelers offense in recent weeks. His 38 targets since Week 7 ranks sixth among wide receivers. All three of the Steelers rank in the top 12, which isn't sustainable, but at least two of Pittsburgh's three wide receivers should find success against the Jacksonville Jaguars defense.
Jacksonville has allowed a 100-yard receiver in each of its last three games. The second-best wide receiver in those games gained between 66 and 84 yards. Pittsburgh has been more pass-heavy recently than the other teams the Jaguars have faced, so there is the possibility that the Steelers receivers rack u even more yards. Jacksonville's outside cornerbacks have given up the seventh-most yards (941) and are tied for the second-most touchdowns allowed (9). The rest of the defense has been better, though still worse than average. This is good news for Johnson and Chase Claypool, who both primarily play on the outside.
Godwin has been relatively consistent when he's been healthy, gaining at least 40 receiving yards in every game dating back to late 2018. He is coming off his highest yardage total of the season at 92. Godwin's PFF grade on the season is a solid 75.3, but that is his worst season grade of his career. The Buccaneers will need him to play more like he has in past years against the Los Angeles Rams.
Los Angeles is lucky to have two of the top 30 cornerbacks by PFF grade, and both have been playing almost exclusively on the outside recently. Godwin has been the Buccaneers' primary slot receiver. According to PFF's WR/CB matchup chart, Godwin has the fourth-best matchup for wide receivers this week, while his teammates are both notably lower. If there is any week for Godwin's target share to be much higher than that of his talented teammates, this is the week.
Hooper had a slow start to his tenure with the Browns, but his role in the offense had been consistently increasing throughout September and early October. All of that stalled due to an injury in Week 6 that held him out until this past Sunday. Hooper caught his only target in his return, but it's worth noting that the weather was terrible, leading the Browns to run twice as much as they passed. Hooper received the same amount of playing time he typically had before the injury.
This upcoming game against the Philadelphia Eagles should be a good one for Hooper to get back on track. Philadelphia has given up the fourth-most fantasy points per game to tight ends (15.4). A big reason for that is the incredible game George Kittle had against them in Week 4. The Eagles have also given up 50-plus yards to a tight end in two of their last three games. 
BUST POTENTIAL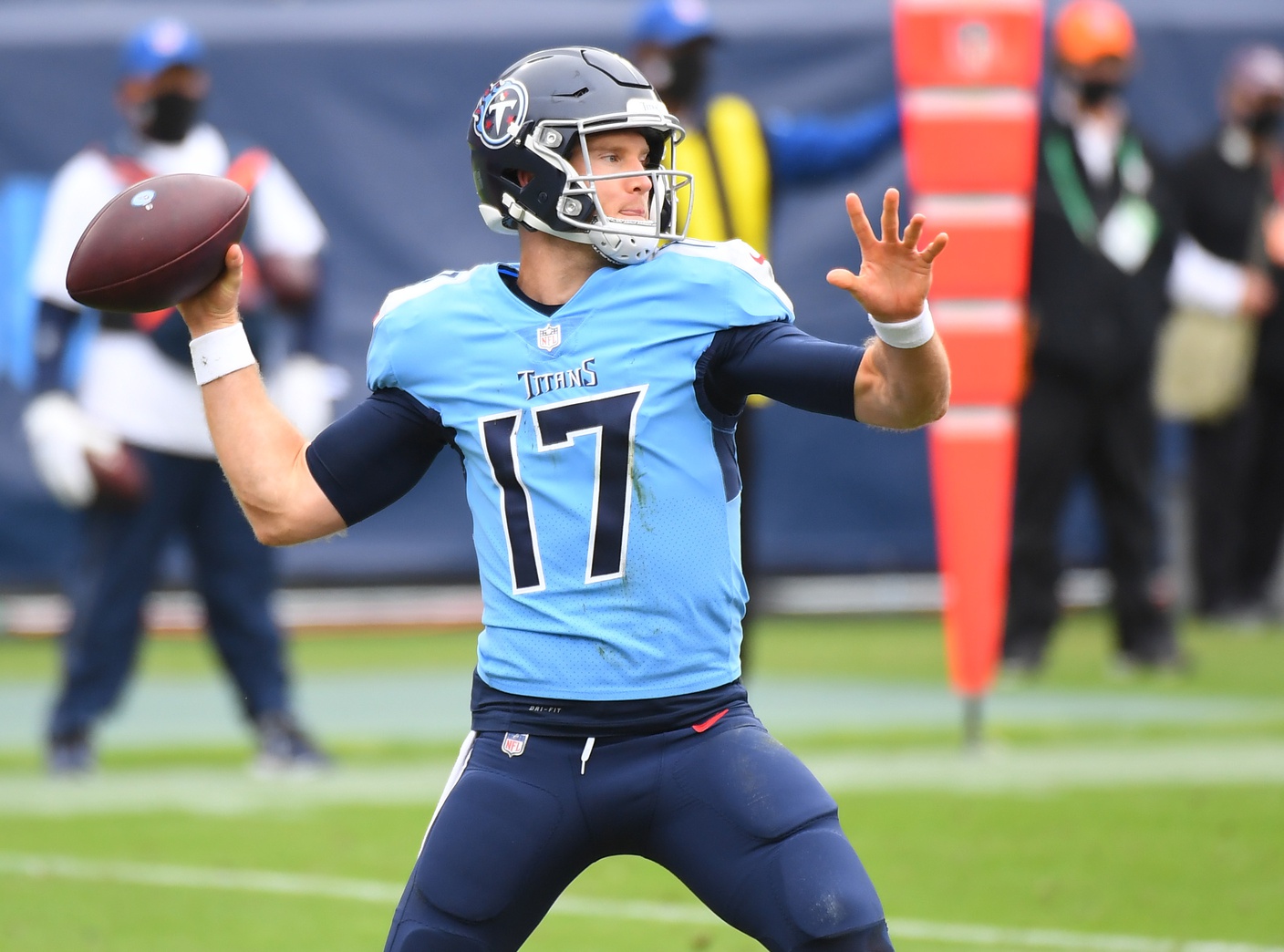 Tannehill was looking like a potential MVP after the first six weeks of the season, but his luck hasn't been as good in recent weeks. He's failed to hit 240 passing yards or 20 completions since Week 6. But three of the four opponents he has faced during that time have been among the top four at preventing fantasy points to quarterbacks. Against a less-formidable opponent, Tannehill still can be a QB1 — but that's the problem this week.
Tannehill faces a Baltimore Ravens defense that has allowed 185 passing yards to quarterbacks per game over its last five matchups. What makes things worse for Tannehill fantasy managers is that Tennessee could be highly incentivized to run. Calais Campbell and L.J. Fort both missed the Ravens' last game, and Brandon Williams left the game with an injury. There is no guarantee any of them play in this game. If they do see the field, they probably won't be 100%. Derrick Henry's workload should limit Tannehill's pass attempts even more than usual this week.
Henderson has earned PFF's highest rushing grade this season (90.3). The main thing holding him back from a fantasy perspective is the other backs in the Rams backfield. That was amplified this past week — Henderson was limited in practice during the week, paving the way for Cam Akers to return to the rotation. What hurt Henderson's fantasy value even more is that Malcolm Brown played the majority of the snaps near the goal line, leading to two touchdowns.
Henderson will be competing with both of his teammates for playing time against a Tampa Bay Buccaneers defense that has allowed the fewest rushing yards to running backs this season. No RB has posted more than 60 rushing yards against them. Tampa Bay has allowed seven rushing touchdowns to backs, but all have come with the offense within seven yards of scoring. If Henderson isn't going to get the majority of goal line touches, his ceiling is a bit lower than where it's been over the last month.
Fulgham had his first bad game of the season last week with one catch on four targets for eight yards. He scored a touchdown in each of his first three games of the season but has scored just once in his last three. The Giants are better at coverage from their outside cornerback spots than the middle of their defense, which hurt Fulgham last week. He saw the lowest percentage of his snaps from the slot in that game compared to the Eagles' other top three wide receivers. 
This will also be a problem in this week's game against the Cleveland Browns. Cleveland's outside cornerbacks have given up the fifth-fewest yards this season while the rest of the defense has given up the fourth-most yards. The Eagles should be able to have success against Cleveland's defense, but it likely won't be coming from Fulgham. Instead, it will be the tight ends and the rotation of players seeing time in the slot.
Samuel was a popular waiver wire addition this past month after scoring four touchdowns over a three-game stretch. Samuel saw his playing time spike once the Panthers released Seth Roberts, which helped lead to the touchdown spree. His playing time has been declining slightly each week since the initial increase — his snap rate decreased again against the Tampa Bay Buccaneers this past week, and his stats came back to reality. Samuel had three receptions for eight yards and added another four yards on three carries. 
Samuel's value has relied on his ability to score touchdowns. He has only gained more than 60 yards once this season. That won't be an easy task against the Detroit Lions — they are tied for the fifth-fewest receiving touchdowns allowed at seven. Lions slot cornerback Justin Coleman has allowed only 29 yards allowed per game and no touchdowns in four games this year. Samuel should have his usual few carries and catches, but it's unlikely this will be one of the games where he scores a touchdown.
Tonyan had an excellent start to the season with five touchdowns by Week 4. He hasn't scored a touchdown since then, and he's been held to 33 yards or less in four of his last five games. His target share could very well take a hit this week with Allen Lazard back on the 53-man roster and potentially playing this week.
It also doesn't help that he's playing the Indianapolis Colts this week. Indianapolis has allowed a league-low 34.3 yards per game to tight ends. The Colts are the only team that hasn't allowed a touchdown to a tight end this season. Unless you're starting Travis Kelce or Darren Waller each week, it's hard to trust any tight end, but there are still plenty who have a better chance to help fantasy teams than Tonyan this week.