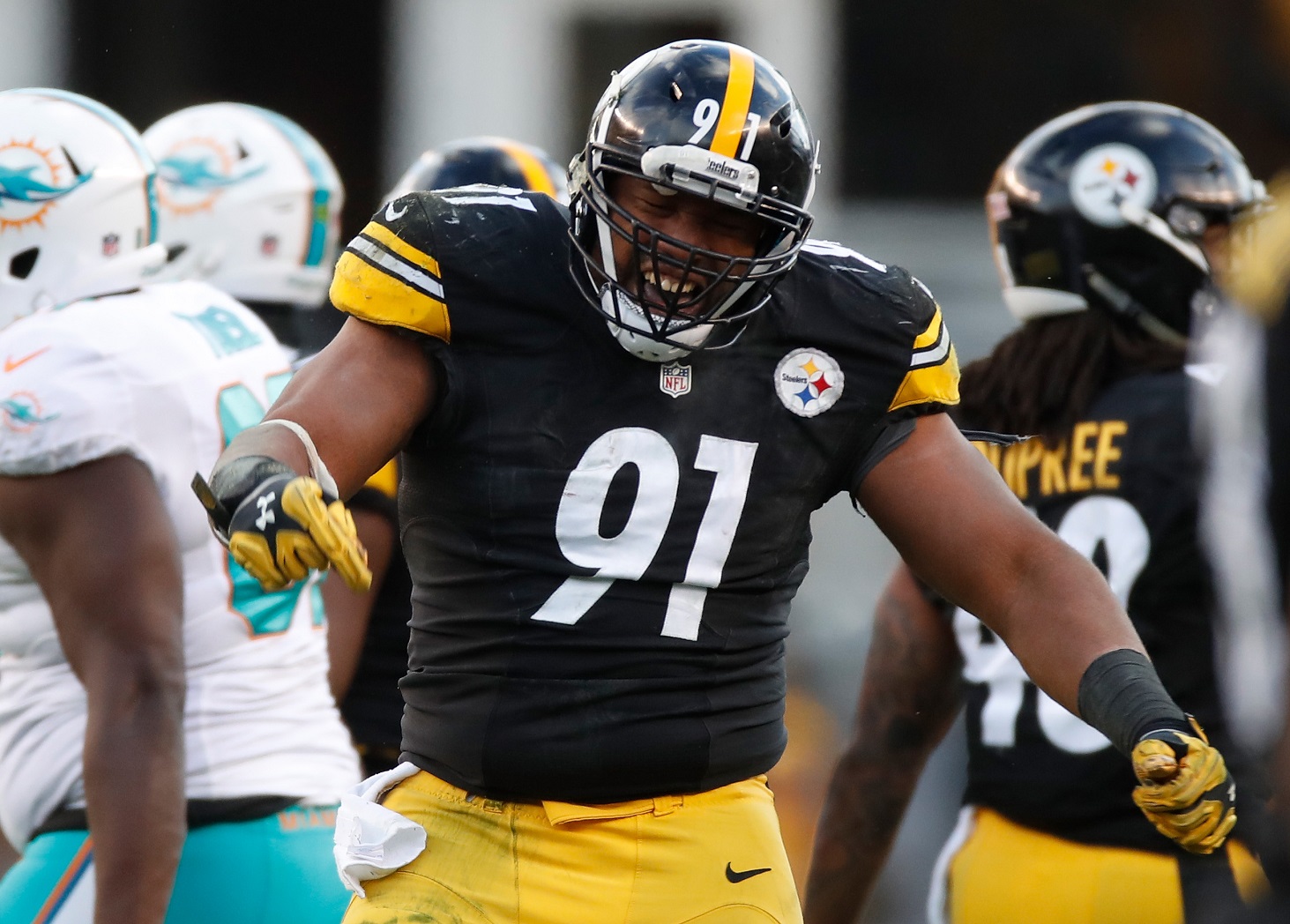 PITTSBURGH, PA - JANUARY 08: Stephon Tuitt #91 of the Pittsburgh Steelers celebrates after a sack during the third quarter against the Miami Dolphins in the AFC Wild Card game at Heinz Field on January 8, 2017 in Pittsburgh, Pennsylvania. (Photo by Gregory Shamus/Getty Images)
It was a big week for our IDP streamers in Week 11. Browns LB James Burgess had a career game with 16 tackles and a sack while Cardinals S Budda Baker, filling in for Tyvon Branch, had an even bigger week with 13 tackles, two forced fumbles, two passes defended, an interception, and a sack. Redskins LB Martrell Spaight had a decent day with seven tackles and a pass defended before suffering an ankle injury, while Manti Te'o turned in a respectable five tackles. Our only real whiff was DE Carlos Watkins, who ended up playing only 11 snaps for the Texans.
Bye weeks are over, but several of us still need to be streaming. So let's keep the good times rolling and see who we need to stream in IDP leagues in Week 12.
Defensive linemen
Jurrell Casey, Tennessee Titans
Casey was one of our streamers back in Week 4 where he rewarded us with his first sack of the season. He's had only two since then but is back on the radar this week with a favorable matchup against the Colts.
Indianapolis currently leads the league in sacks allowed per game at 3.8 including three in their last game against the Steelers in Week 11. Also in that game, Colts QB Jacoby Brissett, who leads the league in being sacked at 35 times, was hit nine times from Steelers defenders. This trend should continue against Casey and the Titans especially considering Casey, who has only three sacks on the season, is still fourth among all 3-4 ends with 33 quarterback pressures including 10 quarterback hits. So while Casey doesn't have the high sack totals of other lineman, he's been one of the best creating pressure on the quarterback.
Of course, if the Colts choose to run the ball more this week, Casey should still be productive, as he currently is first in run-stop percentage among all 3-4 ends at 13.8 percent with 22 stops on 160 run snaps. Either way, Casey should continue to put himself in a good position to fill the stat sheet this week.
Stephon Tuitt, Pittsburgh Steelers
Tuitt has never exactly filled the stat sheet but he's been a good lineman and is fully capable of getting to the quarterback. This week he should be able to do both with a favorable matchup against the Packers.
For Tuitt, he's had to deal with some injuries this season that have caused him to miss a few games but he's played well of late with a sack in each of this last two games. His nine pressures over those last two games are also good for third in the league behind only Aaron Donald and teammate Cameron Heyward. On the season, he has a run-stop percentage of 9.5 percent, stopping rushers nine times out of 95 run snaps, good for 11th out of 46 3-4 ends. He ranks even better against the pass, ranking fourth in pass-rushing productivity with 21 quarterback hurries on 149 passing snaps.
He'll be squaring off against the Green Bay Packers in Week 12, a teams that has a decent pass-blocking grade this season but have given up a ton of sacks lately — 12 over their last three games including six in Week 11 against the Ravens. So between the opponent and the roll Tuitt has been on, the chances are good he gets to the quarterback this week.
Linebackers
Reggie Ragland, Kansas City Chiefs
Ragland's brief career has been quite the roller coaster — from being selected in the second round of the 2016 NFL Draft by Buffalo to tearing his ACL and missing his entire rookie season to the being shipped to Kansas City, all before his second season started. Even through half of this season, Ragland was a non-factor but with the Chiefs looking for a defensive spark during their recent slide, Ragland saw a lot more action in Week 11, logging the most snaps of his career at 47. He made the most of those snaps, finishing with nine tackles and finished fifth in PFF's run-stop percentage for the week with three stops on 26 run snaps. And while he only saw two targets thrown his way in coverage, he allowed just one catch for zero yards.
Week 12 offers a revenge game for Ragland as he plays his old team, the Bills. Furthermore, and more tangibly, the Bills give up the third most fantasy points to linebackers of any team. If the trend of Ragland logging the most snaps of any Chiefs inside linebacker continues this week, he should put up some points.
Nick Kwiatkoski, Chicago Bears
While injuries have affected every team in the NFL, the injury bug hit the Bears linebacking corps especially hard. Starter Jerrell Freeman was knocked out of the season after the first game while Danny Trevathan has battled injuries off and on all season, seeing only seven out of a possible 11 games.
In their places has been backup Christian Jones, who's actually logged the most snaps this season at linebacker for the Bears this season but is just PFF's 49th-ranked inside linebacker. Then there's Kwiatkoski who would be PFF's 15-ranked inside linebacker if he had enough snaps to qualify. He's been hit by the injury bug too but has played well in 80 snaps over the last two weeks, his most of the season. His 7.9 percent run-stop percentage in Weeks 10 and 11 is good for eighth among inside linebackers. That will come in handy against the Eagles, who run the ball the second-most times in the league at 31.6 attempts per game. But should the Eagles prefer to pass the ball more, Kwiatkoski can fill the stat sheet there too as he's created four quarterback pressures on his seven pass rushes over the last two weeks, which is the best percentage in the NFL over that span.
Defensive back
Tashuan Gipson, Jacksonville Jaguars
While Gipson's teammate Barry Church is consistently ranked higher in fantasy rankings, Gipson has actually performed better this season and is our recommendation for your defensive back streamer. He leads the entire Jaguars secondary with 626 snaps to go with his 43 tackles this season. But while the raw data suggests Gipson hasn't been exactly great, he's actually shown to be very efficient. His 22.5 percent tackling efficiency is third-best among all safeties. He also has five passes defended with three interceptions this season even though he's only seen 17 targets thrown his way. He should see an uptick in those as he plays Arizona which lead the league in pass attempts-per-game at 39. The Cardinals also had four passes defended to Texans safeties last week which is great news for Gipson and the Jaguars.
Even if the Cardinals defer to Adrian Peterson and the running game, Gipson has been efficient there too. His 5.2 percent run-stop percentage is 11th-best among safeties while his 8.3 percent run-stop percentage while lined up within eight yards of the line of scrimmage is good for eighth among all safeties. So whether it's the run or pass, Gipson has been efficient this season and should be in a good position against the Cardinals to score some fantasy points.