The Cleveland Browns continued to retool their offense with the free agent addition of veteran RB Carlos Hyde. Hyde joins Duke Johnson in the backfield and is expected to step into the role occupied last season by Isaiah Crowell.
Hyde is coming off a solid 2017 campaign where he posted the first RB1 fantasy finish of his career – he ended up 11th among running backs in standard and eighth in PRR. However, this production was largely due to an increased workload in the passing game where he racked up 59 catches on a massive 83 targets. Only four running backs were targeted more, one of whom is his new teammate Johnson.
However, Hyde's efficiency as a runner tailed off with his yards per carry dropping from a career high of 4.6 in 2016 to a career low of 3.9 last season. Of course, it is worth noting that he saw more favorable conditions in 2016 with much of his work coming out of shotgun in the Chip Kelly offense. Still, he played all 16 games for the first time in his career and amassed 299 touches on the season.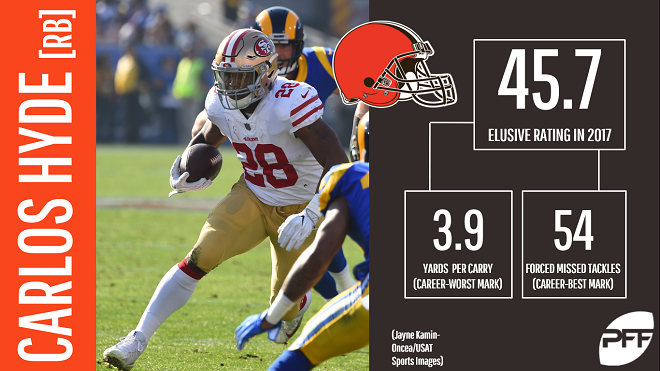 The Browns have had an active offseason with trades for Tyrod Taylor and Jarvis Landry along with inking Josh Gordon to a one-year deal. On paper, Cleveland looks like a much more dynamic team on the offensive side of the ball. Additionally, the Browns also hold the first and fourth pick in next month's draft. There's certainly a chance Cleveland selects Saquon Barkley with the top pick, but it's also worth noting that Hyde's $5 million per year salary places him in the top 10 among running backs. That contract number suggest the Browns view him as a starter.
At this point, we have to operate under the assumption that Hyde is the lead back. In that role, he still figures to be a part of the passing game, though it's tough to envision a scenario where the Browns don't keep Johnson heavily involved in that area of the game. That means Hyde's target total is likely to take a fairly big hit. Crowell saw 38 targets last season, and that's a reasonable expectation for Hyde. Likewise, we shouldn't expect to see Johnson any more involved in the run game than he was last season when he saw 82 carries compared to 206 for Crowell.
A conservative estimate has Hyde right around 250 touches and Johnson in the range of 150 touches. With most of his work coming as a receiver, Johnson could again flirt with RB2 value in PPR leagues. Hyde will likely be more desirable in standard formats, but his efficiency as a runner is going to need to increase in order to return RB2 production. It's fair to put Hyde in the top 30 at running back and you could even go as far as putting him just inside the top 25. But Hyde should not be considered a top-20 option in Cleveland.