While most of my football fan attention is on the playoff races, this garbage-time column by its nature steals some gaze for the bottom-feeders. For most of the season, that has meant the Browns and 49ers, at least in terms of the race for the worst record and No. 1 pick in the draft. However, the more I've worked with my garbage-time data, the more I've come to trust its judgment of the best and worst teams.
A team's won-lost record can only tell you so much about their quality of play over a 16-game season. That is why so many analysts turn to point differential as their proxy for team quality. That measure throws the Dolphins (-115, 31st), Colts (-105, 30th) and Giants (-95, 28th) in with the Browns (-123, 32nd) and 49ers (-97, 29th), but it overlooks the biggest lesson this research has taught me, which is that not all points are created equal.
Take the Broncos as an example. They lost to the Raiders 21-14 on Sunday. The end-game deficit of just one touchdown makes the game appear competitive, but it obscures the fact that the Broncos trailed 21-0 through three quarters and scored both of their touchdowns in garbage time, when the Raiders were more concerned with killing clock than maintaining such a commanding lead. By point differential (-83, 27th), the Broncos don't quite make the cut as one of the worst teams in football, but they have spent the second-highest percentage of their offensive plays (32.8 percent) in garbage time and are closing in on the Browns (34.4 percent) for the top spot.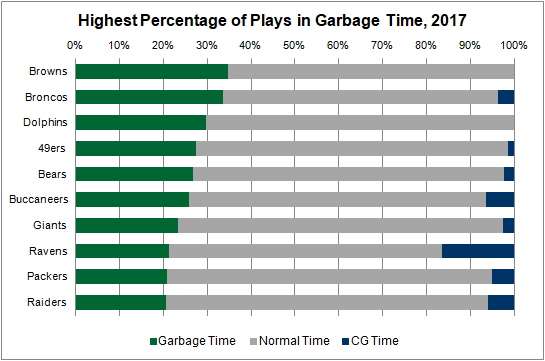 Garbage-time percentage tells a similar story to point differential overall, but win probability's responsibility for the subtle differences makes it a more trustworthy source for simple power rankings, at least for me.
Quarterbacks
Garbage time tends to help fantasy owners out, but I doubt anyone saw much benefit from that pair of meaningless Broncos touchdowns. Touchdown targets Cody Latimer (0 percent Yahoo ownership) and Bennie Fowler (2 percent) are practically unowned, and quarterback Trevor Siemian did not start the game.
Subscribe to PFF Edge to continue reading
Already have a subscription? Sign In