It's Wednesday and that means it's time to breakout the flex fantasy football rankings for Week 13 of the 2019 NFL season. If you're new to the concept of flex rankings, these are simply the combined overall rankings for running back, wide receiver, and tight end for each week during the fantasy football season.
This list is our initial rankings, but it will change a lot throughout the week. If you want all of the latest updates, then be sure to check our staff rankings page.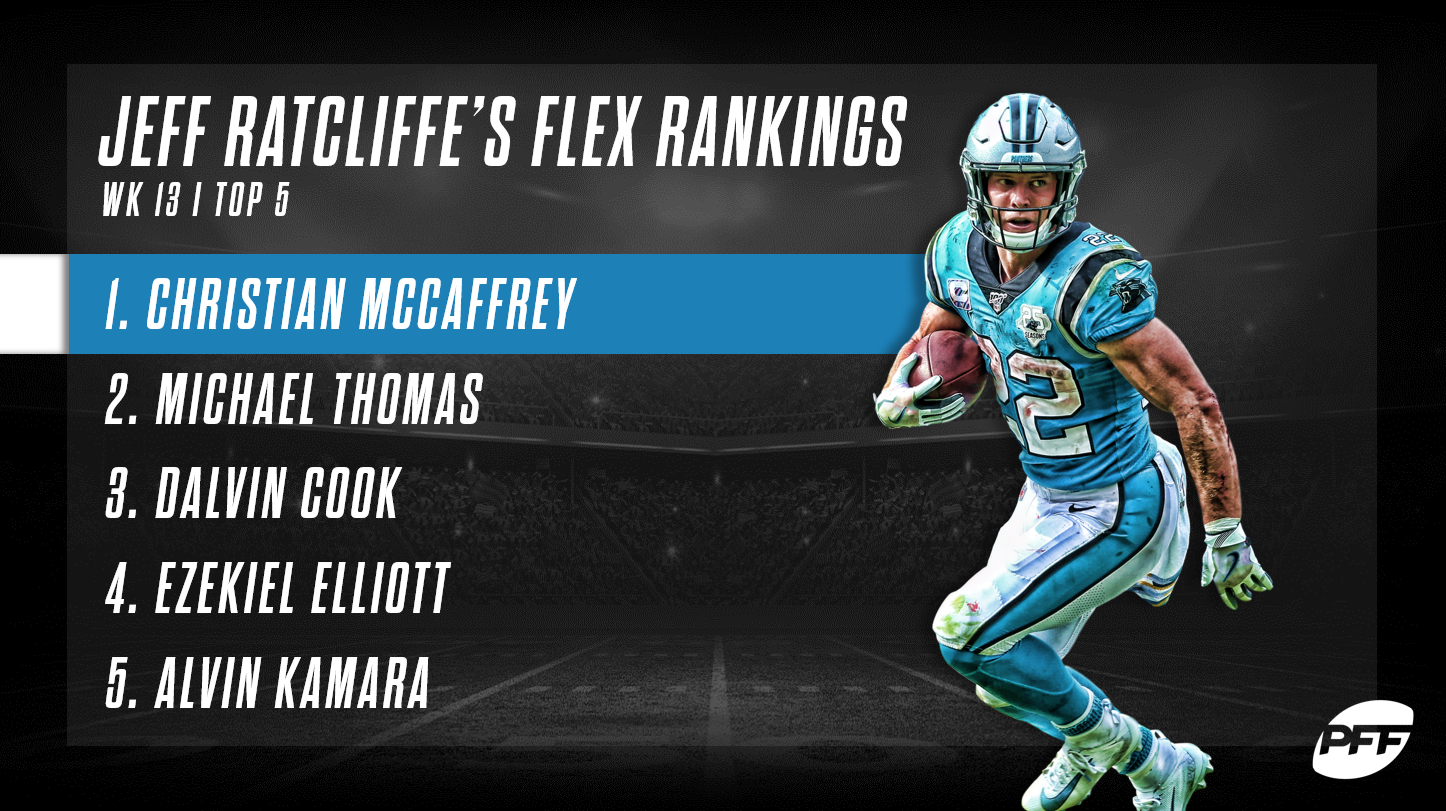 1. Christian McCaffrey, CAR vs WAS (RB1) — Through the first 12 weeks of the season, McCaffrey has scored the third-most PPR points of all time.
2. Michael Thomas, NO @ ATL (WR1) — He's now up over 100 catches and gets a juicy matchup.
3. Dalvin Cook, MIN @ SEA (RB2) — Cook returns from bye and is immediately back in elite fantasy territory.
4. Ezekiel Elliott, DAL vs BUF (RB3) — The Bills defense held up against a fading Broncos team, but Elliott should have no problem carving them up.
5. Alvin Kamara, NO @ ATL (RB4) — Kamara was a top-five fantasy back in his previous meeting with the Falcons this season.
6. Derrick Henry, TEN @ IND (RB5) — The Titans continue to feed Henry the rock, which means very good things for his fantasy value.
7. Tyreek Hill, KC vs OAK (WR2) — Kansas City put up over 400 passing yards and four passing scores against the Raiders in their previous meeting this season.
8. Le'Veon Bell, NYJ @ CIN (RB6) — Bell has quietly produced RB1 numbers this season and gets a very favorable matchup.
9. Aaron Jones, GB @ NYG (RB7) — Gamescript took Jones out of the Packers' Week 12 contest, but he should have no problem against the Giants this week.
10. Leonard Fournette, JAC vs TB (RB8) — This is a rough matchup, but Fournette should see enough volume to remain an RB1 play.
11. Josh Jacobs, OAK @ KC (RB9) — The Chiefs enter the week as the No. 1 fantasy matchup for running backs.
12. Saquon Barkley, NYG vs GB (RB10) — The overall state of the Giants' offense has certainly hurts the cause for Barkley, but he does draw a very favorable matchup this week.
13. Nick Chubb, CLE @ PIT (RB11) — Chubb leads the league in carries with 222.
14. Chris Godwin, TB @ JAC (WR3) — He was a monster last week and remains an elite-level fantasy wide receiver.
15. Travis Kelce, KC vs OAK (TE1) — Tight end stinks this season, but it doesn't if you own Kelce.
16. Melvin Gordon, LAC @ DEN (RB12) — This isn't an easy matchup for Gordon, but the Chargers have made it clear that he's the lead in their committee.
17. Mike Evans, TB @ JAC (WR4) — Evans is a fantasy roller coaster, but his ceiling is higher than arguably anyone else in the league.
18. Davante Adams, GB @ NYG (WR5) — Adams hasn't been as advertised for fantasy purposes, but he's seeing heavy volume and draws a plus matchup.
19. Todd Gurley, LAR @ ARI (RB13) — It's tough to trust Gurley as anything more than an RB2 in the fading Rams offense.
20. D.J. Chark, JAC vs TB (WR6) — Chark is this year's biggest breakout and he gets a cheat code of a matchup this week.
21. D.J. Moore, CAR vs WAS (WR7) — Over the last month, Moore is second among wide receivers in fantasy scoring.
22. Mark Ingram, BAL vs SF (RB14) — There's no way around it. This is a brutal matchup for Ingram.
23. Tyler Lockett, SEA vs MIN (WR8) — Lockett struggled to produce last week, but he's poised to bounce back in this plus matchup.
24. Julian Edelman, NE @ HOU (WR9) — He doesn't have the highest ceiling, but Edelman's massive floor makes him an every-week back-end WR1 play.
25. Zach Ertz, PHI @ MIA (TE2) — Ertz was disappointing for a good chunk of the season, but he's been on absolute fire over the last few weeks.
26. Joe Mixon, CIN vs NYJ (RB15) — Believe it or not, the Bengals should actually look better with Andy Dalton under center.
27. Calvin Ridley, ATL vs NO (WR10) — With Julio Jones banged up, Ridley has started to build fantasy momentum down the stretch.
28. DeAndre Hopkins, HOU vs NE (WR11) — Hopkins put up two scores last week, but this is a terrible matchup for the star wideout.
29. Cooper Kupp, LAR @ ARI (WR12) — Kupp's backslide continues, but this is a favorable matchup for the Rams wideout.
30. Stefon Diggs, MIN @ SEA (WR13) — Diggs leads the league in touchdowns of 40-plus yards with five this season.
31. Julio Jones, ATL vs NO (WR14)
32. Phillip Lindsay, DEN vs LAC (RB16)
33. Adam Thielen, MIN @ SEA (WR15)
34. Odell Beckham Jr., CLE @ PIT (WR16)
35. Allen Robinson, CHI @ DET (WR17)
36. Jarvis Landry, CLE @ PIT (WR18)
37. Jonathan Williams, IND vs TEN (RB17) — Williams has been a bit of a revelation filling in for Marlon Mack, but this is a tough matchup. He's best viewed as an RB2 play.
38. John Brown, BUF @ DAL (WR19)
39. Courtland Sutton, DEN vs LAC (WR20)
40. Miles Sanders, PHI @ MIA (RB18)
41. George Kittle, SF @ BAL (TE3)
42. Keenan Allen, LAC @ DEN (WR21)
43. Chris Carson, SEA vs MIN (RB19)
44. T.Y. Hilton, IND vs TEN (WR22)
45. DeVante Parker, MIA vs PHI (WR23) — Parker's breakout season continues this week against the Philly secondary.
46. Hunter Henry, LAC @ DEN (TE4)
47. Tevin Coleman, SF @ BAL (RB20)
48. Amari Cooper, DAL vs BUF (WR24)
49. Darren Waller, OAK @ KC (TE5)
50. Ronald Jones II, TB @ JAC (RB21)
51. Tyler Boyd, CIN vs NYJ (WR25)
52. Christian Kirk, ARI vs LAR (WR26)
53. Austin Ekeler, LAC @ DEN (RB22)
54. Devin Singletary, BUF @ DAL (RB23)
55. Jamison Crowder, NYJ @ CIN (WR27)
56. Kenny Golladay, DET vs CHI (WR28) — Golladay's fantasy value is sinking like a stone with the possibility that Jeff Driskel doesn't suit up on Thanksgiving.
57. Kenyan Drake, ARI vs LAR (RB24)
58. Golden Tate, NYG vs GB (WR29)
59. D.K. Metcalf, SEA vs MIN (WR30)
60. David Montgomery, CHI @ DET (RB25)
61. Michael Gallup, DAL vs BUF (WR31)
62. Robert Woods, LAR @ ARI (WR32)
63. Damien Williams, KC vs OAK (RB26)
64. Jared Cook, NO @ ATL (TE6)
65. Benny Snell Jr., PIT vs CLE (RB27) — Expect Snell to again lead the Steelers backfield this week, but gamescript isn't likely to be favorable for a heavy workload.
66. Terry McLaurin, WAS @ CAR (WR33)
67. Deebo Samuel, SF @ BAL (WR34)
68. Carlos Hyde, HOU vs NE (RB28)
69. Tyrell Williams, OAK @ KC (WR35)
70. Sammy Watkins, KC vs OAK (WR36)
71. Devonta Freeman, ATL vs NO (RB29)
72. Will Fuller, HOU vs NE (WR37)
73. Kareem Hunt, CLE @ PIT (RB30)
74. Marquise Brown, BAL vs SF (WR38)
75. Bo Scarbrough, DET vs CHI (RB31) — Yes, he's a good bet to see a majority of the carries on Thanksgiving, but the Lions aren't likely to move the ball much if Jeff Driskel sits.
76. Latavius Murray, NO @ ATL (RB32)
77. Dede Westbrook, JAC vs TB (WR39)
78. Emmanuel Sanders, SF @ BAL (WR40)
79. Sony Michel, NE @ HOU (RB33)
80. Jamaal Williams, GB @ NYG (RB34)
81. Marvin Jones, DET vs CHI (WR41)
82. Brandin Cooks, LAR @ ARI (WR42)
83. A.J. Brown, TEN @ IND (WR43) — There's upside galore with Brown, but keep in mind that he isn't the top target in the Titans offense.
84. Curtis Samuel, CAR vs WAS (WR44)
85. Mark Andrews, BAL vs SF (TE7)
86. James Washington, PIT vs CLE (WR45)
87. James White, NE @ HOU (RB35)
88. Robby Anderson, NYJ @ CIN (WR46)
89. Mike Williams, LAC @ DEN (WR47)
90. Sterling Shepard, NYG vs GB (WR48)
91. Tarik Cohen, CHI @ DET (RB36)
92. Greg Olsen, CAR vs WAS (TE8)
93. Dallas Goedert, PHI @ MIA (TE9)
94. Derrius Guice, WAS @ CAR (RB37) — We still have a full-blown committee in the Washington backfield, which means we can't start Guice with any confidence.
95. Chris Conley, JAC vs TB (WR49)
96. Darius Slayton, NYG vs GB (WR50)
97. Demaryius Thomas, NYJ @ CIN (WR51)
98. Rashaad Penny, SEA vs MIN (RB38)
99. Royce Freeman, DEN vs LAC (RB39)
100. Larry Fitzgerald, ARI vs LAR (WR52)
101. Auden Tate, CIN vs NYJ (WR53)
102. Ryan Griffin, NYJ @ CIN (TE10)
103. Jaylen Samuels, PIT vs CLE (RB40)
104. Duke Johnson, HOU vs NE (RB41)
105. Cole Beasley, BUF @ DAL (WR54) — Sure, it's a revenge game, but don't chase last week's stats with Beasley.
106. Gerald Everett, LAR @ ARI (TE11)
107. Phillip Dorsett, NE @ HOU (WR55)
108. Jack Doyle, IND vs TEN (TE12)
109. LeSean McCoy, KC vs OAK (RB42)
110. Russell Gage, ATL vs NO (WR56)
111. Kyle Rudolph, MIN @ SEA (TE13)
112. Randall Cobb, DAL vs BUF (WR57)
113. Diontae Johnson, PIT vs CLE (WR58)
114. Jakobi Meyers, NE @ HOU (WR59)
115. Adrian Peterson, WAS @ CAR (RB43)
116. Raheem Mostert, SF @ BAL (RB44)
117. Jacob Hollister, SEA vs MIN (TE14)
118. David Johnson, ARI vs LAR (RB45) — How the mighty have fallen.
119. Allen Hurns, MIA vs PHI (WR60)
120. N'Keal Harry, NE @ HOU (WR61)
121. Noah Fant, DEN vs LAC (TE15)
122. Taylor Gabriel, CHI @ DET (WR62)
123. Vance McDonald, PIT vs CLE (TE16)
124. Mike Gesicki, MIA vs PHI (TE17)
125. Nyheim Hines, IND vs TEN (RB46)
126. Brian Hill, ATL vs NO (RB47)
127. Corey Davis, TEN @ IND (WR63)
128. Jay Ajayi, PHI @ MIA (RB48)
129. Anthony Miller, CHI @ DET (WR64)
130. Tim Patrick, DEN vs LAC (WR65)
131. Ted Ginn, NO @ ATL (WR66)
132. Adam Humphries, TEN @ IND (WR67)
133. Rex Burkhead, NE @ HOU (RB49)
134. Zach Pascal, IND vs TEN (WR68)
135. Allen Lazard, GB @ NYG (WR69)
136. Darren Fells, HOU vs NE (TE18)
137. Peyton Barber, TB @ JAC (RB50)
138. Jimmy Graham, GB @ NYG (TE19)
139. Jason Witten, DAL vs BUF (TE20)
140. Tre'Quan Smith, NO @ ATL (WR70)
141. Kalen Ballage, MIA vs PHI (RB51)
142. Danny Amendola, DET vs CHI (WR71)
143. Zay Jones, OAK @ KC (WR72)
144. Dawson Knox, BUF @ DAL (TE21)
145. Qadree Ollison, ATL vs NO (RB52)
146. Alexander Mattison, MIN @ SEA (RB53)
147. Mecole Hardman, KC vs OAK (WR73)
148. J.D. McKissic, DET vs CHI (RB54)
149. T.J. Hockenson, DET vs CHI (TE22)
150. Kelvin Harmon, WAS @ CAR (WR74)