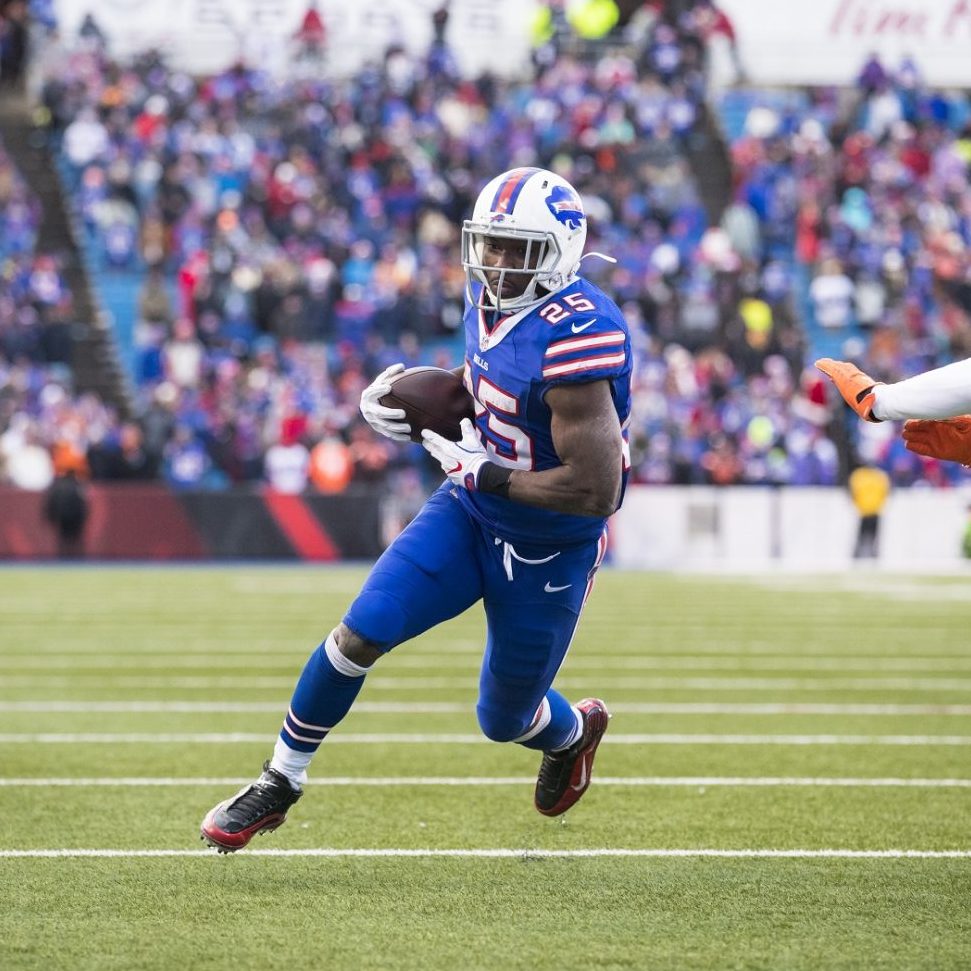 ORCHARD PARK, NY - DECEMBER 18: LeSean McCoy #25 of the Buffalo Bills carries the ball for a touchdown during the second half against the Cleveland Browns on December 18, 2016 at New Era Field in Orchard Park, New York. Buffalo defeats Cleveland 33-13. (Photo by Brett Carlsen/Getty Images)
It's the dead time of the year in the NFL calendar, but even at this time of year there are key pieces of information that we need to know for fantasy purposes. Here are today's biggest stories from around the NFL.
1. Marvin Lewis praises
Joe Mixon
.
The Cincinnati Bengals head coach said the rookie second-rounder is "off the charts talent-wise." Of course, it's never wise to take a coach's words at face value, especially at this time of year. But fantasy players should at least share in Lewis' optimism.
Mixon's draft stock slipped due to his extremely poor off-field behavior, but he's arguably the most well-rounded running back in this year's rookie class. He graded out as our No. 4 running back and was the top-graded back as a receiver last season. Mixon averaged a solid 3.7 yards after contact per attempt and posted 2.85 yards per route run, which ranked second in the nation. He also racked up 21 runs of 15-plus yards.

Jeremy Hill is still technically atop the Bengals running back depth chart. Mixon could certainly pass him in training camp, but he'll still see work as a receiver early in the season regardless with Giovani Bernard expected to miss time in September.
Perhaps the biggest concern for Mixon's fantasy stock is the Bengals deficiencies along the offensive line. Third-year players Cedric Ogbuehi and Jake Fisher bookend the line. Both graded out poorly for their performance last season. Both will need to take a step forward to help the fantasy value of the Bengals backfield. Despite the unclear role and subpar offensive line, Mixon still makes for an upside RB2 pick at his current ADP in the middle of the third round.
2. No major changes for the
Buffalo Bills
run game.
One of the pressing questions this offseason has been, "what impact will the new coaching regime have on the Buffalo run game?" The team website recently shed some light on that question, suggestion that very little will change under new offensive coordinator Rick Denison.
The Bills have featured one of the most potent run games in the league over the last two seasons, leading the league both years in yards per carry with 4.8 in 2015 and 5.3 last year. A major reason for their success was the offensive line's ability to generate yards before contact. The Bills led the league with a whopping 2.9 yards before contact per attempt last season.
Denison comes from Denver, where his offensive line produced just 1.2 yards before contact per attempt. However, it should be noted that he was working with an inferior group of players. The more telling information here is play calling tendencies. Last year, the Broncos ran primarily outside zone (52.9 percent). The Bills were more balanced between inside and outside zone plays, but the important thing is we aren't likely to see a dramatic departure from what worked in Buffalo last year.
That means good things for LeSean McCoy and Tyrod Taylor. McCoy enters his age-29 season, but has seen heavy volume in his tenure with the Bills. His worth of a first-round selection in the late-first round. Taylor led all quarterbacks with 580 rushing yards last year. While he isn't a prolific passer, all of those additional rushing yards add significant fantasy value. Yet, the drafting public continues to overlook Taylor. He's currently a nice bargain in the 12th round.
3.
Terrelle Pryor
working out with Randy Moss.
Ah, July. This really isn't news, but it is another opportunity to warn fantasy drafters about Pryor. Yes, there is a lot to like about him. He enters 2017 oozing with upside on a Washington depth chart that is chock full of vacated targets. But at the same time, there are a lot of questions marks surround his role in the offense and ultimate target share.
Earlier in the offseason, I was vocal about my love of Pryor's upside and pounded the table for taking him at his ADP, which was in the fifth round. Since then, his ADP has skyrocketed into the third round. What once was a value pick is now too expensive. You certainly want to shoot for upside with all of your picks, but in the third round your pick needs to have at least a somewhat reasonable floor. Pryor's floor is significantly lower than other players going in that range. Paying a third-round pick for Pryor is a mistake that will allow value to slip to your opponents.
4.
Robert Turbin
has "a hell of a spring."
That quote comes from Colts offensive coordinator Rob Chudzinski. Again, take a coach's comments with a grain of salt, but let's take a look at the Colts backfield. Frank Gore is locked in as the starter, but he's entering his age-34 season and is really coming to the end of the line. Turbin slots in as the No. 2 with rookie Marlon Mack the likely No. 3 back.
There is some chatter in fantasy circles about Turbin, which makes sense given Gore's age. But let's throw a little water on this discussion. Yes, Turbin did score seven times last year, but he's only scored eight times in his six-year career. He's never topped 80 carries in a season, and averages a lackluster 3.9 yards per carry. If Gore was to go down with an injury, Turbin doesn't project to offer much upside as the replacement. What we may see in that instance is Turbin as the early-down option with Mack taking passing-down duties. In that case, there isn't likely to be much fantasy value from either player.
5.
Seth DeValve
standing out in spring practices.
The second-year tight end out of Princeton is making a case for a role in the Browns offensive this year after a strong performance in OTAs and minicamp. On paper, first-round selection David Njoku figures to be the top receiving tight end in Cleveland following the release of Gary Barnidge, but Devalve's performance calls that assumption into question.
Let's not forget last season where another former Ivy League player started makings waves in the spring. That player, of course, is Cameron Brate, who went on to be a surprise TE1. That's not to say that DeValve is this year's breakout tight end, but his presence will likely limit Njoku's upside in 2017. Njoku is the No. 2 dynasty tight end in this year's class, but it's risky to trust him as a TE2 this year.