Yes, you read the title correctly — my whopping top-300 fantasy football rankings list is finally LIVE. It's important to go deep into player analysis this year because the 2020 season might present the greatest challenge fantasy gamers have ever seen — player depth is going to be of the utmost importance.
Knowledge and familiarity of a deep set of players is going to be a crucial component to a championship run, which is why I've included insights along the way to aid in decision-making for the ultimate winning strategy. These rankings will pair well with my perfect round-by-round strategy guide. You can print out this list or find a PDF copy at PFF's 2020 fantasy football printable cheat sheets page.
Note that these rankings are based on PPR scoring and may differ slightly from the printable PDF version with some recent injury news.
Time to prepare for fantasy glory!
1      Christian McCaffrey (RB1)
The consensus 1.01 across all fantasy formats, expect another outstanding performance from Run CMC in 2020. And even though there could be cause for concern with a new head coach/offensive coordinator for the Carolina Panthers, their poor defense is going to provide plenty of negative game scripts for McCaffrey to be peppered with targets. No player had more receptions or receiving yards than McCaffrey when trailing by multiple scores in 2019, per PFF's Kevin Cole.
2      Ezekiel Elliott (RB2)
Most fantasy analysts have Saquon Barkley at No. 2 overall, but I'm leaning on the uber-consistent Elliott to lead my fantasy squad if I have the luxury of the second-overall pick. Last season, he didn't finish a single week worse than RB26, a feat that even RB1 McCaffrey couldn't accomplish. Elliott was also just one of just three running backs last season to play in over 80% of his team's snaps. With another heavy workload coming as part of one of the league's best offenses in 2020, Elliot could finish as the RB1.
3      Saquon Barkley (RB3)
4      Alvin Kamara  (RB4)
5      Clyde Edwards-Helaire (RB5)
You can call it "hot take" or whatever that I have Edwards-Helaire ranked as a top-5 running back, but the fact that we haven't "seen" him play at the NFL level is not reason enough to avoid being bullish on him. He is going to be the lead running back on a team led by Patrick Mahomes and will absolutely thrive in Andy Reid's heavy zone-run scheme system. Last season, Kansas City Chiefs running back Damien Williams averaged more than 20 fantasy points per game when seeing at least 12 carries. With CEH's proficiency as both a receiver and a rusher at the collegiate level, in addition to the history of running back success from Reid's coaching tenure, I want him on my fantasy team, and I'm willing to pay the premium price.
6      Michael Thomas (WR1)
7      Joe Mixon (RB6)
Mixon is one of my favorite running backs to draft in the second half of the first round. I do believe he has the upside to finish as one of the elite RBs in fantasy and it goes back to his better situation in 2020. The offensive line gets first-round tackle from 2019 in Jonah Williams back, who was PFF's third-highest-graded tackle (89.2) in his final season at Alabama. I also expect Joe Burrow to be an upgrade at the quarterback position, creating more scoring opportunities for Mixon. That's on top of the positive touchdown regression that Mixon should see after scoring just five rushing touchdowns on the third-most carries (18) inside the 5-yard line.
8     Nick Chubb (RB7)
Guys, stop worrying about Kareem Hunt and just embrace how Chubb could dominate as a rusher in a new-and-improved Cleveland Browns' offense in 2020. The stage is set for him to be a candidate to lead the league in rushing — which he fell just short of in 2019. The upgrades at offensive line, tight end and head coach are all tell-tale signs we are going to see Chubb run wild. With Austin Hooper, David Njoku and fullback Andy Janovich, I expect the Browns to run more from 12 and 21 personnel, similar to what Kevin Stefanski did with the Vikings last year. Chubb had the highest PFF grade last season in runs from both 12 (86.3) and 21 (84.4). Don't overthink this one.
9      Dalvin Cook (RB8)
Cook has been difficult to rank this offseason, with his commitment in question amid contract negotiations. There was a recent report per Adam Schefter that caught my attention, basically stating that Cook is no guarantee to be all systems go for Week 1 unless he gets a new contract. We know Cook is easily a top-five running back talent from his performance last season, but between the contract, his injury history and the underrated usage of second-year running back Alexander Mattison — let's just say I have some concerns.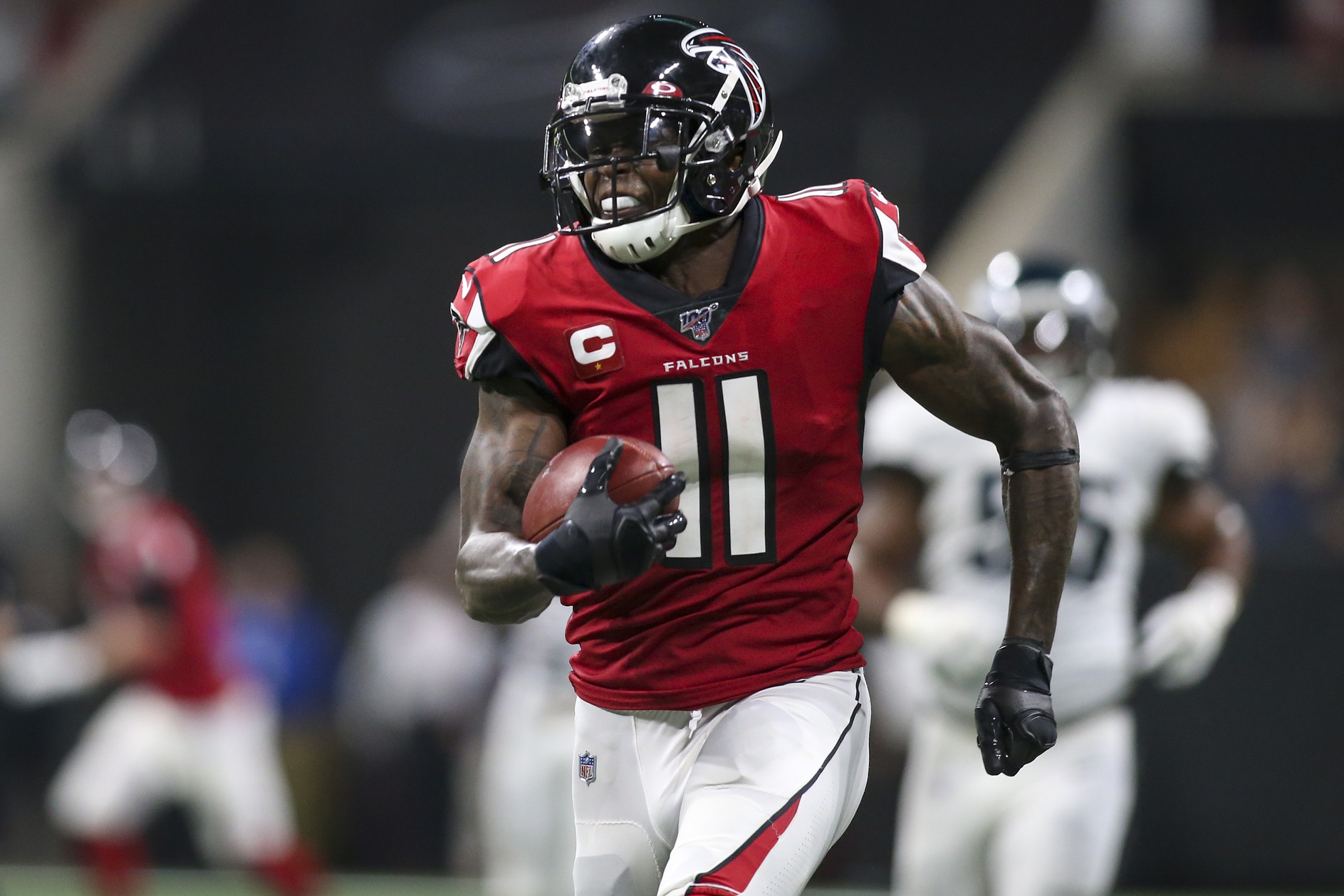 10    Julio Jones (WR2)
I think we have reached the point where we've forgotten about how good Jones has been. Nobody talks about him anymore, but he and Matt Ryan have essentially been an unstoppable combination of explosiveness — no QB/WR tandem has created more passing plays of 15 or more yards than these two (81) since 2018. That has translated to insane fantasy production, as Jones has never finished worse than WR10 (2017) since the 2013 season. He is an excellent selection in the second round to pair with your first-round bell-cow running back.
11    Derrick Henry (RB9)
The highest-ranked player on my #fade list, I know that @OldTakesExposed is salivating to come after me. But I feel strong in my position about Henry for the 2020 season, and his current ADP is RB6 — that just screams that you're paying for last year's production. I think that we can all agree that the Tennessee Titans' offense was on an unsustainable pace in 2019, and for that reason I don't see Henry duplicating his efforts from a season ago. The loss of starting right tackle Jack Conklin this offseason isn't being considered enough. Conklin earned the sixth-highest PFF run-blocking grade for tackles in 2019 (80.5). This reminds me a lot of when the Los Angeles Rams' offensive line was elite in 2018 — then they lost Rodger Saffold (ironically to the Titans) and their offensive line was a disaster the next season.  
12    Tyreek Hill (WR3)
Subscribe to PFF Edge to continue reading
Already have a subscription? Sign In