The season is upon us and there's not much time left to finalize your fantasy football rosters for dynasty leagues. The players on your roster right now are, for all intents and purposes, the ones you'll be rolling with in 2018. But there's time for one or two moves which could include the players below. Most are functions of the volume on their respective teams which means they are perfect candidates to be either under- or overvalued. Let's see which ones should be on the move before it's too late.
(PFF Dynasty Rank: 10)
Ever since being drafted first overall three years ago, the expectations for Winston — in real-life and fantasy — seem to have outweighed reality. No doubt though, he's been good over the course of his brief career. His 69 passing touchdowns in his first three seasons is not only nice but 10th all-time for quarterbacks. And his efficiency has gradually improved each season with his completion percentage ticking up from 58 percent his rookie year to almost 64 last year, along with his yards per game, which was 253 that rookie year and up to 270 last year.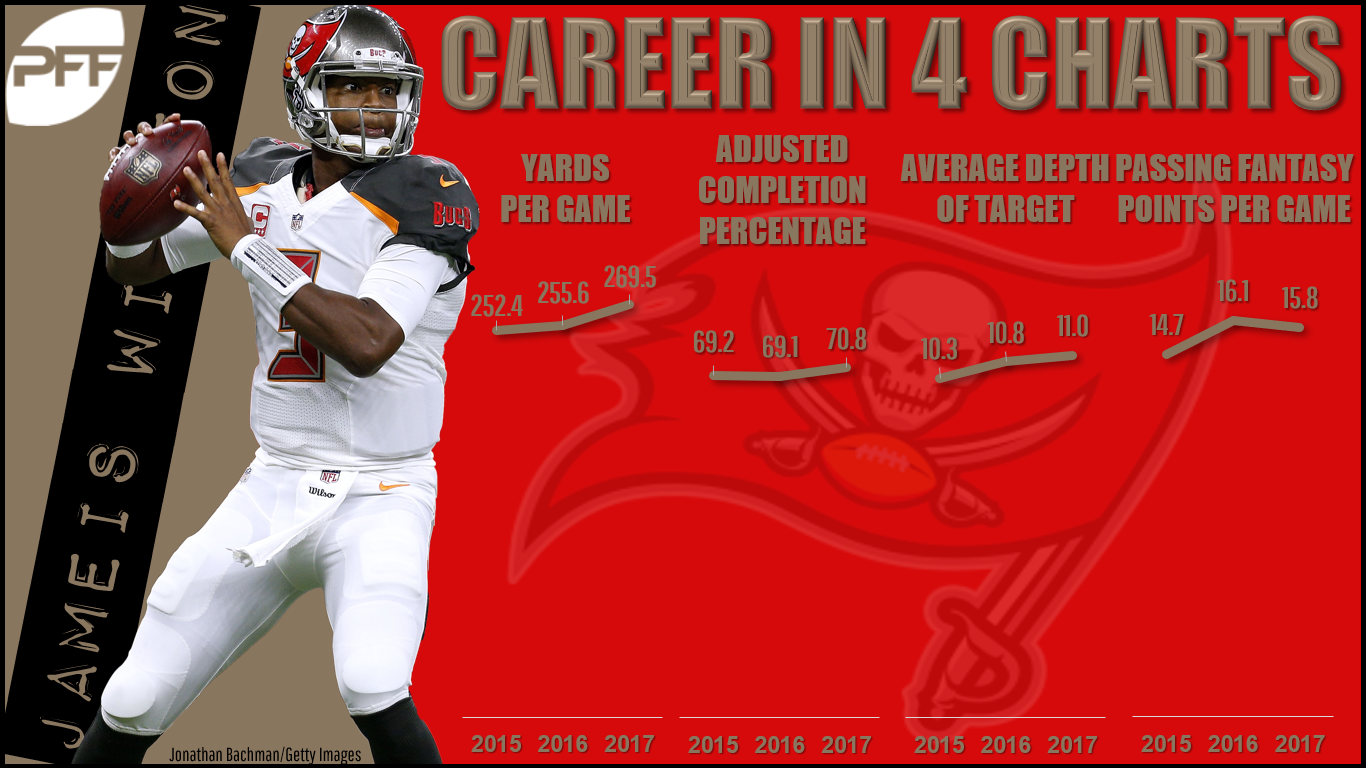 Yet Winston has failed to finish higher than 13th in fantasy scoring in a season. He was on his way last year before a shoulder injury knocked him out for a few games. He'll miss time again this season but this time due to a suspension. But injuries happen and suspensions are unpredictable, and neither should have a major effect on his dynasty rankings. No, the fact that the Bucs have failed to re-sign their franchise quarterback while keeping the same coaching staff that Winston hasn't progressed under is my biggest worry. This staff has had three years with Winston and the improvement has been minimal. Meanwhile, there's no guarantee Winston will stay in Tampa with the myriad weapons they put around him including Mike Evans (who they did re-sign), first-round pick O.J. Howard, and more.
Verdict: Hold. There's no value to sell high on and Winston still has the pedigree to be serviceable down the road. It just may not be this year.
(PFF Dynasty Rank: 24)
Coleman's dynasty value has always been hard to gauge. It was much higher as a rookie when it looked like he'd beat out Devonta Freeman for the starting running back job in Atlanta. But injuries led Coleman to be quasi-Wally Pipped, and it's now Freeman who is a consensus dynasty RB1.
Coleman's value, however, hasn't dipped all that much. He's clearly second-fiddle to Freeman while totaling barely 1,500 rushing yards total in his three-year career and hasn't finished higher than 40th in PFF's elusive rating in either of the last two seasons. But he's added a lot through the passing game, totaling nearly 60 catches the last two years for over 700 yards which has boosted Coleman to consecutive top-25 fantasy finishes the last two seasons. This season will be no different as both Freeman and Coleman are back as the two-headed monster in the Atlanta backfield. But after this season, all bets are off.
Verdict: Sell. While Freeman signed a big extension before last season, Coleman is due to be a free agent after this season. Is it possible Coleman lands a starting gig next year? Maybe. But it's not as if running backs are in high demand on the open market and that's before considering Le'Veon Bell should be entering the fray. He'll also be 26 before next season starts and it's hard to see his value as much higher than it is right now.
(PFF Dynasty Rank: 33)
Trying to determine Miller's dynasty value is always a pickle. He's a 27-year-old running back who has seen his play decline ever since signing a free agent deal with Houston two seasons ago. Case in point: He averaged 5.1 and 4.5 yards per carry his last two years as a Dolphin, then 4.0 yards per carry in first year in Houston and 3.7 last season. But I also looked at where he finished in PFF's elusive ratings and found something interesting. Yes, his elusive rating has been really bad his two seasons as a Texan, finishing no higher than 60th among all running backs with at least 50 carries. However, he also never finished higher than 43rd those last two seasons as a Dolphin. Yet he was a top-10 fantasy running back. It's the same story in Houston, where he's been a top-20 fantasy running back in both seasons. This tells me that Miller is a product of volume. Sure enough, Miller has finished eighth in carries the last two combined seasons.
Verdict: Sell. I fully expect Miller to have a good season in 2017, but only because the Texans failed to bring in any competition via free agency or the draft. I expect that to change next year when Miller will be 28 and have a cap hit of over $5 million. Get out while you still can.
(PFF Dynasty Rank: 27)
Funchess was one of the breakout players from last year both in real-life and fantasy. He literally matched his two-year receiving total from his first two seasons (844) last year (840) while blowing past his reception total as well (63 last year; 54 combined the first two seasons). And after never finishing higher than 60th in fantasy points, Funchess finished as a mid-WR2. Of course, efficiency-wise, he was very average. His 1.63 yards per route run was good for just 36th out of 80 receivers (with at least 50 targets) and his passer rating when targeted was good for just 38th out of 80 receivers. Funchess achieved his value based on the opportunities created for him after the injuries to tight end Greg Olsen and trade of Kelvin Benjamin. But how much an effect did those two events have? With the trade of Benjamin, not much. Funchess averaged exactly 4.0 receptions per game before the trade and 4.0 after. However, when Greg Olsen played, Funchess averaged only 3.0 receptions per game, Without Olsen, he averaged 4.5.
Verdict: Hold. I don't view the arrival of first-round receiver D.J. Moore as nearly as much a threat as Olsen is, even if it does ding his value. However, Olsen is 33 and won't play much longer, opening up opportunities for Funchess.
(PFF Dynasty Rank: 24)
Another product of volume, Tate has quietly turned in several productive fantasy seasons. Averaging over 130 targets in each of his four seasons with the Lions, Tate's finished as a top-25 fantasy receiver in three of them. But take away the targets and Tate has been decidedly average. He hasn't averaged over 12 yards per reception in three seasons and has yet to score more than six touchdowns in any season in Detroit.
Verdict: Sell. Tate's already turned 30 and is in the last year of his contract with Detroit. Should he reach free agency, which is likely with the emergence of Kenny Golladay, there's not many places he could see 130-plus targets again.
(PFF Dynasty Rank: 18)
Before the preseason, you couldn't be blamed for being down on Doyle. Despite totaling the second-most receptions and sixth-most yards among tight ends last season, the Colts still brought in veteran Eric Ebron from Detroit. At first glance, Ebron appeared to have an edge when it came to priority in the offense. He was famously a top-10 pick with Detroit and the Colts signed him to a cap number higher than Doyles. All of this despite never totaling more than 61 receptions for 700 yards and a drop rate that's been nearly double what Doyle's was the last two seasons (Ebron's was 10.2 and 10.3 in 2016 and 2017, respectively; Doyle's was 4.8 both seasons). Yet in fantasy terms, Ebron has yet to be a top-10 tight end. And luckily, if preseason is any indicator, Doyle still rules. He's played 91 percent of the snaps Andrew Luck has and run 23 routes through two preseason games compared to Ebron's 16. This after a strong 2017 that saw Doyle finish as an actual top-10 fantasy tight end.
Verdict: Buy. It's lunacy that Ebron is ranked ahead of Doyle in fantasy rankings, let alone walking injury cases like Tyler Eifert or the inexperienced George Kittle. Doyle has the track record and now gets Andrew Luck (hopefully) for a full season).