Another season is in the books for dynasty owners, but the work is only beginning. Unlike the lazy redraft owner, those who play dynasty and/or devy understand the importance the offseason plays not just in readjusting player values, but also the critical nature of remaining active. Some dynasty leagues have been built around high activity levels while others provide additional milestones to keep owners engaged throughout the offseason.
With the new year comes a new draft class along with new college prospects. As such, owners should find themselves resolving to increase their trade activity in rookie and devy drafts. This bowl season has provided plenty of fodder for owners looking to build (or rebuild) their teams along with those mining for the next addition to their 2017 championship team. This is the first of two articles diving into the bowl season and in honor of 2018, there will be 18 takeaways overall. Here are the first nine:
Cedrick Wilson saved the best for last
Wilson started the season hot for Boise State but cooled down during conference play, going six games without exceeding 100 yards after a 209-yard effort versus Virginia. Suddenly, as the season was at stake, Wilson exploded with two 100-yard games to close the regular season — 148 yards against Fresno State in the conference championship, then a season high 221 yards (with a touchdown) to help beat the Oregon Ducks. Wilson was third in deep targets caught (20-plus yards) with 17 and ranked 10th in yards per route run. A former quarterback, Wilson is 6-foot-3 and has the raw tools to emerge in the draft process for an NFL team looking to find a future wide receiver. Top-24 fantasy upside here.
The case for Auden Tate as WR1
The talk about Courtland Sutton and Calvin Ridley clearly has Florida State's Tate feeling left out. He played this season at a disadvantage, relying on a freshman quarterback after the injury to Deondre Francois in the opening week. As a result, Tate has seen a low number of targets (65), but he's caught seven of 13 deep targets and has still managed 10 touchdowns on the season, including three in his bowl game against Southern Mississippi. Tate's size (6-foot-5, 225 pounds) may have some thinking about former Seminole Kelvin Benjamin, but there may be more upside with the soon-to-be 21-year-old receiver.
The case for James Washington as WR1
Over the last three seasons, no one has more 100-plus-yard receiving games than Oklahoma State's Washington with 19 including 126 receiving yards against Michigan State in their bowl game. He is also one of just 14 players since 2000 (per College Football Reference) to accumulate over 4,000 receiving yards in his career. Washington clearly has deep speed with roughly one-third of his receptions going for 20-plus yards and ranks fourth this year in yards per route run. Washington understands the nuances to the position and should become the steady contributor who is productive yet perpetually undervalued.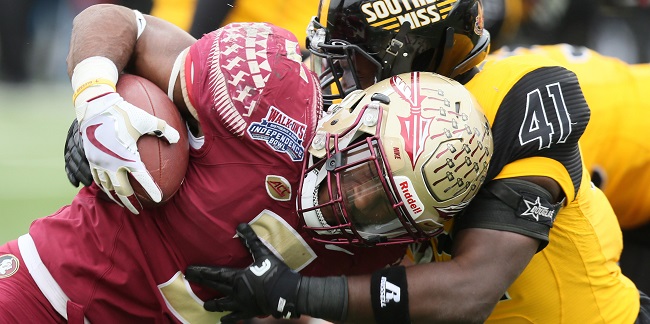 The freshmen are running
It has been happening all season but on the big stage, the star freshmen running backs (mostly) dominated. With the opportunity to participate in bowl games for the first time, players like A.J. Dillon, Jonathan Taylor, and Cam Akers all seized the moment and led their respective bowls in rushing yards. J.K. Dobbins had a rough game (just 39 yards rushing), but he shouldn't be counted out either. Shallow devy owners should be swooping in quickly this offseason while dynasty owners can keep them on the radar as they look to grab future first round picks.
Don't get cute with the 1.01 rookie pick
Some years, the top rookie pick can be a toss-up (Todd Gurley or Amari Cooper, for example) and other years see a clear choice (Ezekiel Elliott). The 2018 rookie draft for dynasty owners is the latter with Saquon Barkley in the pole position and no one remotely in the vicinity. Barkley broke fewer tackles this year (39, compared to 72 last year) but raised his yards after contact per attempt by 10 percent and ranked fourth in breakaway percentage at nearly 57 percent. He added a receiving game (from 28 to 54 receptions) to prove that he is a bell-cow running back who will carry both his fantasy and NFL team for years to come.
2019 drafts should have two marquee wide receivers
There is a fair argument to rank Arizona State's N'Keal Harry and USC's Michael Pittman above every wide receiver in the upcoming class. Harry punctuated his 1000-plus yard sophomore season with a 10 catch, 142 receiving yard performance against 24th-ranked NC State. He is physical and durable, finishing 18th in total routes run at the position. Meanwhile, Pittman had a good bowl game against Ohio State with three receptions and 69 yards, showing playmaking ability against a tough defense. Both have prototypical size and dependable hands and should be in the conversation for the 1.01 in 2019 dynasty rookie drafts.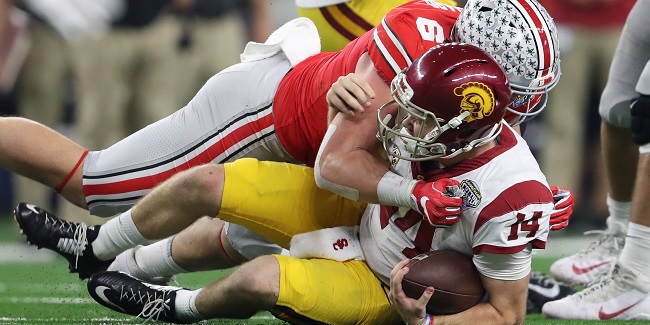 First-round quarterbacks only gave us more questions to ask
UCLA's Josh Rosen didn't play, Sam Darnold struggled for USC against Ohio State, and Lamar Jackson may have put up his worst passing game of the season for Louisville against Mississippi State. Rosen remains a prototypical quarterback without the production. Darnold's release has some kinks that make him prone to inconsistent passing. As for Jackson, this game gave his detractors more reason to question his ability to be a quarterback at the pro level. None of these options are ready to start right away and Baker Mayfield could turn a playoff run into a game of NFL draft leapfrog.
Small stature, full stat lines
With big receivers trending in the NFL, smaller options need to make statements on the national stage to find footing in the draft process. Texas A&M's Christian Kirk and Texas Tech's Keke Coutee realized it and finished with the third- and fourth-most receiving yards among bowl game receivers thus far. Kirk also had three touchdowns, one of four bowl game receivers to accomplish the feat, while Coutee and fellow sub-6-foot receiver Anthony Miller of Memphis each put one into the end zone. All three are likely day-two options but there is upside with all of them to emerge as starting receivers in the NFL.
What will Penny earn?
Five straight 200-plus-yard rushing games tied an all-time college record as San Diego State's Rashaad Penny dominated competition with 2,248 yards and 23 rushing touchdowns. The 5-foot-11, 220-pound running back gets overlooked playing against a lower level of competition so getting a bowl game was a chance to raise his stock. Responding with 221 yards (on just 14 carries) while averaging 5.4 yards per carry after contact should perk up the last few people who have failed to notice his body of work. A recent NFL Combine invite confirms the league knows him, but how much did his value rise for draft season?
Come back next week for the second installment, which will look at the New Year's Day bowls and College Football Playoffs.