Late-round wide receiver value is all over the place in 2019 fantasy football drafts. Unlike at running back where it can be tough to strike fantasy gold in the late rounds, your chances of uncovering a gem at wideout are fairly good if you know what to look for. The key is avoiding low-ceiling options and swinging for the fence with high-upside wideouts in good situations to outproduce their ADPs.
Using this approach last year could have netted you Kenny Golladay, Calvin Ridley, D.J. Moore, Tyler Lockett, and Chris Godwin. All five of these players finished as top-36 options and had ADPs outside of the 10th round. Scoring one or more of these players provided a massive return on investment. And the thing is that you can do this every year.
Here are some of this year's candidates.
While he may not have been the fantasy favorite of the trio of receivers the Packers drafted last year, Valdes-Scantling proved to be the most capable of the bunch at stepping right in and contributing. Unfortunately, those reps didn't translate to much fantasy value. He posted a top-12 finish in Week 5, but then only cracked the top-20 once the rest of the season.
Still, there's reason for optimism with Valdes-Scantling. Reports out of Green Bay say he's taking well to Matt LaFleur's offense and could open the season as the No. 2 receiver ahead of Geronimo Allison. Getting that role would be a big boost to Valdes-Scantling's fantasy outlook. Davante Adams is still the clear alpha, but Aaron Rodgers' second receiver could certainly knock on the door of WR3 production.
After stints in Washington and Tampa Bay, Jackson is back where it all started for him in Philly. Of course, the Jackson of 2019 isn't the same player we saw with the Eagles in 2008-2013. He's now 32 years old and is two seasons removed from his last 1,000-yard campaign.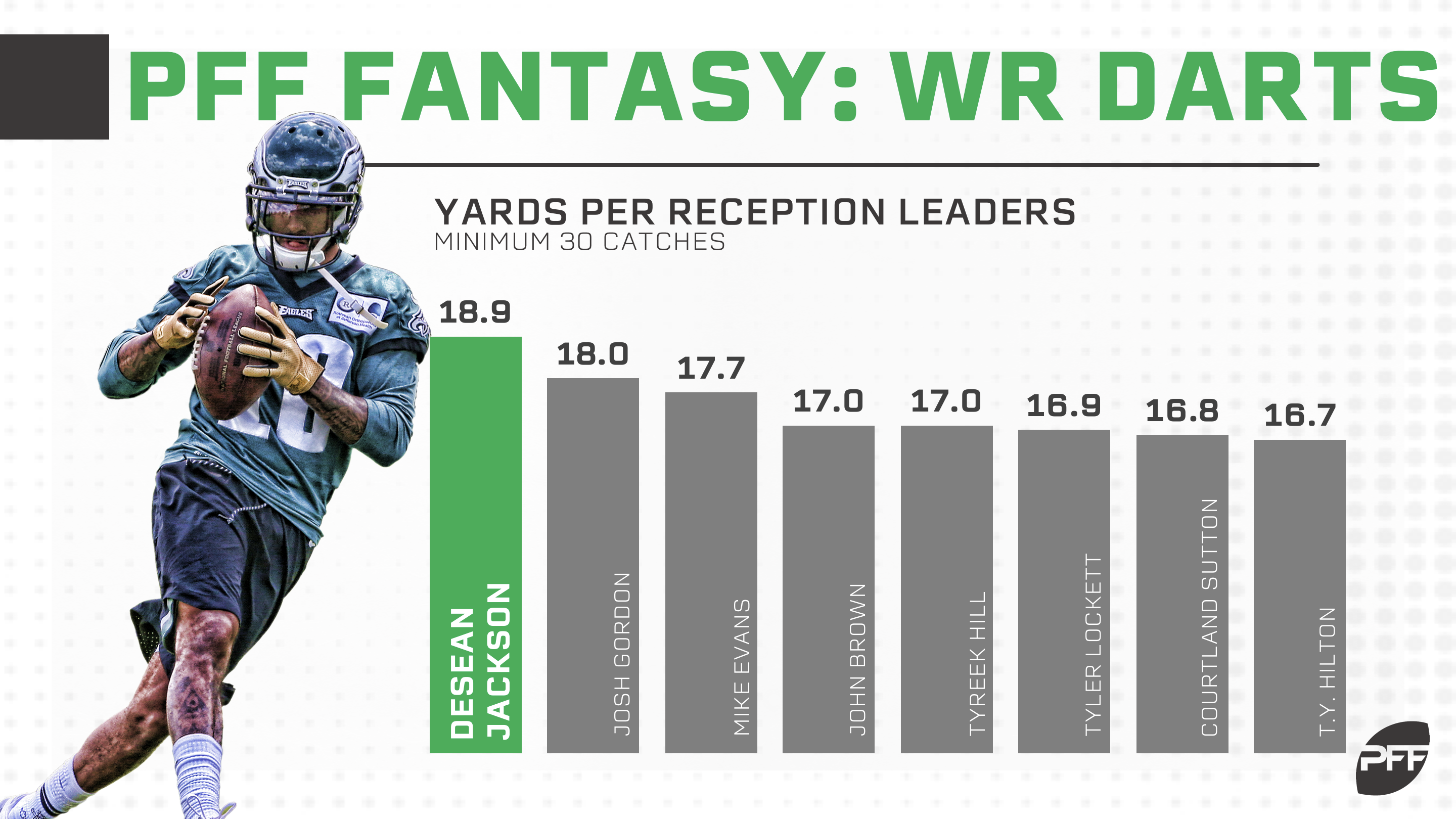 Jackson just wasn't able to put it together in Tampa Bay, managing just 91 catches and seven scores in two seasons with the Bucs. To be fair, he still showed the ability to make big plays with an impressive 18.9 yards per catch last season. So while he's well north of 30 entering this season, Jackson can still take the top off a defense. That speed bodes well in the potent Eagles offense with Carson Wentz throwing him the ball. Jackson is an upside fantasy option who should be considered a fringe WR3.
Miller was one of the sexier picks in fantasy drafts last season, but rookie wideouts are notoriously fickle fantasy producers. He battled injury for a chunk of the season and saw just 15 targets through the first six weeks of the season. He was able to right the ship from there and notched 26 targets over his next four games.
Miller finished the season a lackluster 60th among wideouts in fantasy scoring, but he did so while scoring an impressive seven touchdowns. That efficiency shouldn't go understated. Like the Bears offense as a whole, Miller is positioned well to take a step forward this year. Matt Nagy's second year at head coach along with Mitchell Trubisky's continued improvement bode well for that to happen. Miller screams upside in the late rounds this year.
He may not be getting the most attention out of the Pittsburgh receivers, but we shouldn't overlook Moncrief heading into this season. The veteran wideout has yet to put it altogether in his pro career but did flash potential in 2015 when he posted 733 yards and six scores on 64 catches. Injuries derailed Moncrief for big chunks of 2016 and 2017, and playing with Blake Bortles in Jacksonville last year did little to improve his fantasy outlook.
But it's a new day for Moncrief in 2019. He has a legitimate shot at filling some of the void left by Antonio Brown. While Moncrief is far from a lock for No. 2 duties in Pittsburgh, he's the favorite to do so. Earning that job wouldn't mean he'd see anywhere near Brown's volume in this offense, but it would likely mean WR3 production from Moncrief.
Buried on the Broncos depth chart for most of last season, Hamilton seized his opportunity after Emmanuel Sanders went down with injury. Over the final four weeks of the season, Hamilton racked up 25 catches. Only seven wideouts had more over that span. More importantly, none of those seven were named Courtland Sutton.
With Sanders looking likely to open the season on PUP, Hamilton is poised to pick right up where he left off. OF course, there are a few factors that could work against him. Sanders' return could bury Hamilton yet again, and Joe Flacco doesn't inspire a ton of confidence under center. But given the potential reward, Hamilton is well worth the risk in the late rounds.