What are the biggest price changes in DFS on DraftKings and FanDuel for Week 4 of the 2018 NFL season? Every week, we'll bring you some of the most relevant price changes in DFS to help you find the best value.
Below are some of the players who saw the biggest increase or decrease in price in Week 4.
Price up
+$1,200 on DraftKings; +$1,300 on FanDuel
You knew this one was coming. Ridley has his breakout game in Week 3, posting a line of 7-146-3 on eight targets. Ridley has now seen his targets increase each week (2-5-8) and in Week 4 draws the Bengals, who have given up 845 passing yards to the Colts, Ravens, and Panthers through three weeks. It should be noted that Ridley is still playing only about 70 percent of Atlanta's passing downs.
+600 on DraftKings; +$1,000 on FanDuel
With Jay Ajayi sidelined in Week 3, the Eagles primarily used Corey Clement (16 attempts), but Smallwood mixed in more than expected, with 10 attempts and a goal-line score coupled with 18 pass routes. If Ajayi misses extended time, Smallwood becomes an intriguing punt play if he continues to see goal-line work — although that might be too bold of an assumption. The sites gave Smallwood a needed price bump; he's not expensive, but he's no longer minimum-priced.
+$900 on DraftKings; +$1,100 on FanDuel
Boyd, along with Ridley, was too cheap to ignore in Week 3, and he delivered in a big way. Through three weeks, Boyd has been in on 87 percent of Cincinnati's pass plays — more than any other skill-position player on the team. Boyd's price simply needed to increase based on his role alone, but he'll still be a value play in Week 4 — especially if A.J. Green misses Week 4.
+$700 on DraftKings; +$800 on FanDuel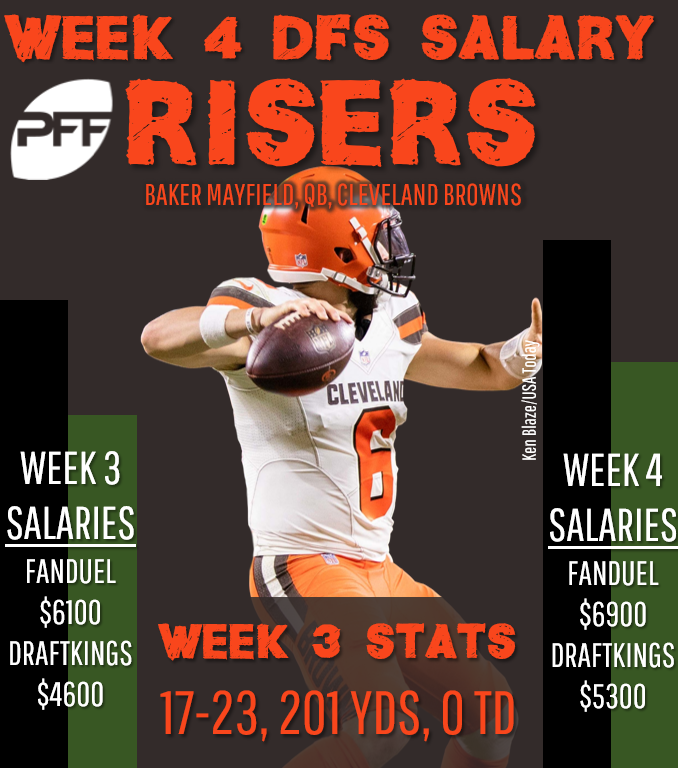 Mayfield has officially been named Cleveland's starter for Week 4, and his price increased from min-priced to still-cheap as a result. Mayfield gets a plus Week 4 matchup against the Raiders, who just gave up 341 passing yards and four scores to the Dolphins. In his Week 3 debut, Mayfield completed 74 percent of his passes with an extremely strong 8.7 yards per attempt. He's on my early cash game radar.
+$600 on DraftKings; +$900 on FanDuel
In Week 3, Williams tied Keenan Allen for a team-high six targets. He caught four of them for 81 yards and two scores, bringing Williams' year-to-date stat line up to 11-189-3. The Chargers have a plum Week 4 matchup against the 49ers, who gave give up 29.7 points per game through three weeks. This won't be Williams' final price increase of the year.
Price down
-$1,500 on DraftKings; -$1,100 on FanDuel
Cousins and the Vikings play Thursday night against the Los Angeles Rams, and all Vikings players are seeing a decrease in price this week. There are a few reasons for this: First, the Rams have a much better defense than the Bills (Week 3 notwithstanding), so Cousins' price was bound to decrease. Additionally, Cousins and the Vikings offense were terrible against the inferior Bills in Week 3, so their prices were also adjusted because of performance. The Rams could be without starting corners Aqib Talib and Marcus Peters, which would make their pass defense much less imposing. Cousins is an interesting contrarian play if you're playing the full slate.
-$1,300 on DraftKings; -$800 on FanDuel
The Jets draw the stingy Jaguars defense in Week 4, which means all offensive skill players for the Jets are seeing their prices drop in DFS. The difference is that Anderson's price might not rise much after this week; he has just six catches for 90 yards and one score through three weeks. For what it's worth, his teammate, Quincy Enunwa, saw a huge price decrease on DraftKings (-$1,300) but no change on FanDuel.
-$600 on DraftKings; -$600 on FanDuel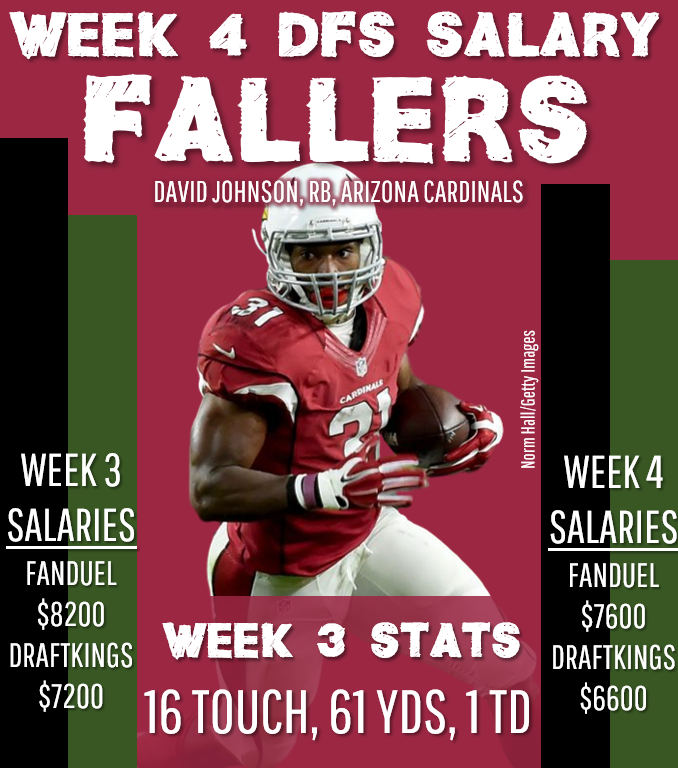 Another week, another David Johnson price decrease. After promising to get Johnson more involved in the passing game, the Cardinals gave him 24 pass routes — "up" from his Weeks 1-2 average of 21 (e.g. they didn't really try hard to get him more involved). Johnson showed everyone why he should be more involved in the pass on a nice 21-yard touchdown, but Arizona's coaches currently seem incapable of routinely using him the way he should be used. Johnson's price is now tantalizingly low, especially in a game against the Seahawks, who were just drilled for 127 yards by Ezekiel Elliott after giving up 146 yards to Broncos backs in Week 1.
-$600 on DraftKings; -$500 on FanDuel
Garcon and the entire 49ers offense took a massive hit in Week 4 (and beyond) because of Jimmy Garoppolo's season-ending injury. Garcon's price was hit the hardest, especially because he wasn't doing very much with his opportunities already (just seven catches for 89 scoreless yards on 13 targets this year).
-$800 on DraftKings; -$300 on FanDuel
Dorsett's usage has been steady: He saw seven targets in each of Weeks 1 and 2, and he saw six targets in Week 3, but he caught none of his Week 3 targets. Dorsett's price was inflated because of his Week 1 touchdown, and with this price drop, he has fallen into a more palatable range. With that said, the looming debut of Josh Gordon could eat into Dorsett's playing time.