FOXBORO, MA - DECEMBER 20: Rob Gronkowski #87 of the New England Patriots celebrates scoring a touchdown during the first quarter against the Tennessee Titans at Gillette Stadium on December 20, 2015 in Foxboro, Massachusetts. (Photo by Jim Rogash/Getty Images)
As you gorge on and recover from turkey, stuffing, mashed potatoes, pie, and the rest of Thanksgiving goodness — or, if you're Chuck Pagano, spaghetti and meatballs (!?) — there's a good chance you'll have DFS Week 12 on the back of your mind.
I can only assume that's the case if you're reading this article. To help you prep a winning lineup, here's a look at several FanDuel cash game strategies you can deploy in Week 12.
(For the FanDuel tournament guide, click here)
Week 11 outlook: FanDuel pricing and projections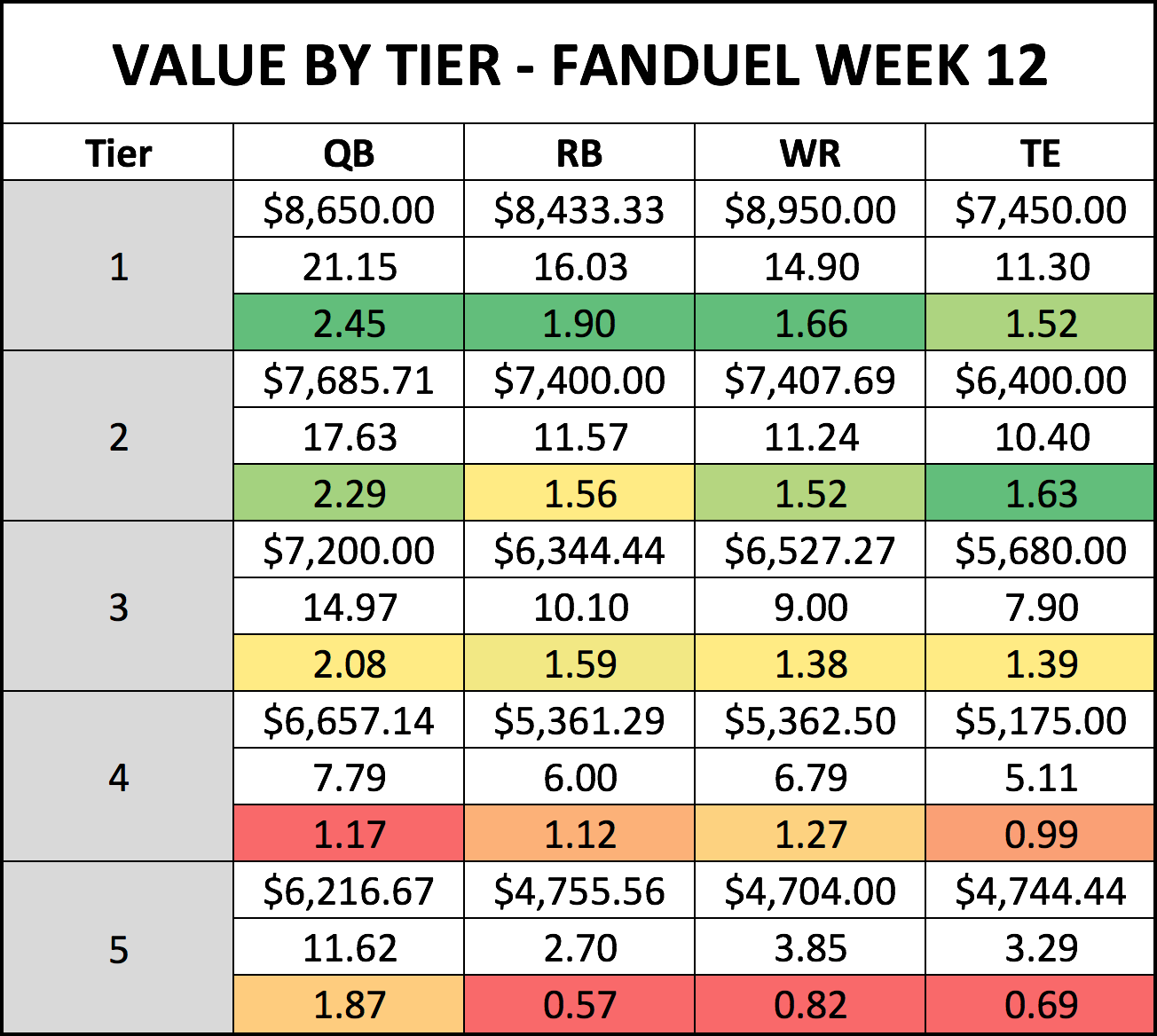 Tier Definitions
1
2
3
4
5
QB
$8000+
$7500-$7900
$7000-$7400
$6500-$6900
$6100-$6400
RB
$8000+
$7000-$7900
$6000-$6900
$5000-$5900
$4600-$4900
WR
$8000+
$7000-$7900
$6000-$6900
$5000-$5900
$4600-$4900
TE
$7000+
$6000-$6900
$5500-$5900
$5000-$5400
$4600-$4900
The Box: The first row within each tier represents the average salary of every player in that tier. The second row represents the average projected fantasy points for every player in that tier. The third row is the average value of each player in that tier (points/salary*1000). The Box is also color coordinated within each position throughout the tiers.
Quarterbacks: The mid range will be the most popular this week
According to the Box, which is based on PFF's projections, this week's value at quarterback is evenly spread out.
What does this mean? Another week we can safely pay down at quarterback in cash games, of course!
If you're looking to go cheap, Jacoby Brissett at $6,900 is one of my favorite options. He's thrown for multiple touchdowns in three straight games and gets a good home matchup against the Titans, who have given up eight touchdowns to opposing quarterbacks in the past three weeks. Aside from an early-season home game against the Cardinals and another against the Jaguars, Brissett has regularly delivered at home.
I think, overall, more players will attack the mid range. I expect Andy Dalton to be popular at home against the Browns, but I actually don't trust him in cash this week. His home-road splits are pretty wild this year — just three of his 16 touchdowns this year have been at home.
You must have PFF Edge to continue reading...