We're back again for the Week 10 DFS guide for FanDuel cash games.
It's another brutal week of byes, and there are a lot of ugly matchups from a fantasy perspective this week, which means you might not love the way your DFS squad looks for Week 10. But just because your team might not look "normal" doesn't mean there are some good strategies to tap into. In fact, weeks like these make strategy all the more important.
Here's a look at several FanDuel cash game strategies you can deploy in Week 10.
(For the FanDuel tournament guide, click here)
Week 10 outlook: FanDuel pricing and projections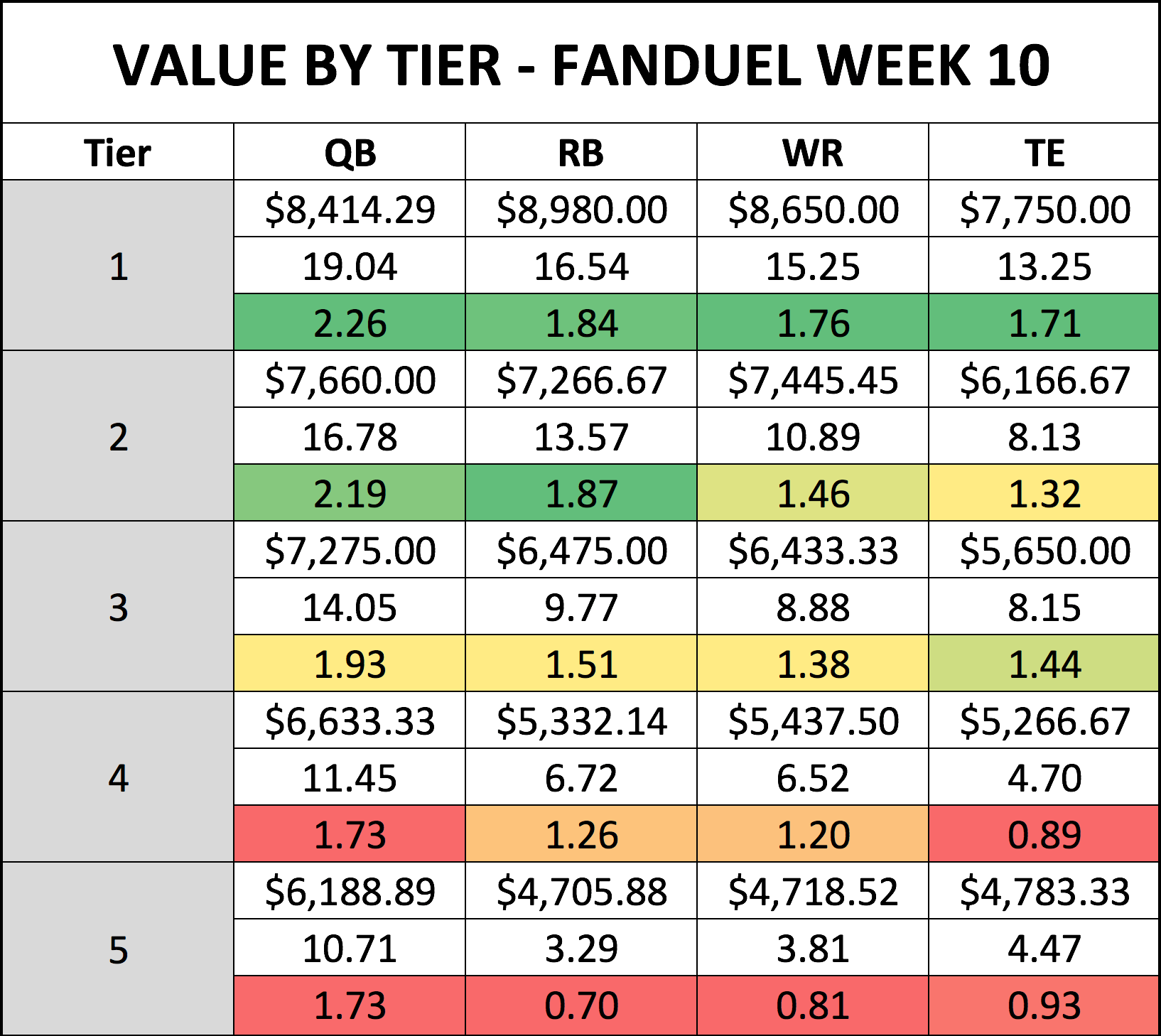 Tier Definitions
1
2
3
4
5
QB
$8000+
$7500-$7900
$7000-$7400
$6500-$6900
$6100-$6400
RB
$8000+
$7000-$7900
$6000-$6900
$5000-$5900
$4600-$4900
WR
$8000+
$7000-$7900
$6000-$6900
$5000-$5900
$4600-$4900
TE
$7000+
$6000-$6900
$5500-$5900
$5000-$5400
$4600-$4900
The Box: The first row within each tier represents the average salary of every player in that tier. The second row represents the average projected fantasy points for every player in that tier. The third row is the average value of each player in that tier (points/salary*1000). The Box is also color coordinated within each position throughout the tiers.
Quarterbacks: Finding middle ground
For the third week in a row, doing my favorite thing in cash games — paying down at quarterback — doesn't seem like the best strategy. Brock Osweiler and Tom Savage are min-priced, and their matchups aren't awful, but that'd be looking for savings just for savings' sake.
I've seen some chatter about Mitch Trubisky this week too, and he's $6,500. It's a good matchup against the woeful Packers defense, but Trubisky has fewer than 20 passing attempts in two of his four games so far, and he has no touchdowns in two games as well. He still hasn't topped 200 yards. I think that's a trap.
If I'm paying down (and I don't think you have to), Ryan Fitzpatrick is the only one of interest. But the fact Mike Evans is suspended makes it a little harder to pull the trigger here. However, Fitz is only $6,100 and the Buccaneers are at home against the Jets. You could do worse.
Subscribe to PFF Edge to continue reading
Already have a subscription? Sign In