Following an impressive start to the Matt Nagy era in 2018, the Chicago Bears took a bit of a step back last season. Inconsistencies at quarterback and all-around lackluster play didn't lead to a ton of fantasy production from this squad. Should we expect more of the same heading into 2020? Let's take a look at what our initial 2020 fantasy football projections have to say about the Bears.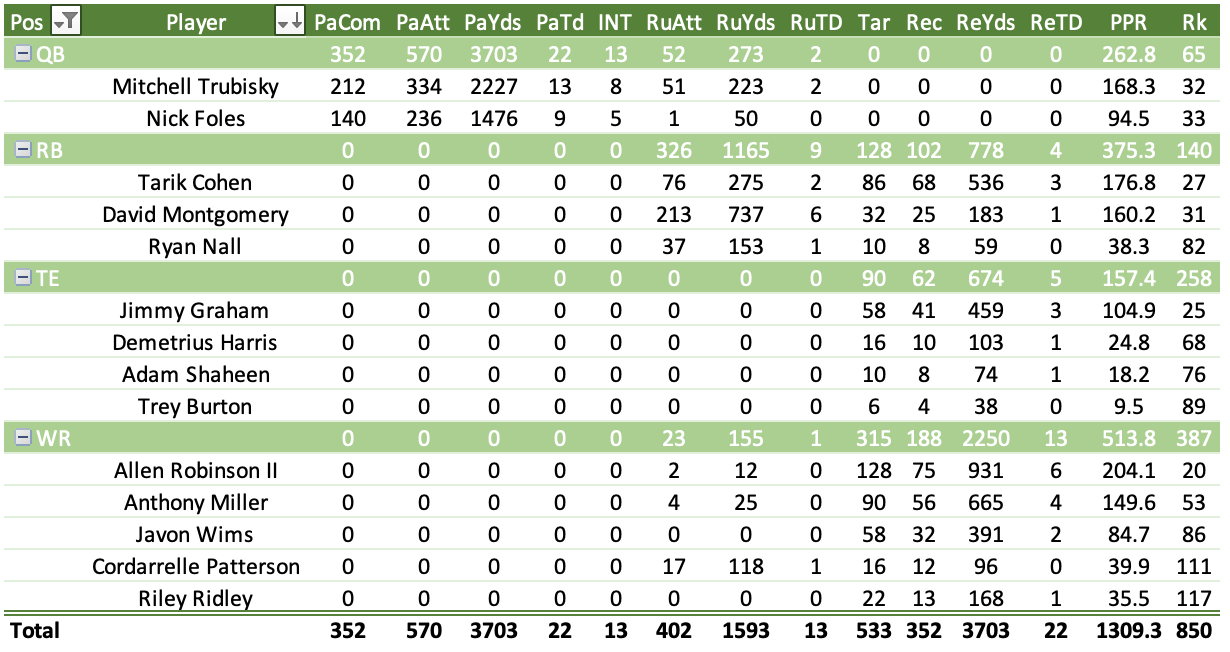 One of the more exciting rookies in last year's class, David Montgomery just never got it going in 2019. He finished the year a disappointing 24th among running backs in PPR scoring and was a lowly 33rd in average fantasy points per game. While some have been quick to point out the offensive line play, a lot of the blame can be placed squarely on Montgomery. On the season, he averaged just 2.33 yards after contact per attempt, which ranked 54th out of 61 qualifiers. 
Given this context, it makes sense why Montgomery projects out so poorly in our initial numbers. While we're slightly higher on him in our 2020 fantasy football rankings, it's not by much. Montgomery comes in as the No. 27 running back in rankings, so either way you slice it, he's shaping up to be an RB3 in this year's fantasy drafts.
With the Bears acquiring Nick Foles in the offseason, we fully expect there to be a competition for the starting job between Foles and Mitchell Trubisky. At this point, it's tough to say who will win the job, so we're currently splitting projections between the two.
Regardless of who is under center, we expect another year of healthy volume for Allen Robinson. The veteran wideout bounced back following a down year in 2018 when he was still recovering from a torn ACL. Robinson proved to be one of the better fantasy values at wideout, finishing seventh at the position after being picked as the No. 31 wide receiver in 2019 fantasy drafts. While we don't have him as high this year, he's still positioned as a WR2 option. Once the quarterback battle is settled, we should have some more clarity on Robinson's projections.
Jimmy Graham is one of the most recognizable tight end names to the fantasy masses, but that doesn't mean we should consider drafting him this year. Graham is coming to the end of the road in his career and offers very little upside. Our projections position him outside the top-24, which means he shouldn't be on 2020 fantasy draft boards.
[Find the full collection of analysis and insights on PFF's 2020 fantasy football projections for all 32 NFL teams. Check back as more articles will be added each day.]