("Today's Crazy Fantasy Stat" is an occasional offseason offering from PFF that highlights something that catches our eye and aids in our preparation for the 2017 fantasy season.)
Chris Ivory had a strong 2015 season. He played 15 games for the Jets and ran the ball 247 times for 1,070 yards and seven touchdowns. Ivory even added 217 receiving yards on 30 receptions (37 targets). Every last number in that group (save games played) marked career bests for the now-28-year-old heading into free agency.
Ivory parlayed that into a five-year, $32 million deal with the Jaguars last offseason, a surprise decision by the team given the presence (and decent play) of 2015 rookie T.J. Yeldon. And in 2016, the results were … not great. Ivory played only 11 games, amassed only 625 yards from scrimmage, and scored only three times. It was the third-lowest yardage total in his seven-year career, and the only years when he put up lower totals, he played only six games apiece. Worse, Ivory managed only 3.8 yards per carry — the first time he's ever dipped under 4.1 — and 2.2 yards after contact per attempt — the first time he's fallen under 2.5.
(Subscribe to all our fantasy content, or get everything PFF offers with an All-Access subscription.)
Worse yet for Ivory, he fumbled the ball five times on 117 carries in 2016, which is a fumble 4.3 percent of the time. He tied for the league lead in running back fumbles, and the two players who also had five had 322 and 293 carries (Ezekiel Elliott and David Johnson, respectively). In the last 10 years, among running backs with at least 100 carries in a season, only Reggie Bush in 2007 (4.5 percent) fumbled the ball more often than Ivory did in 2016.
High fumble rates do not bode well for future running-back usage. All told, 30 running backs in the last 10 years have recorded 100-plus carries with fumbles on at least 2.5 percent of those carries (interestingly, none did it in either 2013 or 2014, but five did in 2015). Two of those players (2008-09 Chris Perry and 2010-11 Mike Goodson) had zero carries the year after the bad fumble rate. Ivory was the only player to cross that threshold in 2016. So among the other 27 players, the average number of carries went from 159.0 in the year of the high fumble rate to 135.9 the year after. Only eight players saw an increase in carries the next year, and only five had an increase of 50-plus carries. Their fumble rates as a group improved (3.1 percent to 1.3 percent), but they scored roughly the same number of touchdowns (4.5 to 4.4).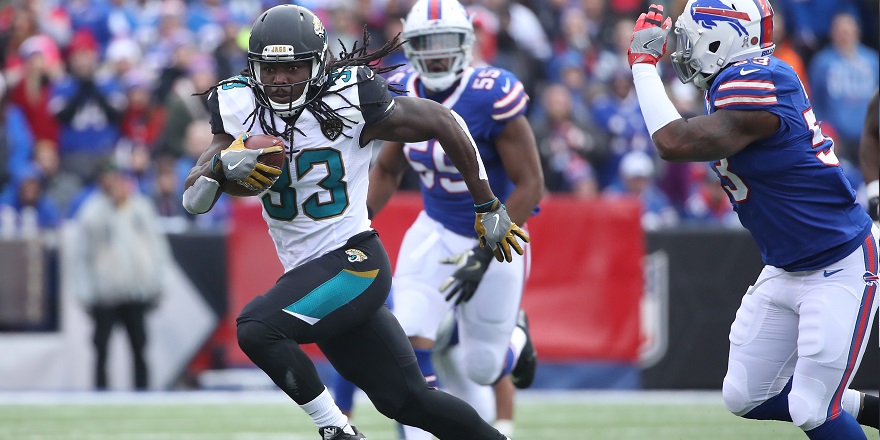 In short, teams don't like players who fumble, and running backs who can't hold on to the ball put themselves behind the eight-ball as far as usage is concerned. (In the interest of fairness, only one player in the sample — 2008-09 Darren McFadden — surpassed the 2.5-percent threshold in consecutive years, so ball security improved even if usage overall didn't.)
There have been murmurs out of Jacksonville that Ivory and Yeldon will again go into the new season as a committee-like two-headed monster. And it's not like Yeldon lit things up himself last year (777 yards, two touchdowns, 3.6 ypc in 15 games). But Ivory's struggles in 2016 at age 28 (he turns 29 Wednesday) did not inspire confidence. He'll need to show a lot, including improved ball security, to warrant anything other than back-of-the-bench roster-filler candidacy in fantasy football this year.