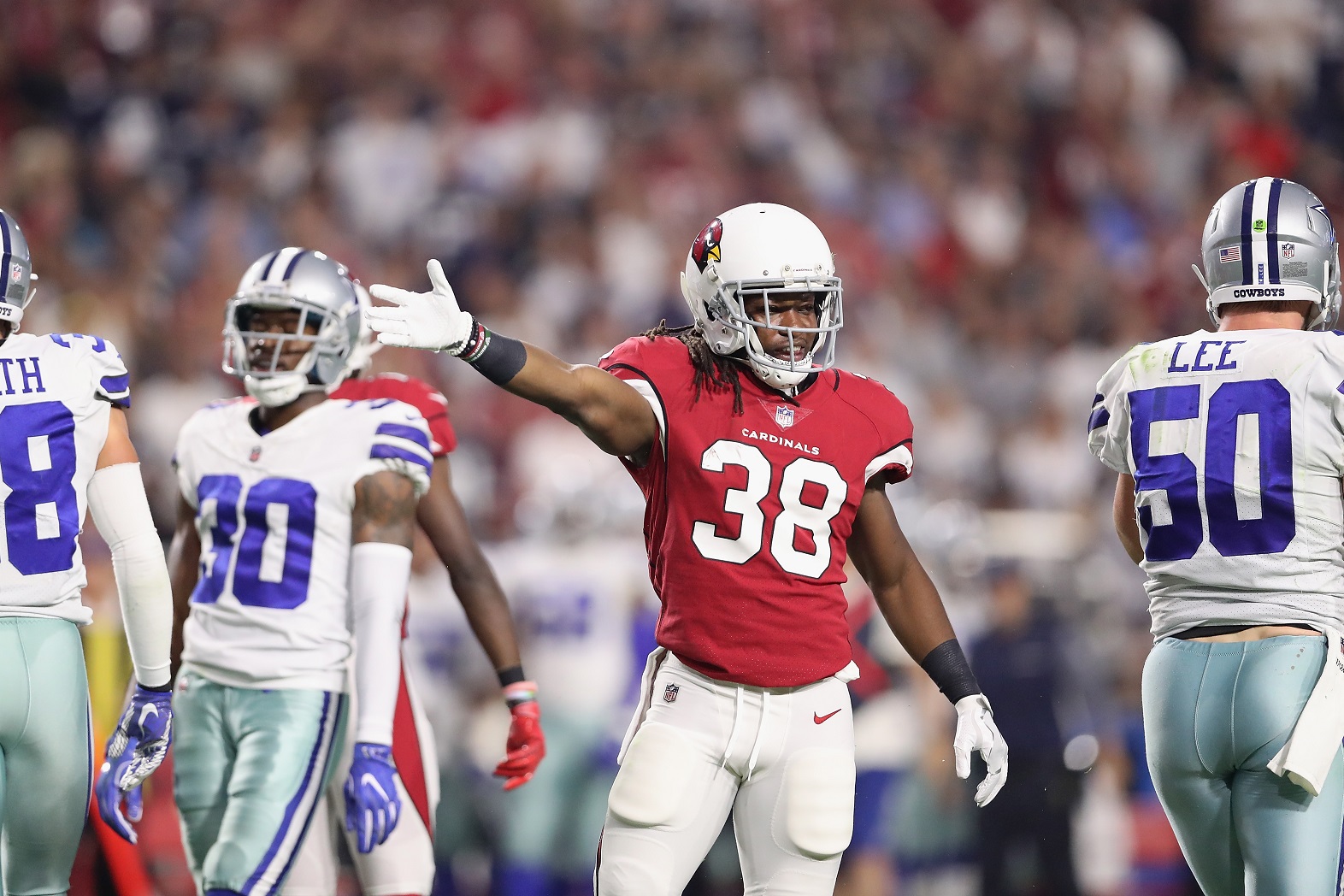 GLENDALE, AZ - SEPTEMBER 25: Running back Andre Ellington #38 of the Arizona Cardinals gestures after picking up a first down during the first half of the NFL game against the Dallas Cowboys at the University of Phoenix Stadium on September 25, 2017 in Glendale, Arizona. (Photo by Christian Petersen/Getty Images)
The fantasy football trade market is the fastest way to upgrade your team, and the most efficient one. You can take advantage of poor tendencies and logic from other owners in your league who tend to overreact to past performance.
Every week, we'll take a look at the top players to buy or sell in fantasy football. An elite fantasy owner is active in the trade market and always looking for value (plus ways to take advantage of his competition). We want you to become that elite manager and our goal is provide you with the players who you should be looking to trade for or away each week. Here's a look at Week 4.
Buy
Joe Mixon, RB, Cincinnati Bengals
New offensive coordinator Bill Lazor wasted no time featuring Mixon after being promoted to offensive coordinator in Week 3. Although he only played 34 snaps, Mixon saw 18 carries and three targets. The offense will continue to run through Mixon and A.J. Green with Tyler Eifert sidelined and potentially after his eventual return. Mixon has averaged more than 3 yards per carry after contact (3.05), and you should buy the talented rookie now before the true breakout comes.
Chris Carson, RB, Seattle Seahawks
The Carson breakout hasn't happened quite yet, but with the Seattle offense showing serious signs of life in Week 3, we know it's coming. Get there first. In Week 3, the Seahawks simplified their attack and used just two backs — Carson and C.J. Prosise. Carson played the 13th-most snaps of any RB in Week 3 despite the Seahawks falling behind early. Carson has also offered up the seventh-best elusive rating this year, with 11 forced missed tackles on just 41 touches.
Andre Ellington, RB, Arizona Cardinals
The Cardinals experimented with leaning on veteran Chris Johnson, but Ellington proved to have a lot more juice in Week 3. Remember back to the time when Ellington was an early-round fantasy pick? We're not saying he can return to that form, but he showed in Week 3 that he can still be a dual-threat fantasy weapon when he racked up 59 receiving yards on five receptions and saw a whopping eight targets in the passing game. Ellington played the seventh-most snaps of any RB in Week 3.
Wendell Smallwood, RB, Philadelphia Eagles
The Eagles refuse to commit to LeGarrette Blount even when it's working. In Week 3, Blount looked unstoppable against an overrated Giants run defense, but he only saw 22 snaps. Blount has just 52 total snaps on the season. The Eagles want to keep a running back with passing-game skills for the pass-heavy offense on the field for the majority of snaps. With Darren Sproles and Donnel Pumphrey injured, Smallwood is the last man standing. Smallwood played the 10th-most snaps in Week 3 and that was with Sproles playing a few snaps before the injury.
Frank Gore, RB, Indianapolis Colts
Gore is not going to all of the sudden force a ton of missed tackles or create a ton of yards after contact, but he doesn't have to. He churns volume on an offense that has been surprisingly competent without Andrew Luck. When Luck returns, Gore will once again be a rock-solid RB2 for your fantasy team, but you won't have to pay the price of an RB2 right now. Time is running out on this offer — when Luck returns — Gore's value will go up for whichever owner has him.
T.Y. Hilton, WR, Indianapolis Colts
With a full week of practice with quarterback Jacoby Brissett, Hilton reminded fantasy owners that they can't ever afford to bench him, even when Andrew Luck is not on the field. Hilton turned nine targets into seven receptions for 153 yards and a touchdown. Hilton has the seventh-most yards per route run in 2017 despite playing with Scott Tolzien and Brissett. When Luck returns in Week 6, you're looking at a locked-in WR1 who you can now get for the price of a WR2.
Pierre Garcon, WR, San Francisco 49ers
Garcon hasn't scored a touchdown yet, so his value is down in trade talks, but the X receiver in Kyle Shanahan's offense has been quietly very productive so far in 2017. Garcon has racked up the sixth-most targets in the NFL so far and he has totaled the ninth-most yards per route run, besting top receiver A.J. Green and Mike Evans. Garcon will never score as many touchdowns as the receiver with plus quarterbacks, but he has the volume upside to stick as a back-end WR1 in 2017. Right now, you can buy him much cheaper than that.
Rob Kelley, RB, Washington Redskins
After experimenting with rookie Samaje Perine in a lead role in Week 3 and watching that experiment fail, Redskins coach Jay Gruden confirmed that Kelley is his guy moving forward. Kelley's rib injury is not thought to be serious and he should return in Week 4. After quietly racking up impressive advanced stats as a rookie last season (in forced missed tackles and yards after carry per attempt), he has put together the 18th-best elusive rating so far in 2017. Chris Thompson is an excellent talent, but Gruden has already confirmed he wishes to not overwork him. Kelley is the back to own here.
Sell
C.J. Anderson, RB, Denver Broncos
In the third preseason game, Anderson and Jamaal Charles rotated snaps with the first-team offense. That plans changed in Weeks 1 and 2 when Anderson performed so well, but Charles has also been very productive, and the Broncos worked him in more frequently while playing from behind in Week 3. Charles even finished with more total carries and added to his impressive per-carry rushing total. Taking his injury-plagued 2016 season out, Charles has never averaged fewer than 5 yards per carry in his career and is currently (quietly) averaging 5.1 yards per carry in 2017.
Davante Adams, WR, Green Bay Packers
Adams is a glorified James Jones-type wide receiver who found a way to rack up 12 touchdowns in 2016. With Martellus Bennett on the roster and Randall Cobb due for positive touchdown regression, negative touchdown regression was a near guarantee for Adams in 2017. Adams has just the 52nd-most yards per route run despite running the most snaps in route of any wide receiver in 2017. That's the ugly truth.
Cam Newton, QB, Carolina Panthers
Sometimes we have to eat crow in this column. Last week presented an interesting opportunity to buy low on Newton and then he found a way to become (seemingly) the only fantasy quarterback to struggle against the Saints. It's time to start panicking about Newton. The Panthers offense looks nowhere close to the team they resembled in 2015 with a healthy Greg Olsen and a deep threat in Ted Ginn Jr. Newton is the biggest surprise though. He hasn't picked things up fast after the shoulder surgery and fantasy owners need to consider looking for value now before his name brand wears off.
Demaryius Thomas, WR, Denver Broncos
Thomas looked to finally get over his hamstring injury in Week 3 before aggravating the injury late in the game. With a history of soft tissue injuries that have plagued him, it might be best to get out of ahead of this one and trade Thomas while his name still sells. Emmanuel Sanders has garnered more targets than Thomas this season, and hopes that Thomas would emerge as the offensive focal point are already starting to fade. His production through three weeks and name combined should be enough to return value for you.
Lamar Miller, RB, Houston Texans
How many more games do we need to see rookie D'onta Foreman outproduce Miller before we realize where this backfield is headed? As Foreman continues to get comfortable in pass protection, he will continue to see more snaps. It helps Foreman and hurts Miller that the rookie worked with quarterback Deshaun Watson throughout training camp and the two rookies have an obvious rapport. Miller has racked up the fourth-most snaps of any RB in Houston's up-tempo offensive attack, but he has totaled just the 25th-most fantasy points in PPR leagues.