When you draft a player in fantasy football, there is a reasonable expectation, that his draft slot is a fair range for him — a guy drafted 10th is likely to finish anywhere between, say, seventh and 15th (just to pick some numbers).
As such, players fit into tiers. There are the surefire starters, the above-average starters, the probable starters, and the rest of the guys. If every player you draft ends up in his designated tier, you'll have at least an average fantasy season. When they rise, that's how you win.
And when they fall short, that's how a season gets ruined.
Those are the pitfalls, the players who can just about singlehandedly knock you out of contention. Obviously, we can't know who those players are in advance — otherwise, they wouldn't be drafted where they are. But we can identify the ones who carry that risk. I've (subjectively) defined the tiers below. It's a framework.
| | | | | |
| --- | --- | --- | --- | --- |
| | QB | RB | WR | TE |
| Tier 1 | 1-5 | 1-10 | 1-10 | 1-3 |
| Tier 2 | 6-10 | 11-30 | 11-30 | 4-6 |
| Tier 3 | 11-20 | 31-50 | 31-50 | 7-20 |
| Tier 4 | 21+ | 51+ | 51+ | 21+ |
Tier 4 players obviously can't fall to a lower tier. So we're looking for players above Tier 4 who could fall to a lower tier. Today, we're looking at quarterbacks.
(All ADP data comes from Fantasy Football Calculator.)
Tier 1 to Tier 2
(Current ADP: QB3)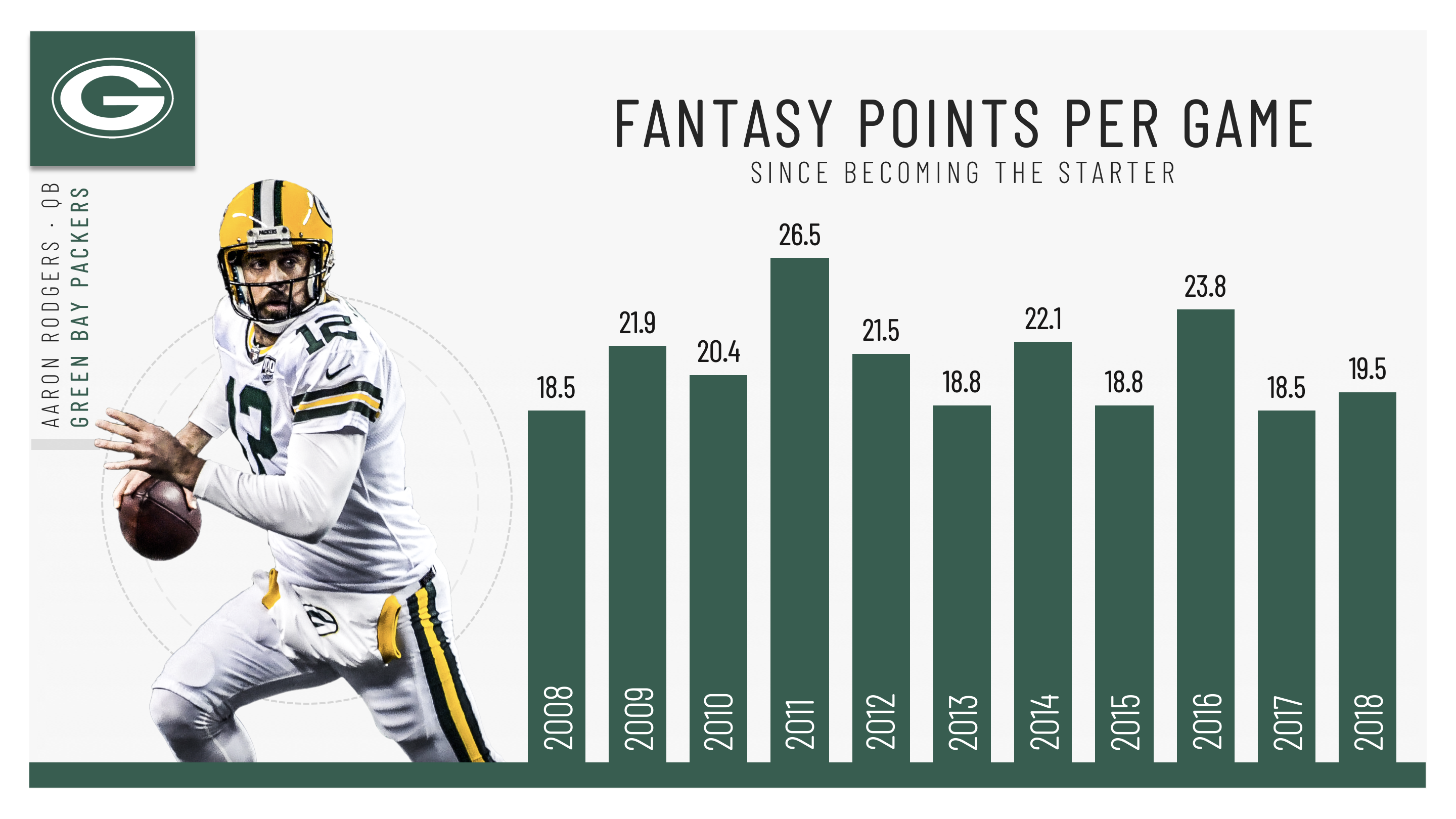 Averaging 20 fantasy points a game works out to 320 points over a full season. That is roughly what it takes to be a Tier 1 (top-five) fantasy quarterback in a given year. Rodgers averaged 20-plus fantasy points every year 2009 to 2012. But since then, he's dipped below 20 in four of six years, including 18.5 and 19.5 in the last two years. Yes, Rodgers' ceiling is still Patrick Mahomes-esque, but his floor is now a back-end QB1 instead of a still-elite finisher.
(Current ADP: QB5)
It's hard to find a group of people who like Mayfield's long-term prognosis more than those of us at PFF, and even then, the drafting community is too high on him for 2019 alone. It's easy to understand why, as his team has had the most offseason buzz and offers one of the best group of offensive weapons in the game, and Mayfield just set the rookie touchdown record. But he contributes very little on the ground, and as much as we like him, he's riskier than the other quarterbacks going around him. Seeing him fall to the back end of the QB1s wouldn't be a shock. Seeing him fall all the way out of the QB1s wouldn't even be that big surprise.
Tier 2 to Tier 3
(Current ADP: QB7)
Brees was excellent in 2018. But he's also 40 years old and didn't top 20 fantasy points in any of his last six games (counting the playoffs). It's an offense that has become more run-heavy in recent years — Brees just had his fewest pass attempts and passing yards since joining the Saints in 2006. And his 2018 numbers were buoyed slightly by a career-best four rushing touchdowns. I'm not down on Brees — he's still excellent. But his floor is lower than it's been since he joined New Orleans, and seeing him fall out of the top 10 shouldn't shock anyone.
(Current ADP: QB9)
Murray has the potential to be so dang exciting. It would be amazing to see him come out and combine Cam Newton's rushing with Baker Mayfield's rookie passing and turn the league on its ear. And it's possible! On the other hand, we just saw the Arizona offensive line turn a top-10-drafted quarterback into mush a year ago, and while Murray is better than Josh Rosen and should have a better coaching staff and offensive weapons than Rosen did, drafting Murray like he's a relatively sure thing to be a powerful performer is asking too much.
(Current ADP: QB10)
Wilson finished last year as fantasy's QB9 despite an 8.2% touchdown percentage that was the second-best in the league and 1.2% better than he's even done in his career otherwise. The Seahawks have repeatedly committed to being run-first in 2019, so it's hard to bet on Wilson's pass attempts climbing significantly from its five-year low of 427. The drafting community has accepted that, taking him 10th at the position, but I worry his floor is even lower.
Tier 3 to Tier 4
(Current ADP: QB14)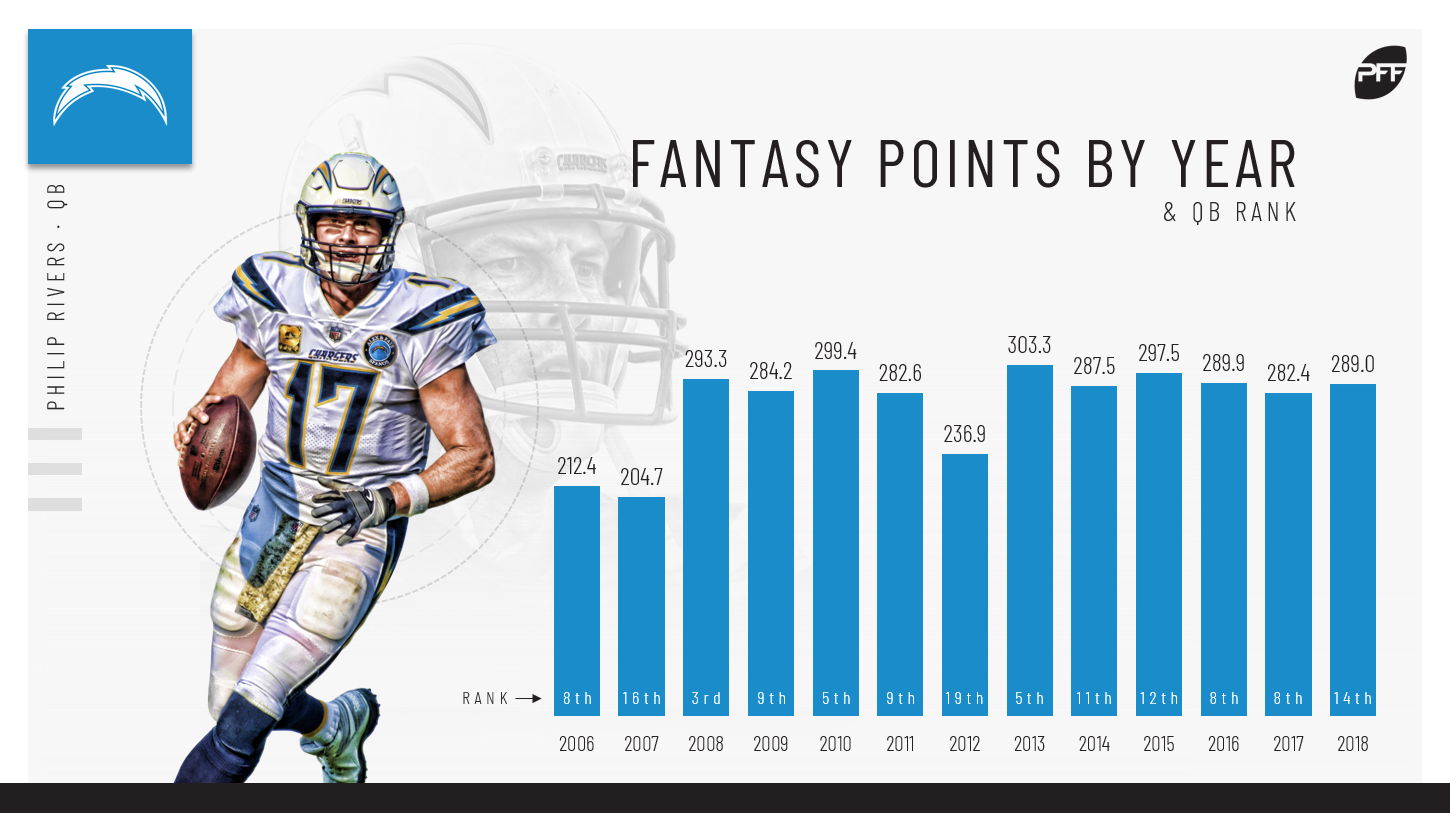 As the quarterback position just gets deeper and deeper, guys like Rivers become less valuable. Case in point: He just put up between 280 and 305 fantasy points for the 10th time in the last 11 seasons, which is amazing consistency. But in doing so, he finished as the No. 14 fantasy quarterback, tying his worst finish with those point totals and six spots lower than he finished in 2017 or 2016. With the rest of the position rising up to meet or surpass Rivers' baseline, if he slips even a little (remember, he's 37 now), his floor could fall far.
(Current ADP: QB15)
The ever-present "What if this is the year Father Time catches up to Brady?" concern is sitting right there, but even without that, this is a quarterback whose best weapon (Rob Gronkowski) just retired (for now?) and whose next-best weapon (Julian Edelman) is starting training camp banged up. His next-best receiver (N'Keal Harry) is a rookie who drew poor reports out of offseason workouts. His current best tight end (Benjamin Watson) is a 38-year-old who briefly retired and has to serve a four-game suspension. His next-best tight ends (Matt LaCosse and Lance Kendricks) combined for 420 yards and 2 touchdowns last year. Josh Gordon might not play. Demaryius Thomas might not be healthy. If everything breaks right for Brady and the Patriots, he could be a monster, but there are a crazy number of concerns with that passing offense this year.
(Current ADP: QB19)
I'm a believer in Jackson's ability to figure out his passing after struggling as a thrower in his rookie year. But if he comes out throwing like he did for most of the team's playoff loss to the Chargers, the Ravens can only afford to make his leash so long. Yes, the team's backups (Robert Griffin III when healthy and Trace McSorley) are hardly likely to be world-beaters, but there is a scenario in which Jackson isn't even the Ravens' quarterback in, say, Week 9. I don't expect it, but you have to concede the possibility.