One of the biggest disappointments in IDP this year has been the play of linebacker Cory Littleton. The Las Vegas Raiders signed him this offseason to a three-year, $35.25 million contract as one of the most coveted players at the position in this past free-agent class.
Littleton was expected to be a centerpiece of a rebuilding Raiders defense. But with just 25 total tackles on the year, he is on pace for just 80 the rest of the way. That's a far cry from his totals of 129 and 116 in 2019 and 2018, respectively.

In an effort to unravel the mystery of how a former Tier 1 fantasy IDP linebacker can experience such a fall from grace after moving to a new team, I watched all of Littleton's 2020 snaps in the hopes of answering the question, "Why?"
Is it a bad scheme fit in Las Vegas? Does he look like a different player? Is he hurt? These are some of the theories as to why Littleton is not producing the way we would expect. After digging into his 2020 body of work, I found a combination of things that have changed since his time with the Rams, which I believe are telling signs as to why he isn't producing as a fantasy IDP. Let's have a look.
COVERAGE
One thing that made Littleton such a highly coveted free agent was his coverage ability, grading at 83.1 in 2018 and 82.3 in 2019 — both of which ranked in the top 10 among linebackers. This year has been more of a struggle for Littleton, as his 36.4 coverage grade puts him inside the bottom 10 among linebackers through five weeks. 
Football is often a game of inches, and there have been times this season where Littleton has come very close to making plays that would both improve his coverage grade and provide us some fantasy points. For example, the play below shows Littleton in man coverage against Panthers wide receiver Robby Anderson, a tough matchup for any linebacker.
Littleton nearly knocks the ball down before it ends up being just out of his reach. While he does end up getting an assisted tackle on this play, it is also the difference in going from a potential +1 pass breakup to a -.5 in coverage for giving up the first down.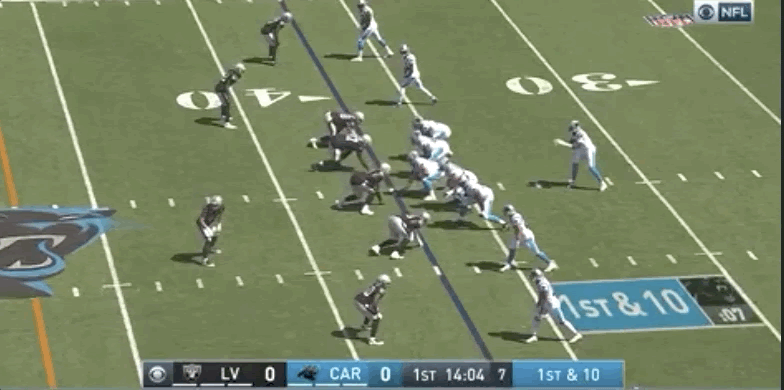 There are other plays where he is clearly outmatched, something that was painfully obvious in his matchups against Alvin Kamara and Travis Kelce. One of two examples to highlight this would be a whip route in Week 5 by Kelce, where Littleton tries to jam him at the line and ultimately fails. He's lucky that, after giving up so much separation, nobody else was in the vicinity, which allowed him to catch up and make a tackle.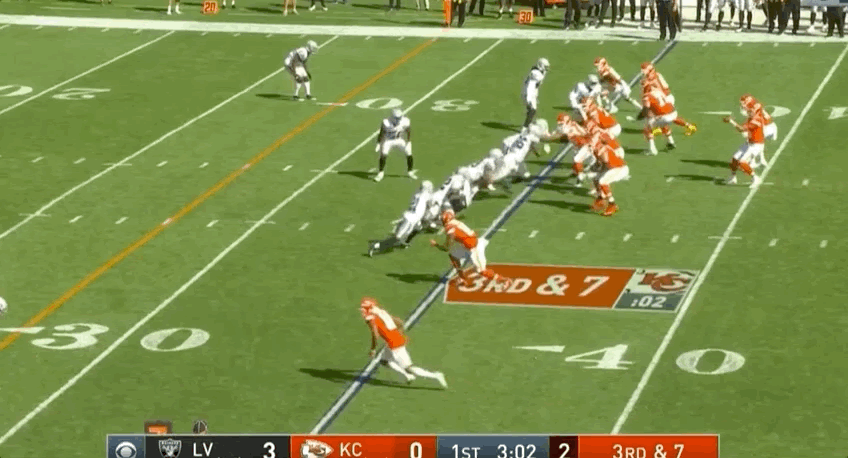 Littleton makes himself look bad in this second example, as well, where he is lined up as the right side linebacker playing zone coverage against Alvin Kamara in Week 2. He commits too much to the outside, giving up a ton of room and a first down. He doesn't even get in on the tackle, as he essentially removes himself from the play.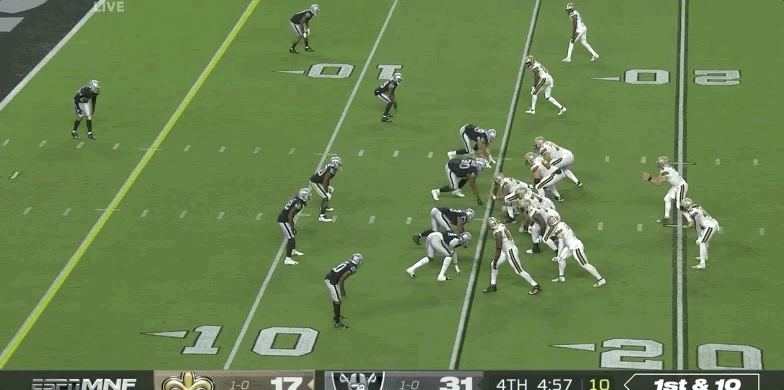 Littleton has certainly struggled in his career when going up against talented tight ends, performing poorly in matchups against George Kittle, Mark Andrews and Kelce.
Screens have also stymied Littleton this year, and he has already seen eight such plays as the primary defender in 2020 (tied for second-most). That puts him on pace to face more screens this season than in his past two campaigns combined.
And many of the screens against the Raiders' defense have gone for positive gains, hurting Littleton's overall coverage grade. He has had a difficult time making the tackle as a primary coverage defender since there are usually multiple blockers ready to take on a defender at the second level. Here's a good example of this in a play from Week 1 against Carolina where not one, but two offensive linemen get hands on Littleton at the second level before taking him away from any shot at a tackle opportunity.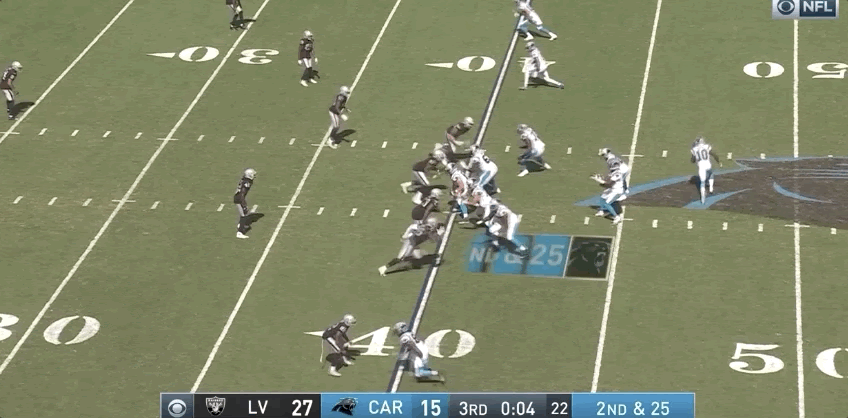 In 2019, what we saw from Littleton was an ability to sniff out plays like this and get to the targeted player before the offensive line even had a chance to block him, leading to more tackles, tackles for loss and plays on the ball — such as in this play against the Browns from last season.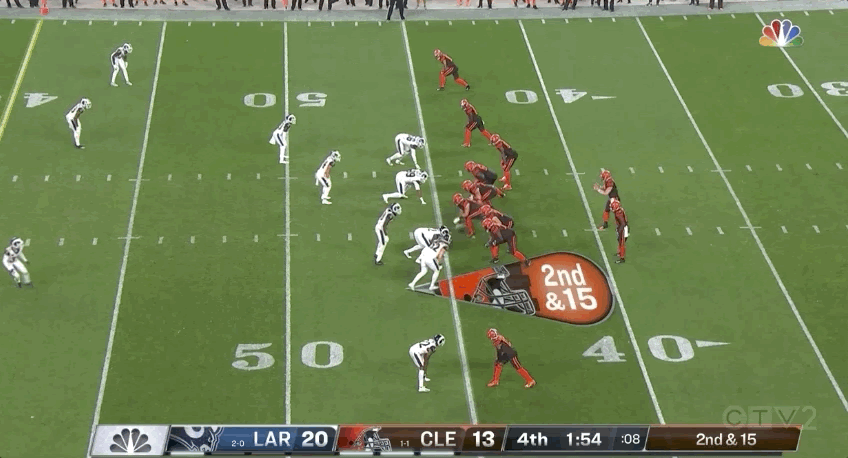 The defensive coverage is the exact same in both examples (Cover 6), and Littleton is playing the same role (hook/curl right) in that coverage on both second-and-long plays. The difference in 2019 is that Littleton's instincts looked sharper, as he's actually able to break this pass up and get some points for us fantasy managers. You can also see that Littleton drops significantly deeper in the 2020 play, keeping him further from the action, which is another trend that has started to rear its ugly head this season.
USAGE
Littleton has played every snap but one for the Raiders this season, leading his team in that category. This has been par for the course for the linebacker, as he was either close to or over 1,000 snaps as a starter in both regular seasons with the Rams the past two years. And he is on pace for over 1,000 once again in 2020. Knowing how important volume is in IDP, this is a definite positive going forward. However, Littleton is being used differently on the field this season.
The Raiders' defense has Littleton lining up as an outside linebacker or a cornerback type more than he has in past years, which tends to keep him from being inside the tackle box as much as he was in 2019. Watching the tape, Littleton ends up wide in coverage or tracking a motioning wide receiver in the backfield more often than he did with the Rams, which has pulled him away from a lot of the action.
| | |
| --- | --- |
| Season | Per game snaps at OLB/CB |
| 2020 | 11 snaps per game |
| 2019 | 7.5 snaps per game |
Even with this being the case, Littleton has shown some significant struggles in the run game. He's been getting washed out by offensive linemen and missing tackles in the process. Littleton is known to always be around the ball with a chance for fantasy production, but defenses are taking him out of the play against the run more often than when he was a Ram — to the point where he has zero chance at a tackle.
Take this play from Week 2 of this year against the Saints. New Orleans runs power to the right into Littleton's gap. He takes a step too far to the outside, and left guard Andrus Peat flattens him and erases his existence for a play.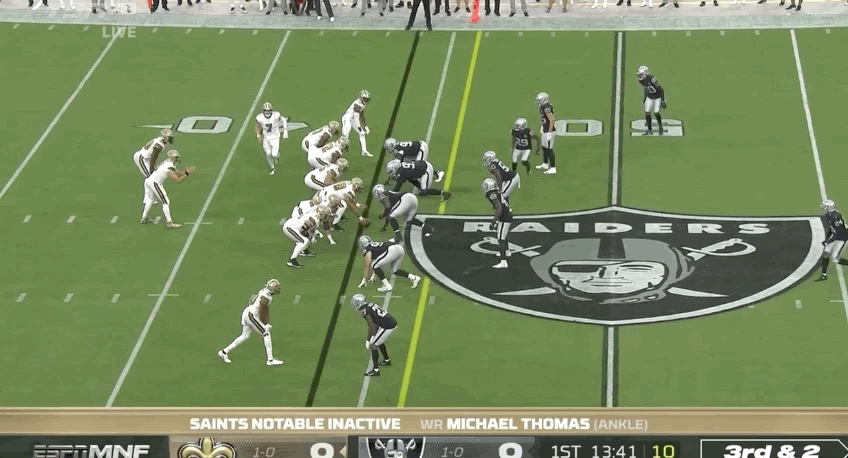 Again, in 2019, Littleton reads the play much better, attacking the hole and giving himself and his defense a better shot to make plays on the ball. This is essentially the same power run to the right against the Bucs last season, where Littleton (58) is able to submarine the puller, not only creating a traffic jam at the point of attack but also getting credited with the tackle.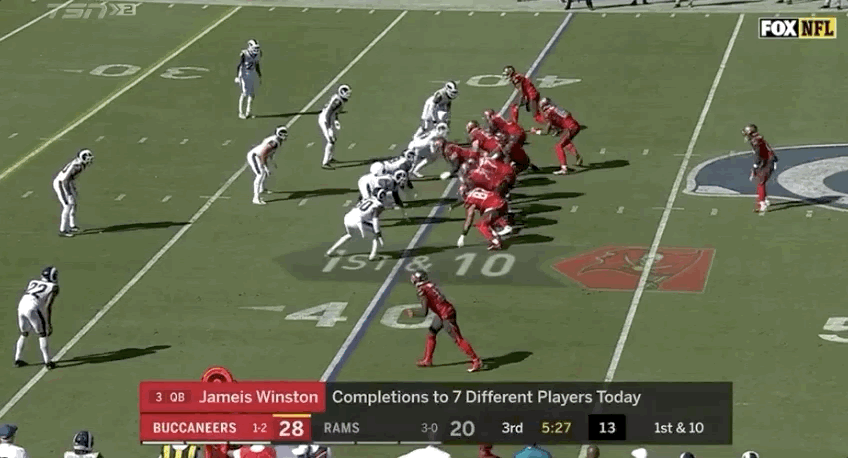 THE AARON DONALD FACTOR
It's not a hot take to say the Raiders don't have anyone on their defense quite like Rams star Aaron Donald, and that could be a secondary indicator as to why Littleton performed so well as an IDP in Los Angeles as opposed to in Vegas.
Donald has the ability to eat up blocks at the line of scrimmage like no other defensive lineman in the league, something that opens up a ton of holes for a linebacker like Littleton who can come in and clean up the scraps. There are plenty of examples from the Rams' past seasons, including this one against the Panthers in 2019, where Donald (left defensive end) beats the right tackle so quickly that a huge hole is left vacant as the lineman attempts to recover. In that hole behind Donald is Cory Littleton (left linebacker), waiting with open arms for a tackle.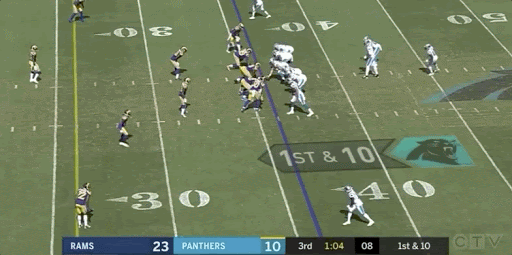 I wonder if any fantasy linebacker on the Rams is benefiting from this in 2020 now… (see: Kiser, Micah #59).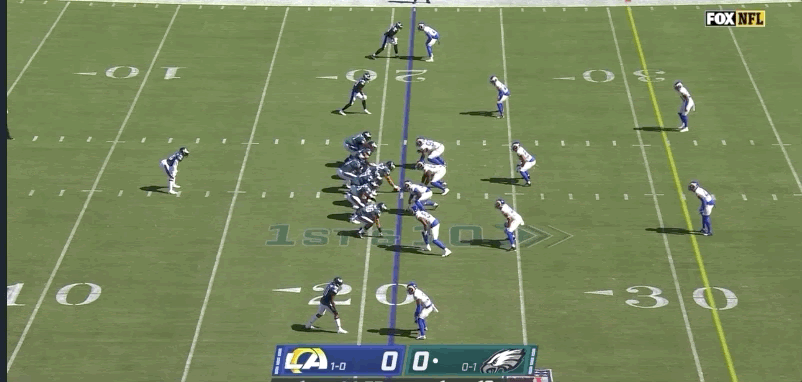 After watching all of Littleton's 2020 snaps, there is only one example of this happening for him. Maurice Hurst (DT 73), a player who was only just starting to see his workload increase before getting placed on the COVID-19 reserve list, quickly gets behind the line of scrimmage, blowing up the play and allowing Littleton to come in for a nice clean-up tackle for loss — one of only two tackles for loss on the season for him.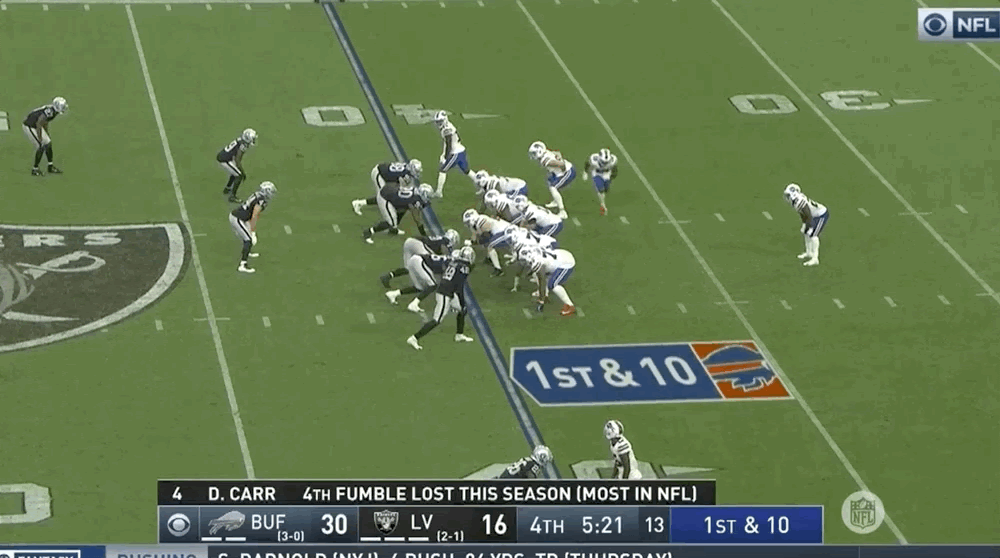 With a weaker supporting cast along the defensive line, Littleton has had to rely more on his own abilities and instincts, something that, as we highlighted above, has been a struggle for him so far in 2020.
PASS RUSH
The last bit of Littleton's game that I want to focus on is his work as a pass-rusher — something the Raiders have asked him to do less often so far this year. Littleton has just 18 pass-rush attempts over five games and has seen a steady decline in those attempts over time.
| | |
| --- | --- |
| Week (2020) | Littleton's pass rush attempts |
| 1 | 6 |
| 2 | 4 |
| 3 | 4 |
| 4 | 3 |
| 5 | 1 |
At this point, Littleton is on pace for fewer pass-rush attempts, pressures and, most importantly, sacks than in either of his previous two seasons with the Rams, highlighted by his zero sacks in 2020 compared to four in both 2018 and 2019. Even when given the opportunity, Littleton has failed to capitalize, as you'll see here on this next play.
Littleton lines up as the right outside linebacker along the defensive line, beats the left tackle and gets his hands on Teddy Bridgewater. Yet, he ultimately fails to take him down, which ends up leading to a first down for the offense.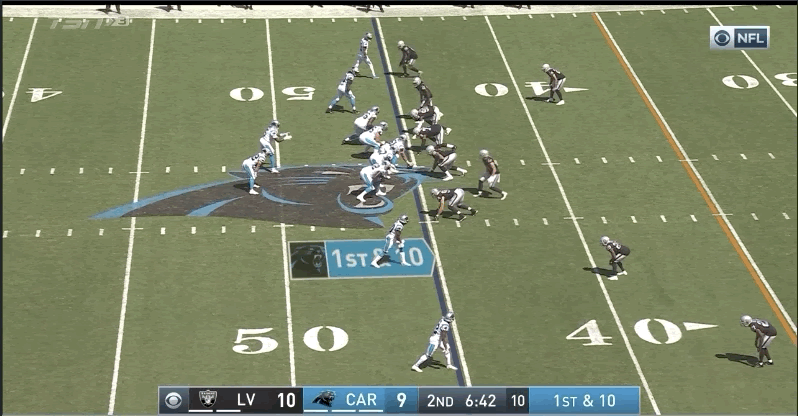 Coaches obviously don't want to see plays like that, and the blame here is definitely on Littleton for missing the tackle and costing his team. And the play may have also cost him from seeing more pass-rush opportunities in the future. Unfortunately for Littleton, this is not the only case of him missing tackles. He has missed on seven attempts on the season, which already matches his career-high after he whiffed on just one in 2019.
Watching some of these missed tackles, it's like Littleton has seemingly forgotten proper technique, as you'll see in this example below.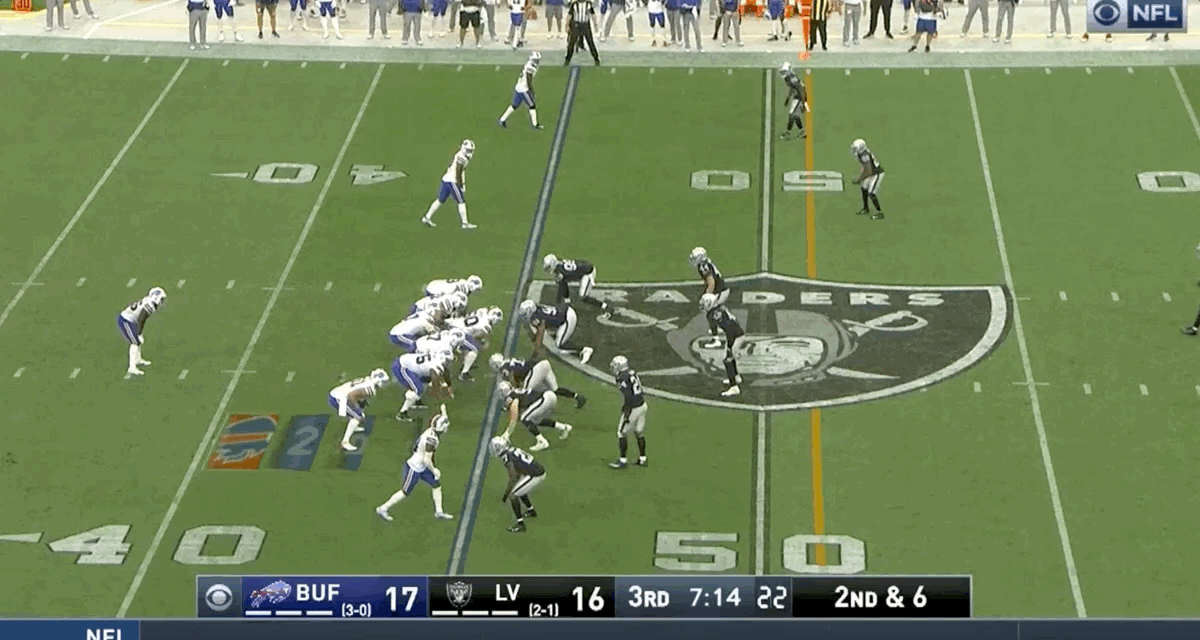 He's presented with a perfect opportunity to make a tackle, but he comes flying in with his head down and arms at his side, looking for the big hit instead of wrapping his man up, causing him to slide right off the ball carrier and out of the picture. It's another missed chance at fantasy production.
CONCLUSION
I don't want to say Littleton is a bad linebacker because we have certainly seen enough positive play from him over the past couple of years to know that he is quite capable of raising his level of play. However, he has performed quite poorly so far in 2020. 
And it isn't just one facet of his game in which he's lagging behind — it's seemingly all of it. To the best of my abilities, I've tried to gather enough evidence to find a reason behind this sudden and significant dip in play, but with so many different aspects of his game declining, it's hard to pin this on anyone but Littleton himself. We can talk about scheme or being unlucky on certain plays — and that has played a small part — but overall, Littleton needs to use his bye week to hopefully get right and clean up a lot of these mistakes.
The snaps are there for Littleton to make a similar impact that we've come to expect from him in previous years, but if play like this continues, it could only be a matter of time before IDP managers — and the Raiders as a team — decide that it's time to move on from a former top-10 fantasy linebacker.