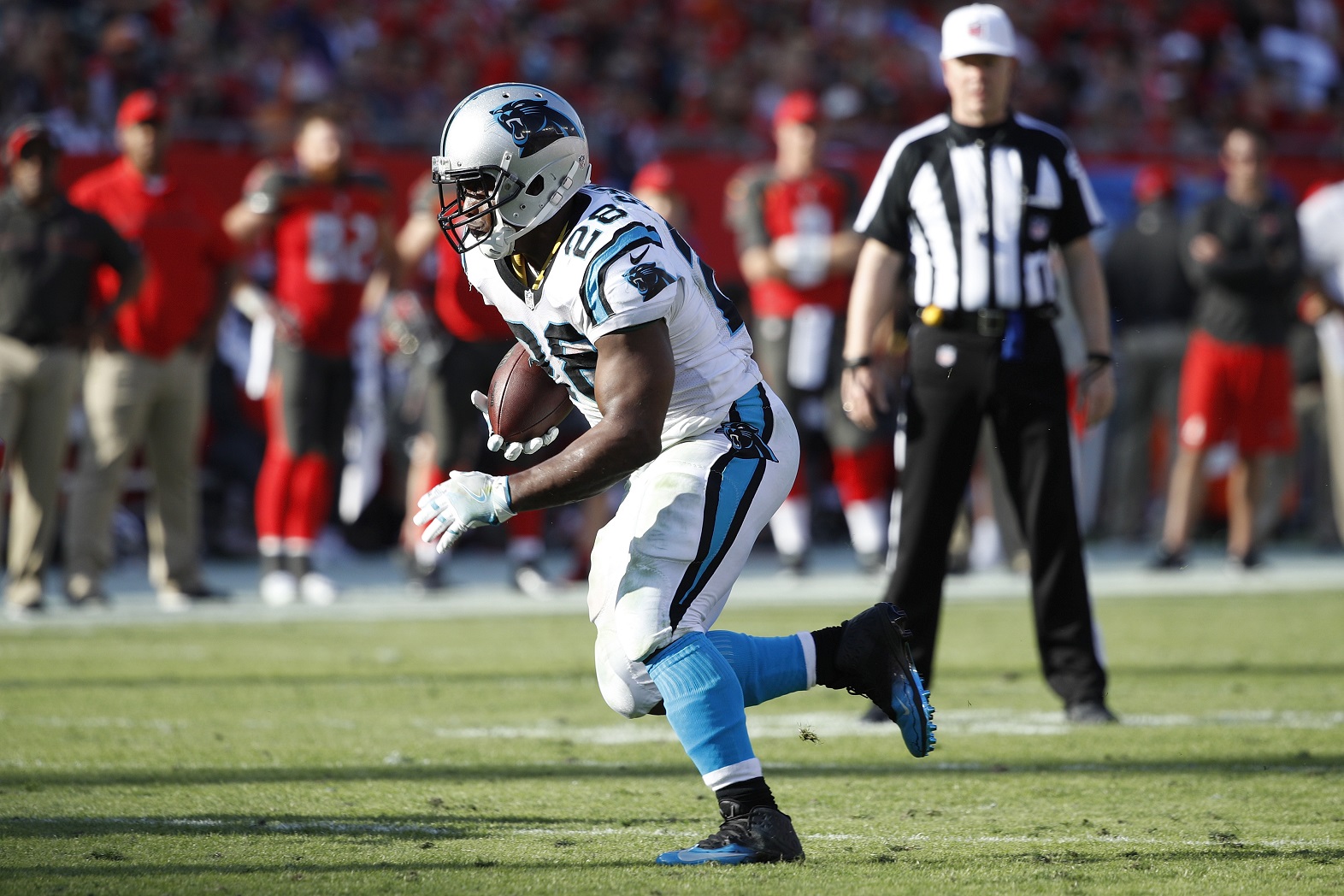 TAMPA, FL - JANUARY 01: Jonathan Stewart #28 of the Carolina Panthers runs with the ball during the game against the Tampa Bay Buccaneers at Raymond James Stadium on January 1, 2017 in Tampa, Florida. The Buccaneers defeated the Panthers 17-16. (Photo by Joe Robbins/Getty Images)
(Welcome to PFF Fantasy's Bold Predictions Week. All week long, our writers will offer up the boldest of predictions for the season to come. It's easy to say Aaron Rodgers will be good; it's harder to say Mike Glennon will be the No. 1 quarterback. Not that anyone is guessing that, but you get the idea. Check back all week for more.)
Bold predictions are fun to make, mostly because you can peacock the correct ones and whistle past the misses like an unclaimed fart. The tricky part is toeing the line between a bold-but-realistic stance, and a self-promotional "hot taek." At least it is for some people.
Below you will find a prediction for each team, with some naturally bolder than others. Almost all are rooted in some form of logic, if not necessarily the most logical kind. Except for Pittsburgh, which basically is rooted in, "I don't know. He's probably due."
Enjoy, and please remember to forget to check on these in January.

Carson Palmer and Larry Fitzgerald will go from top-12 scorers at their positions in September, to barely usable fantasy assets for the rest of the season. Their calcifying bones and increasingly tough schedule factor here, but a highly questionable pass-blocking line and a notoriously pressure-sensitive passer matter even more.

Austin Hooper out-produces all non-Julio-Jones Falcons pass-catchers in fantasy points and finishes as a top-12 tight end. Last year, 150 PPR points cleared both bars, albeit in a down season for tight ends. At his 2.6 points-per-target rookie-year pace, he'd need only 60 looks. Hooper will surpass that workload as the starter, giving a cushion for the inevitable efficiency regression.

Mike Wallace destroys his ADP for the second year in a row. While it won't be as dramatic as in 2016, his draft equity still has plenty of room to run. With over 150 wide receiver targets up for grabs from last year – and a truckload more at tight end and running back – Wallace will literally have his hands full (assuming Ryan Mallett's are holding a clipboard).
You must have PFF Edge to continue reading...