("Today's Crazy Fantasy Stat" is an occasional offseason offering from PFF that highlights something that catches our eye and aids in our preparation for the 2017 fantasy season.)
Murmurs around the draft world have increased in volume as the event approaches that the Jacksonville Jaguars may select a quarterback — either with their first-round pick (No. 4 overall) or in later rounds — as an eventual replacement for Blake Bortles.
A year ago, for better or worse, there were no such rumors, as Bortles was coming off of a season with an 80.3 PFF overall grade, 4,428 passing yards, and a 35:18 TD:INT ratio. For fantasy players, that was good enough to be the No. 4 performer for the season, behind only Cam Newton, Russell Wilson, and Tom Brady. Nobody thought Bortles was a future superstar, but at the least, no one had the Jaguars looking for a replacement quite yet.
This past season, though, told a different story. Bortles' overall grade fell to 52.9, his passing yards to 3,905, and while he threw two fewer interceptions, he also tossed 12 fewer touchdowns. For fantasy, he went from the No. 4 quarterback to the No. 9, and a big chunk of that was his durability, as Bortles played all 16 games — his fantasy points-per-game average was only 15th in the league.
(Subscribe to all our fantasy content, or get everything PFF offers with an All-Access subscription.)
So what changed? What took Bortles from being a fantasy league-winner in 2015 to a guy going 22nd at the position in early fantasy drafts (per Fantasy Football Calculator) and a quarterback whose team might pick his replacement in this weekend's draft?
I pulled Bortles' rate stats for a whole mess of categories over his three-year career and checked his ranking each season in each stat:
Blake Bortles ranks in rate stats
2014
2015
2016
NFL passer rating
27th
22nd
26th
Completion percentage
23rd
25th
27th
Average depth of target
37th
7th
18th
% yards in the air
26th
7th
21st
Accuracy percentage
23rd
25th
24th
Yards/attempt
26th
15th
27th
Deep-ball passer rating
25th
5th
27th
Deep-ball accuracy %
24th
6th
27th
Passer rating under pressure
27th
24th
25th
Accuracy % under pressure
25th
25th
16th
Passer rating without pressure
27th
17th
27th
Accuracy % without pressure
23rd
21st
28th
As an overall passer, Bortles has never been particularly good. His accuracy percentage was at its worst during his best season. His passer ratings, play-action stats, pressure stats, and — goodness, most everything — were just as "good" when Bortles was good as when he was bad.
But man, those deep-ball stats.
In 2015, when Bortles was successful, his deep-ball (balls targeted 20-plus yards downfield) accuracy percentage was among the league's best, as were his deep passer rating and percentage of yards in the air. Those are all, unsurprisingly, connected. It seems that where Bortles' deep-passing skills go, so goes his fantasy value.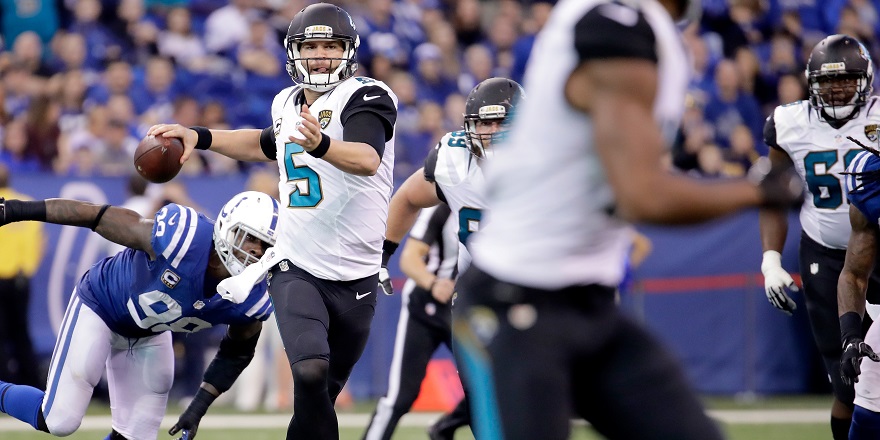 It also helps explain the increased struggles of Bortles' top receivers, namely Allen Robinson and Allen Hurns, in 2016. In 2015, Jacksonville receivers had 84 deep targets, and 41 of them (48.8 percent) were deemed catchable. In 2016, those numbers dropped to 64 and 15 (23.4 percent). Robinson alone dropped from 672 yards and three touchdowns on deep targets in 2015 to 108 and 0 in 2016.
And so, just as it was with Doug Martin and elusiveness, we must ask how consistent a quarterback's deep-ball passer rating is, year-over-year. The answer? Well, it's not. Over the last decade, the correlation between a quarterback's passer rating on deep balls one year to the next is 0.0137 — or basically no correlation at all.
So what does this mean? Well, to me, it means that deep-ball prowess is gravy. As I noted when I discussed Matt Ryan, his work on the deep ball took him from a competent fantasy quarterback most of his career to a superstar in 2016. It did basically the same, on a slightly lower level, for Bortles in 2015. But it doesn't appear to be trustworthy.
For Blake Bortles, 2015 was a culmination of several things working at once. The biggest one of all was his success on the deep ball. And that's unpredictable. Is there a high-end fantasy QB1 in Jacksonville? Maybe. But is there a reliable one? Probably not.