Players go bust in fantasy football every year. Sometimes it can be a complete surprise where a large segment of the fantasy playing public simply misses on a guy, like Terrelle Pryor in 2017. Other times, the writing is on the wall. It's never easy to peer into the crystal ball and predict the future, but there are nine players who stand out for various reasons as the biggest fantasy football busts candidates for 2019 to avoid at their current ADP.
Quarterback
(ADP 6.07)
If he was fully healthy, there's no doubt that Luck should be one of the top three quarterbacks selected in all drafts. Unfortunately, the Colts signal-caller is dealing with a mystery lower leg injury that has sidelined him throughout training camp. With no return in sight, the possibility that Luck misses regular season time grows by the day. While this injury doesn't sound anywhere as severe as the one that caused him to miss 2017, Luck is becoming a very risky fantasy option with major downside.
(ADP 7.10)
We don't have any injury concerns with Brees, but we do need to take into account the changing offense in New Orleans. Gone are the days when we could almost ink Brees in for 5,000 passing yards. Today's Saints are much more run heavy, and that means significantly more week-to-week volatility for Brees. He finished as the No. 8 fantasy quarterback last year, but it was a wild ride throughout the season. Brees has six top-three weekly finishes but was also outside of the top-10 nine times. And from Weeks 12-15, he ranked just 23rd among quarterbacks in fantasy scoring.
Running back
(ADP 2.11)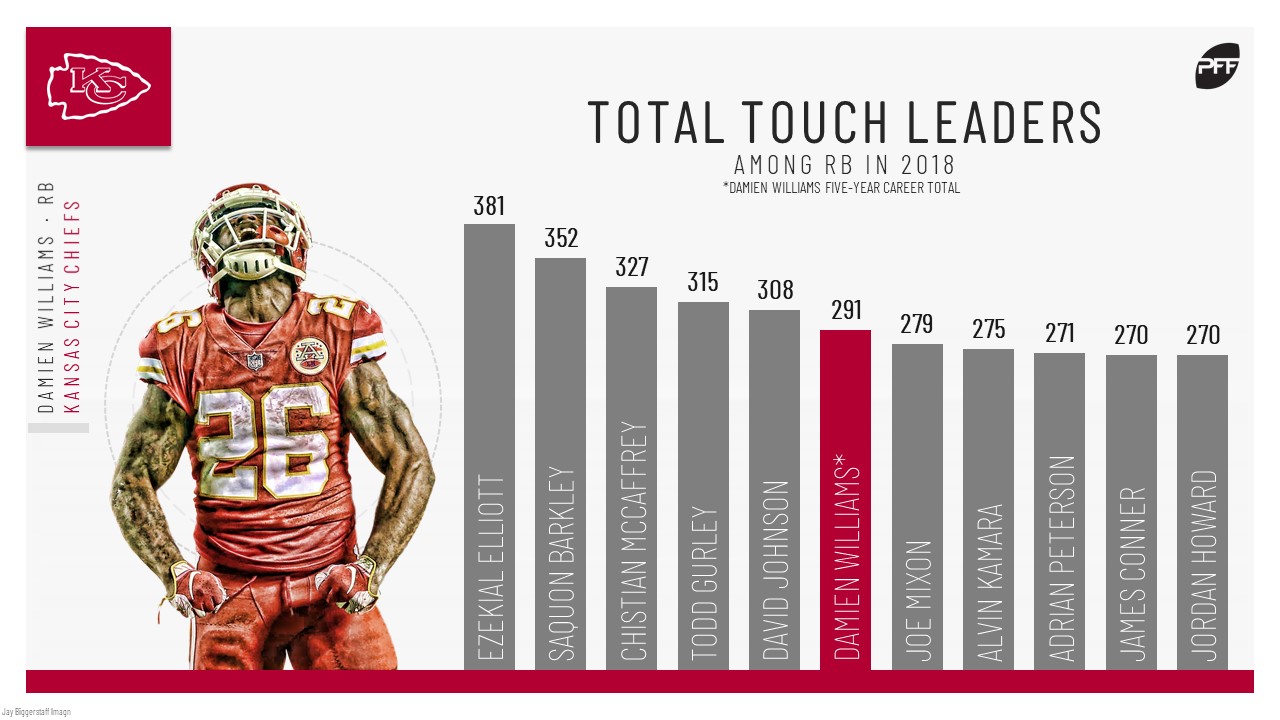 He's one of the sexier names at running back heading into the fantasy draft season, but fantasy drafters need to get a full sense of Williams before considering him in the second round of drafts. Sure, he was dynamic down the stretch, but we've seen this out of running backs in the past. James Starks looked like a future standout when he got the nod for the Packers at the end of the 2010 season. He rumbled for 315 yards in the playoffs and was a key part of their Super Bowl winning run only to never really amount to a viable fantasy option. That's not to say Williams is the next Starks, but we shouldn't overvalue production on a small sample size. In fact, Williams' 50 carries last season was his career high. There's certainly upside with Williams in 2019, but he's far from a sure thing.
(ADP 3.04)
Last season, the impossible happened when Le'Veon Bell sat out the entire year due to a contract dispute. The fact that this has now happened once means we could see it happen again. While Gordon's contract situation isn't the same as Bell's last year, he is in a holdout situation that could very well spill into the regular season. As anyone who drafted Bell last year will tell you, this is extremely risky territory for fantasy purposes. Drafting Gordon at his current ADP is a major risk given the fact that we simply don't know when his holdout is going to end.
(ADP 6.05)
If you're looking for fantasy upside, Miller isn't your best bet. The veteran back has scored just six combined touchdowns in each of the last three seasons and he hasn't topped 1,000 rushing yards since 2016. Over that span, Miller has just six top-10 fantasy weekly finishes in 44 games played. To make matters worse for fantasy purposes, the Texans' addition of Duke Johnson should take receiving work off Miller's plate. He's caught at least 25 balls in each of the last six seasons, but that number will likely go down this year.
(ADP 8.04)
No matter what Howard does, there still seem to be fantasy players who want to believe in him for fantasy purposes. Last season, the writing was on the wall for a decline in production. The two-down back simply wasn't a fit in Matt Nagy's offense, and he dropped from the 13th fantasy running back in 2017 to No. 20 last year. While that isn't terrible, keep in mind that Howard only produced those modest fantasy numbers because he saw 250 carries. He was inefficient on those carries with just 3.7 yards per carry despite seeing subpackage defense on 82% of his totes. This year, Howard swaps jerseys, but is playing in a very similar Andy Reid-inspired offense in Philly. He'll also share the backfield with upside rookie Miles Sanders. Don't be fooled by Howard again this year.
Wide receiver
(ADP 3.01)
Yes, he's the fantasy football G.O.A.T. wide receiver, but Brown's offseason has been a string of red flags. It started with the contentious trade demands that ultimately landed him in Oakland. We then had the bizarre frostbite incident with his feet. And last week, we had Brown's grievance with the NFL regarding his helmet. Of course, when he gets on the field, all of this could be water under the bridge, but these red flags could also be a signifier that he's a major fantasy risk. Given all of these warning signs, it's tough to recommend drafting him at his current ADP.
(ADP 4.01)
Fortunately, we don't have any strange red flags with Edelman. The Patriots wideout is coming off a rock-solid 2018 campaign where he was an instrumental part of New England's Super Bowl championship. He's also in an optimal position for target volume, given the fact that the Patriots are thin on pass catchers entering the season. That said, the concern with Edelman is his age. At 33 years old, he's certainly approaching the twilight of his career. And at wide receiver, the falloff can happen quickly. Jordy Nelson was an elite fantasy wideout in 2016, and then became essentially unstartable in 2017. That was his age-32 season.
Tight end
(ADP 7.08)
After four disappointing seasons in Detroit, the former first-round pick finally broke out last year. Ebron emerged as Andrew Luck's favorite red zone target and saw a massive 18 end zone targets. That tied for the second-most in the league. Ebron converted 10 of these targets for scores on his way to a long-overdue breakout season. While it's easy to like his 2018 production, we also have to keep in mind that the Colts brought in Devin Funchess, who could see some red zone work this year. Likewise, a healthy Jack Doyle will eat into Ebron's target share. Oh, and that Luck guy needs to be healthy as well. That's three strikes right there for Ebron, which makes him arguably the riskiest fantasy pick among the top 10 tight ends.