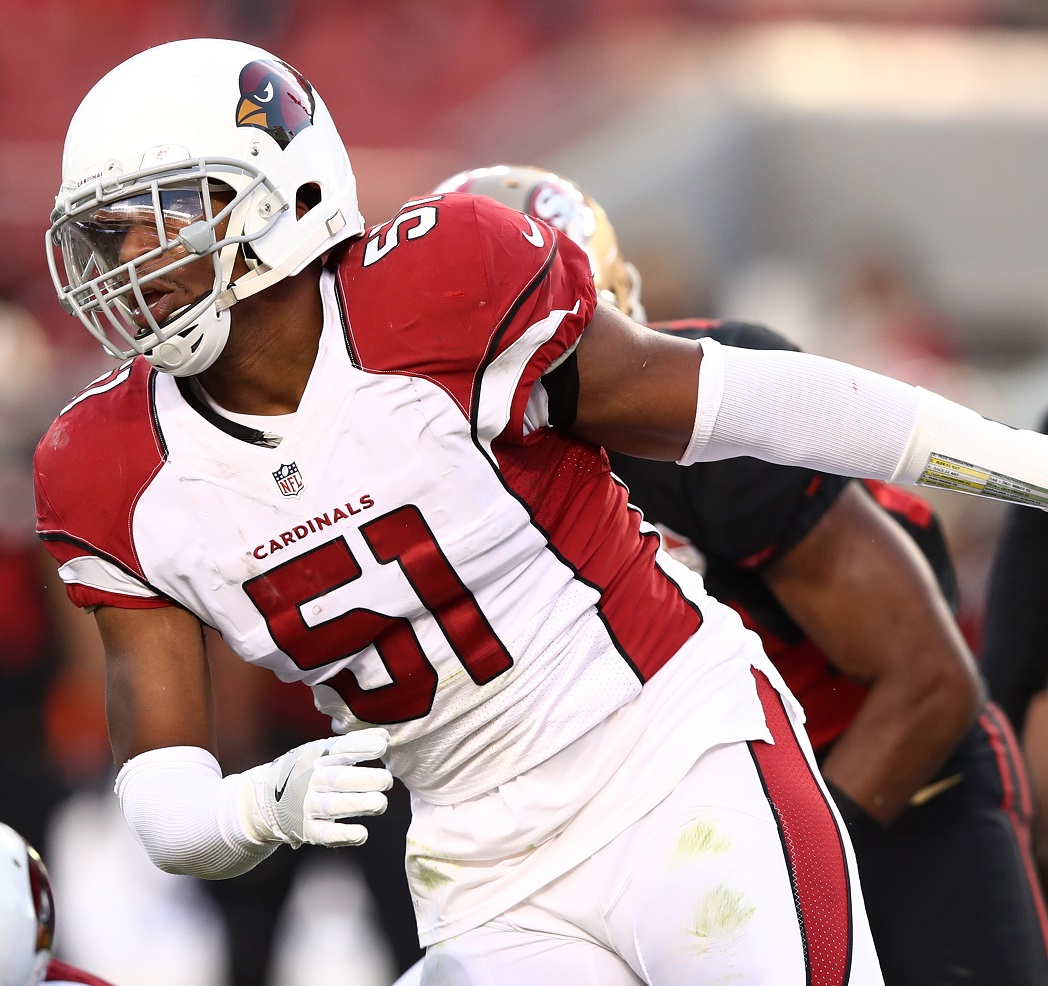 SANTA CLARA, CA - OCTOBER 06: Kevin Minter #51 of the Arizona Cardinals reacts after a play against the San Francisco 49ers during their NFL game at Levi's Stadium on October 6, 2016 in Santa Clara, California. (Photo by Ezra Shaw/Getty Images)
The free-agency period has hit the one-month mark and things have definitely slowed down. This allows us time to catch our breath and take a closer look at the transactions from an IDP standpoint. More importantly, it allows us to look for some sneaky-good fantasy options that may have flown under the radar and offer excellent upside.
From an IDP perspective, these players may not be the biggest names to have changed teams so far this offseason, but they now find themselves in the perfect position for breakout seasons. This time of year it's of the utmost importance to stay ahead of the curve as the IDP landscape is constantly changing. These are names to keep in mind as initial rankings are being out together.
Kevin Minter, LB, Cincinnati Bengals
The Bengals got younger at the linebacker position when they allowed 35-year-old Karlos Dansby to leave via free agency and signed the 26-year-old Minter. It took Minter a few years to earn a full-time role in the Cardinals defense after playing only 345 snaps in his first two seasons but he's made the most of the increase in playing time. Minter has averaged over 1,000 snaps in the past two seasons and put up 175 total tackles. He also began flashing big-play potential in 2016 posting a career high 3.5 sacks.
Minter is in line to replace the recently released Rey Maualuga as the starting middle linebacker and unlike Maualuga play a three-down role. That will translate into nice tackle numbers and big-play opportunities on passing downs. Another reason IDP owners should be high on Minter is the fact he could slide over and play the weakside should Vontaze Burfict miss time. Over the last three seasons Burfict has missed 22 regular season games with due to concussions, suspensions as well as knee issues.
Jelani Jenkins, LB, Oakland Raiders
I will freely admit that Jenkins was a player that I kept a close eye on when free agency kicked off. Still only 25 years old, Jenkins has suffered through a couple of injury-plagued seasons after a breakout campaign in 2014. In that season Jenkins put up 83 solo tackles along with 3.5 sacks and a pair of forced fumbles while playing 912 snaps in 15 games. In the next two seasons he would play a total of 1,088 regular-season snaps due to ankle, groin, and hand injuries while missing 10 games.
You must have PFF Edge to continue reading...