Estimated reading time: 4 minutes
---
In most fantasy football leagues, the trade deadline is either the end of this week or next week. Therefore, let's discuss five players who deserve trade consideration — whether it's trading for or trading away — particularly if fantasy managers are already in a good position for the playoffs. Each of these players has particularly good or bad matchups once the fantasy playoffs hit.

---
Etienne's string of great games came to a halt, as he gained 45 yards on 11 carries with no touchdowns in Week 10.
He remained Jacksonville's clear lead back in nearly every situation, and that is unlikely to change this season, barring an injury.

Jacksonville's biggest problem was the game script — down by 20 points at halftime.

The Jaguars have a bye next week, so a fantasy manager desperate to make the playoffs might be more willing to make a deal if they need to win in Week 11.

Jacksonville has the sixth-easiest remaining schedule for running backs, including a Week 17 matchup against the

Houston Texans

, who have allowed the most fantasy points to running backs.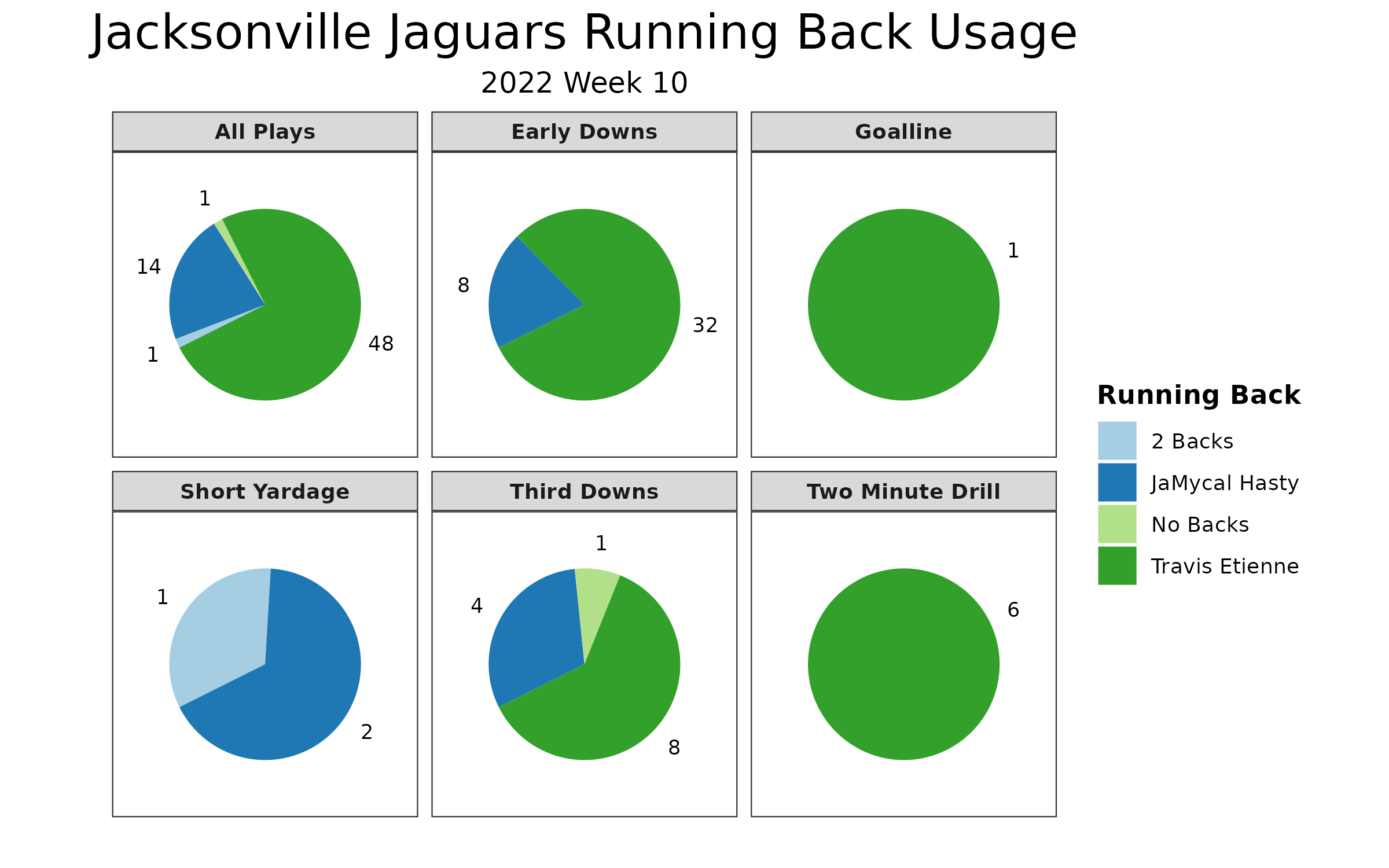 ---
The potential-Pro Bowler put together a solid 78 yards and a touchdown performance while also finishing with a season-high six receptions in Week 10.
Jacobs ranks fourth in rushing yards this season at 820. He similarly ranks fourth in touchdowns at seven.

His 53 avoided tackles are the second-most among running backs.

The Raiders' problem is that they face one of the worst stretches for a running back during the fantasy playoffs. Two of his three games are against the

San Francisco

49ers

and

New England Patriots

, which are also the top-two teams at preventing fantasy points to running backs.
---
Duvernay saw an increased role due to Rashod Bateman landing on injured reserve, which will leave him out for the rest of the season.
This only left Duvernay with one catch for five yards in Week 9 prior to the Ravens' Week 10 bye.

His 74.0 overall PFF grade is much higher than the previous two seasons. He's played well on his limited targets.

The Ravens face the

Atlanta Falcons

and

Pittsburgh

Steelers

during the fantasy semifinals and finals. Those two teams have allowed the most fantasy points to wide receivers this season.

He is still available in plenty of leagues, so it's possible to add him off the waiver wire depending on league size. If he is taken, it shouldn't take much to trade for him, as he could be a "throw-away" player in a bigger deal.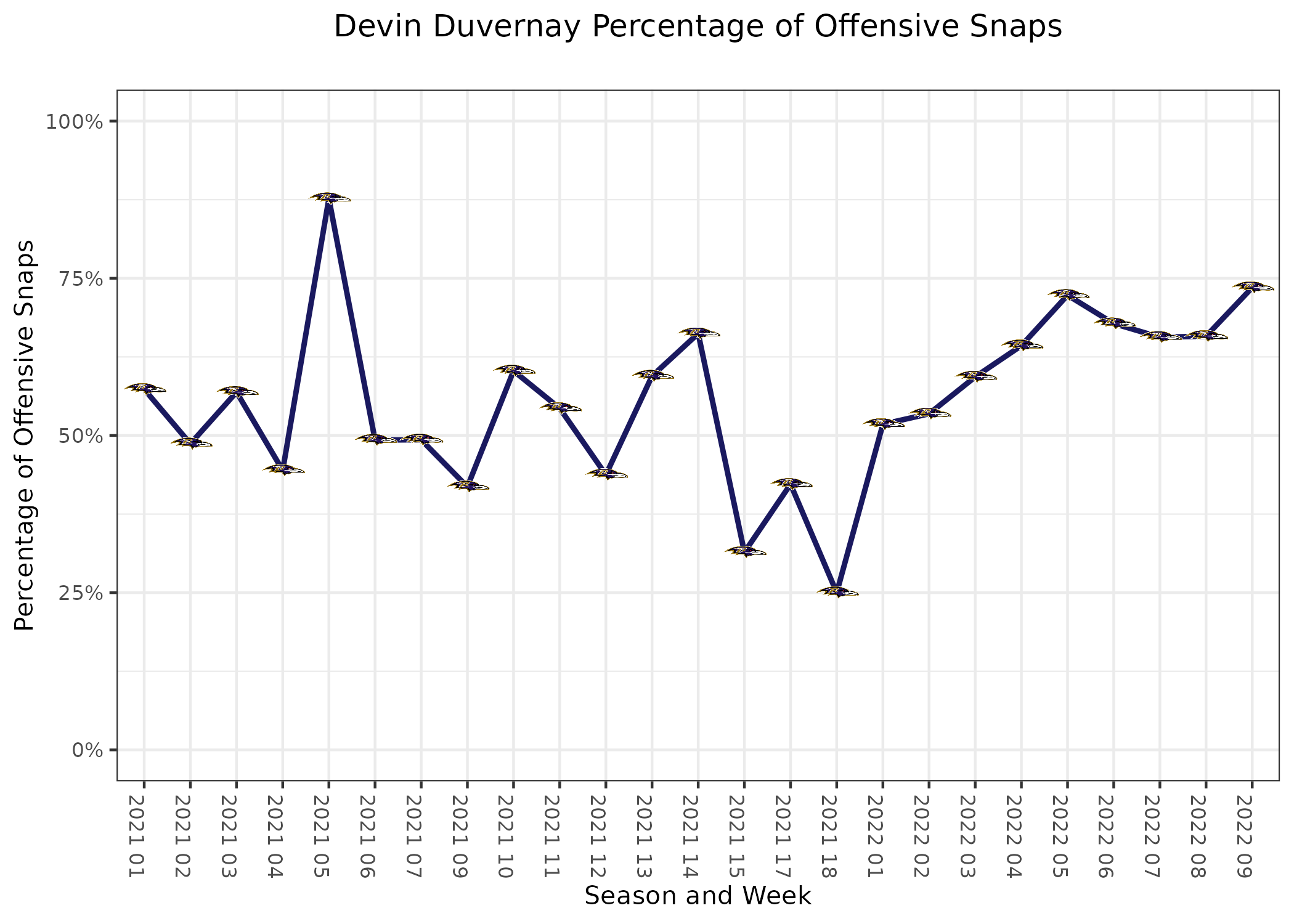 ---
Smith-Schuster ranks 12th in fantasy points per game by a wide receiver since Week 6.
The Chiefs' schedule from Week 14-17 includes the Texans,

Seattle Seahawks

and

Denver

Broncos

twice. All three of those teams are among the top five at preventing fantasy points to wide receivers.

Some of those games will also likely be clear victories for the Chiefs, so they should be able to run the ball throughout the game.

He is in concussion protocol, which will make him a little harder to trade.

It's worth trading any Chiefs wide receiver on your fantasy roster.
---
Kittle is coming off his worst game of the season with one catch for 21 yards.
He's played 100% of the team's offensive snaps in his last two games.

He scored touchdowns in his previous two games.

Kittle's 10 catches of 15 or more yards are tied for fifth-most among tight ends this season.

Two of his three games in the fantasy playoffs are against the Seahawks and Raiders, who have allowed the most and fifth-most fantasy points to tight ends this season.