One thing that separates the elite fantasy football owners from the pack is the ability to accurately assess rookie players. For example, almost everyone expected Saquon Barkley to be one of the top rookies last year, and some even expected him to lead the league in fantasy scoring. Phillip Lindsay, however, was not even the highest-drafted rookie on his team last year yet finished the season behind only Barkley in terms of the most PPR points by a rookie. That's not to say only the sharps nailed the Lindsay pick, because no one did, but it's worth paying attention to the new guys. With an impressive crop of rookies set to take the field, here are five rookies who will impress and five who will disappoint in 2019.
Rookies who will impress
With Pierre Garcon now out of the picture, Samuel will be competing against the likes of Kendrick Bourne, Marquise Goodwin, and Dante Pettis for targets. A total of 182 passes targeted one of those four receivers last season for a total of 116 receptions (63.7%), 1,635 yards (8.98 yards per target), and 14 touchdowns. If Samuel can bring the same playmaking ability that allowed him to gain 9.5 yards after the catch per reception during his final year at South Carolina, which was good for fifth among draft-eligible WRs in 2018, his ceiling could have fantasy owners licking their chops.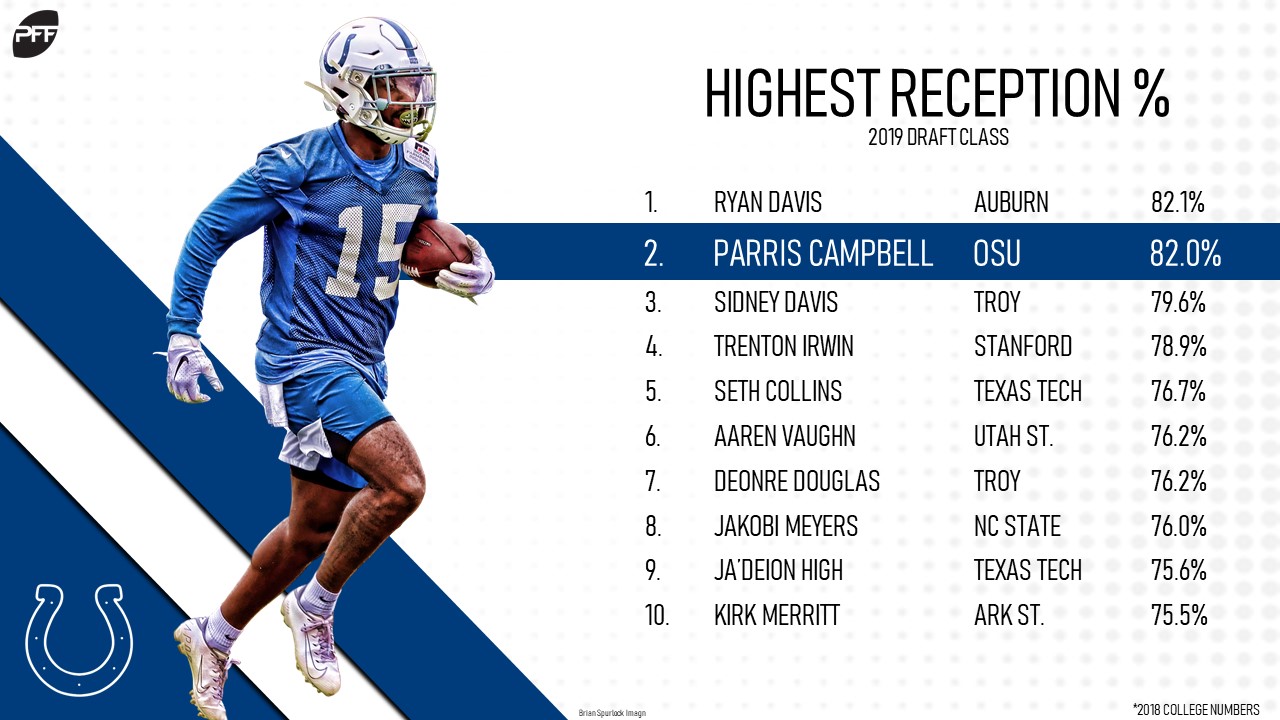 Campbell is the definition of a safe pickup — not only is he entering a pass-happy offense with the Colts, but he will have Andrew Luck (hopefully healthy) throwing to him and should face little competition for the primary slot wide receiver role. After finishing his college career with the Buckeyes as one of the best slot receivers in the nation, Campbell could scarcely have found a better fit. After catching 82% of balls thrown his way last year, he could prove to be a favorite target of Luck almost immediately.
With the departure of Jordan Howard, the Chicago offense will have about 250 carries up for grabs, and after drafting Montgomery 73rd overall, no doubt will receive most of them. While Tarik Cohen may be listed as the team's started running back, the 5-6, 180-pound back simply is not built for a workhorse role like Montgomery is. Even with averaging just 3.74 yards per attempt last year, Howard was still able to put up 182 PPR points, 20th among RBs. If Montgomery can manage to find similar production, he could very likely finish the season as the top rookie running back in PPR formats thanks to volume alone.
While the other new member of the Ravens backfield, Mark Ingram, is set to start the year atop the depth chart, Hill will still see his fair share of carries thanks to the team's sure-to-be-prolific rushing attack. Through the final eight games last season, the Ravens carried the ball a whopping 316 times, easily most in the league. Should Ingram get injured or begin to decline, Hill will be an instant RB1 with a high ceiling thanks to volume. Even if Hill remains the backup, his projected volume still warrants him being rostered in most formats.
Murray has a lot to prove before he is considered safe bet for fantasy purposes, but his extreme upside and ability to make big plays out of nothing have him in the conversation for top fantasy rookie in 2019. While college production does not always indicate success at the next level, it is hard to ignore Murray's 8.1 rushing yards per attempt last year at Oklahoma. Not only did he lead all draft-eligible QBs in YPA, but his 3.4 YPA after contact was second among the same group. If he faces trouble as a passer, his athleticism and creativity will allow him to extend plays using his feet, which could lead to a fantasy goldmine.
Rookies who will disappoint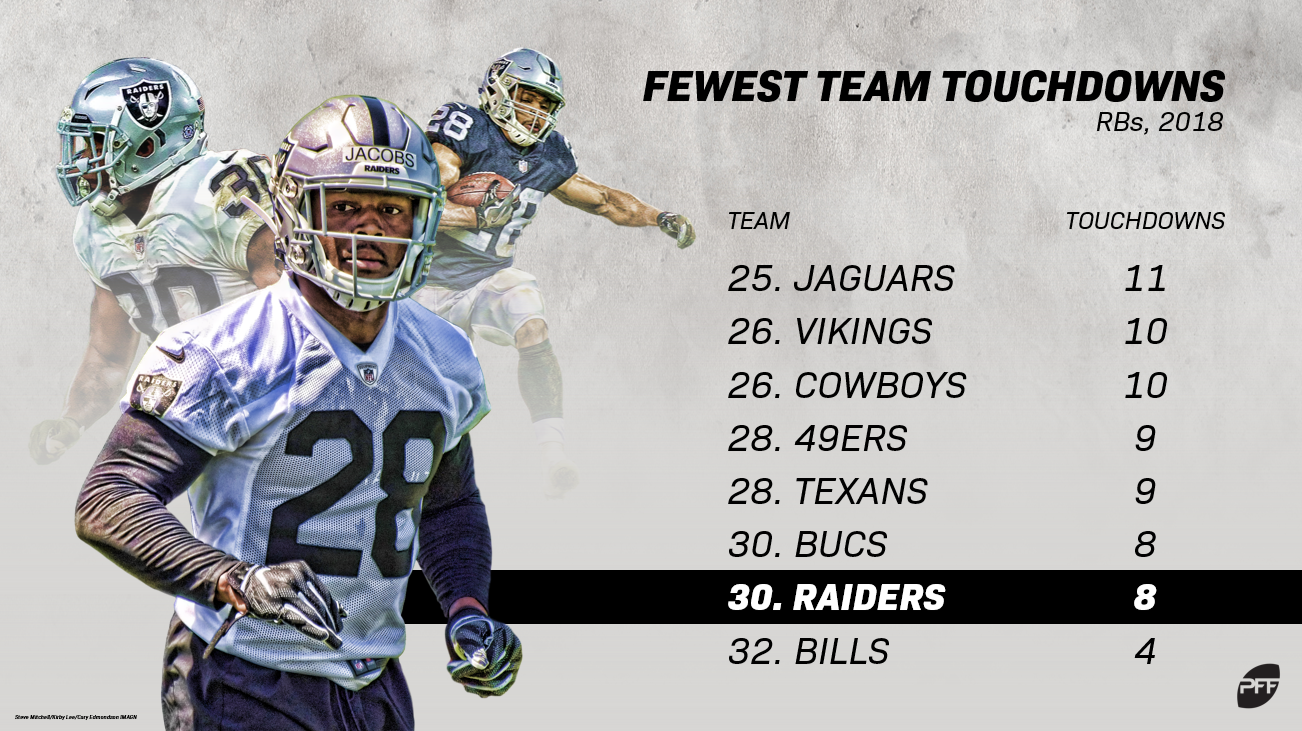 Atop most rookie rankings you'll find this former Alabama superstar. While Jacobs is a name that you should keep an eye on, it might be hard for him to live up to the expectations that are being placed on him. The 21-year-old will have plenty of time to blossom under Jon Gruden, but in a backfield shared with Doug Martin and Jalen Richard, who combined for 1,705 total yards last year, should he begin to struggle, Jacobs may not see the volume of carries expected from many fantasy owners. Another concern with Jacobs is the lack of touchdowns from Oakland RBs in recent years. In 2018, the Oakland backfield (primarily Martin, Richard, and Marshawn Lynch) combined for just eight total touchdowns, making Jacobs a volume-dependent fantasy option.
Like Jacobs above, Harry enters his rookie season on a team that likes to spread the ball around. In 2018, Tom Brady was especially generous about spreading out the touchdown passes. While Harry will have a somewhat high floor thanks to the New England offense, his ceiling will also be quite limited just due to the number of mouths to feed. Assuming Julian Edelman stays atop the depth chart, it is hard to imagine a world where Harry outscores his draft position.
With the recent re-signing of Darren Sproles and the trade for Jordan Howard earlier in the offseason, the Philadelphia locker room has too many talented running backs to keep track of. On top of that, the Eagles brought back DeSean Jackson to pair with a healthy Carson Wentz and the team has two talented pass-catching tight ends in Zach Ertz and Dallas Goedert. Sanders will almost certainly have a huge game or two that keeps everyone talking, but the unpredictable approach of the Philadelphia offense will keep him as a mere fantasy handcuff unless and until Howard is out of the picture.
The good news for prospective Metcalf investors is that Doug Baldwin has retired and that means there should be 70 or so targets up for grabs. The bad news, however, is that even Baldwin was only able to muster 618 yards and 5 touchdowns last year. Another concern for Metcalf is the low volume of targets he saw in his days at Ole Miss. He had 67 receptions, 1,228 yards, and 14 TDs at Ole Miss … in three years combined. Metcalf is an intriguing player but is better left a free agent for his first year with the Seahawks.
It's hard to feel excited for Hockenson owners after watching the Lions target the tight end position just 65 times in 2018. While Hockenson should prove to be an instant upgrade at the position, unless he can find an instant connection with Matthew Stafford, the rookie TE will have to compete with the likes of Kenny Golladay, Marvin Jones Jr., and Kerryon Johnson for targets on a team that struggled to possess the ball at times last. Hockenson could be a name to watch as playoffs approach but will likely begin his career in Detroit at a slow pace.