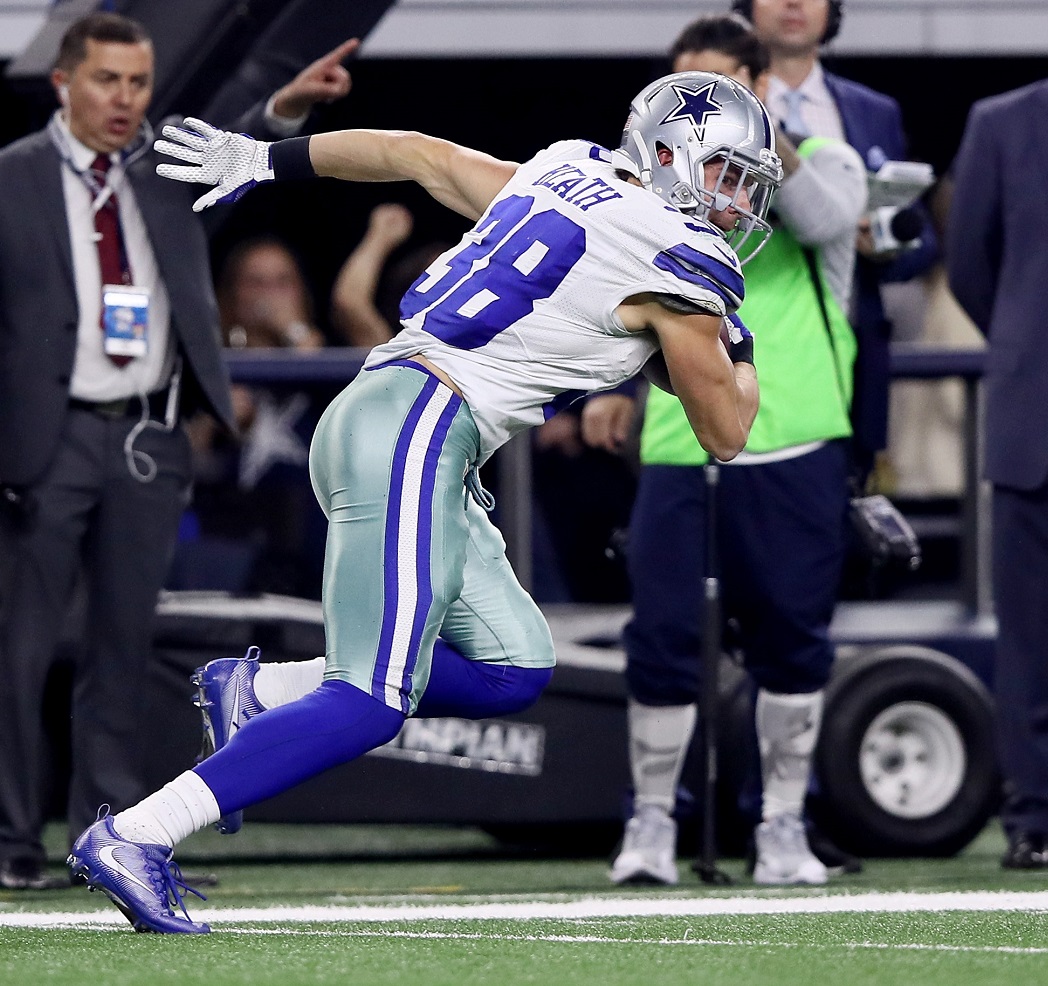 ARLINGTON, TX - JANUARY 15: Jeff Heath #38 of the Dallas Cowboys runs with the ball after making an interception in the second half during the NFC Divisional Playoff Game against the Green Bay Packers at AT&T Stadium on January 15, 2017 in Arlington, Texas. (Photo by Ezra Shaw/Getty Images)
With the NFL Draft just about a week away, free-agent movement has slowed to a trickle. So with the majority of moves behind us, today I'm going to look at what folks like to call IDP's trickle-down effect of the free-agency period.
When a player decides to move on to greener pastures (or perhaps retire), we need to keep in mind that there will be ramifications to their former teams. There will be holes that need filling on defenses and that can't always be done just through the draft.
Below are some players I feel have the best opportunities to step into full-time (or at least bigger) roles that will translate into bigger fantasy potential. These are names to jot down now and keep an eye on during OTAs and training camp. Then if things play out as I expect, the savvy IDP owner will be ready to snag these players on fantasy draft day.
Jeff Heath, S, Dallas Cowboys
With the departure of both Barry Church and J.J. Wilcox via free agency, the door is wide open for Heath to land a starting safety spot for the Cowboys. Heath has been a standout on special teams in his first four seasons and will likely get the first crack at the strong safety position in 2017. Heath also brings some big-play potential, as he's managed to rack up three interceptions as well as four passes defended while averaging just over 200 defensive snaps over the last two years.
The most extended look we've had at Heath was back in his rookie season in 2013, when he played 613 defensive snaps — the majority of those snaps (595) came at strong safety. Heath finished the season with 47 solo tackles (60 total stops) while flashing that aforementioned big-play ability. He finished that season with an interception, a forced fumble, and a fumble recovery returned for a touchdown. He has the size to play in the box and lined up within 8 yards of the line of scrimmage 71 times in 2013. Given an expanded role, Heath is in line for a breakout season.
You must have PFF Edge to continue reading...