Best ball fantasy football has plenty of virtues, especially for those that love drafting above all else. For all of those virtues, though, a lot of it isn't that different from our season-long leagues. The top of the draft in particular. Sure, we can nitpick whether the guy who is the No. 1 receiver in season-long is the No. 1 in best ball, but it's not like a guy is going to be first in one and 32nd in the other. It's a variance of one or two spots at that level.
It's down lower where things get more interesting for best ball, and thus more important to parse differences for those playing. With that in mind, we're taking a look at positional sleepers in the best ball game, players who it might make sense to pounce on later in the draft, but earlier than you might be interested in them in redraft leagues. We'll be back around next week with a look at potential busts.
Today, tight ends. As was the case with quarterbacks, calling someone a true "sleeper" at a position like tight end can be a bit of a misnomer — a true sleeper is so deep that sometimes there's just no point. Some of these guys are barely sleepers, some are truly deep.
(Current PFF best ball rank: TE21)
Goedert had a perfectly acceptable rookie season for the Eagles, considering he was behind Zach Ertz on the depth chart. (My favorite stat of this offseason: Goedert had 90.4 PPR points last year. That's only so-so, of course — but it would be the best TE season by a Cardinals tight end over the last decade. They don't grow tight ends in Arizona.) Still, he averaged almost 3.0 targets a game and scored four touchdowns as the team's fourth or fifth receiving option. Now with a year of seasoning, he could have a smattering of big games again … and if something were to happen to Ertz, Goedert is as good a handcuff as there is in the league, running backs included.
(Current PFF best ball rank: TE22)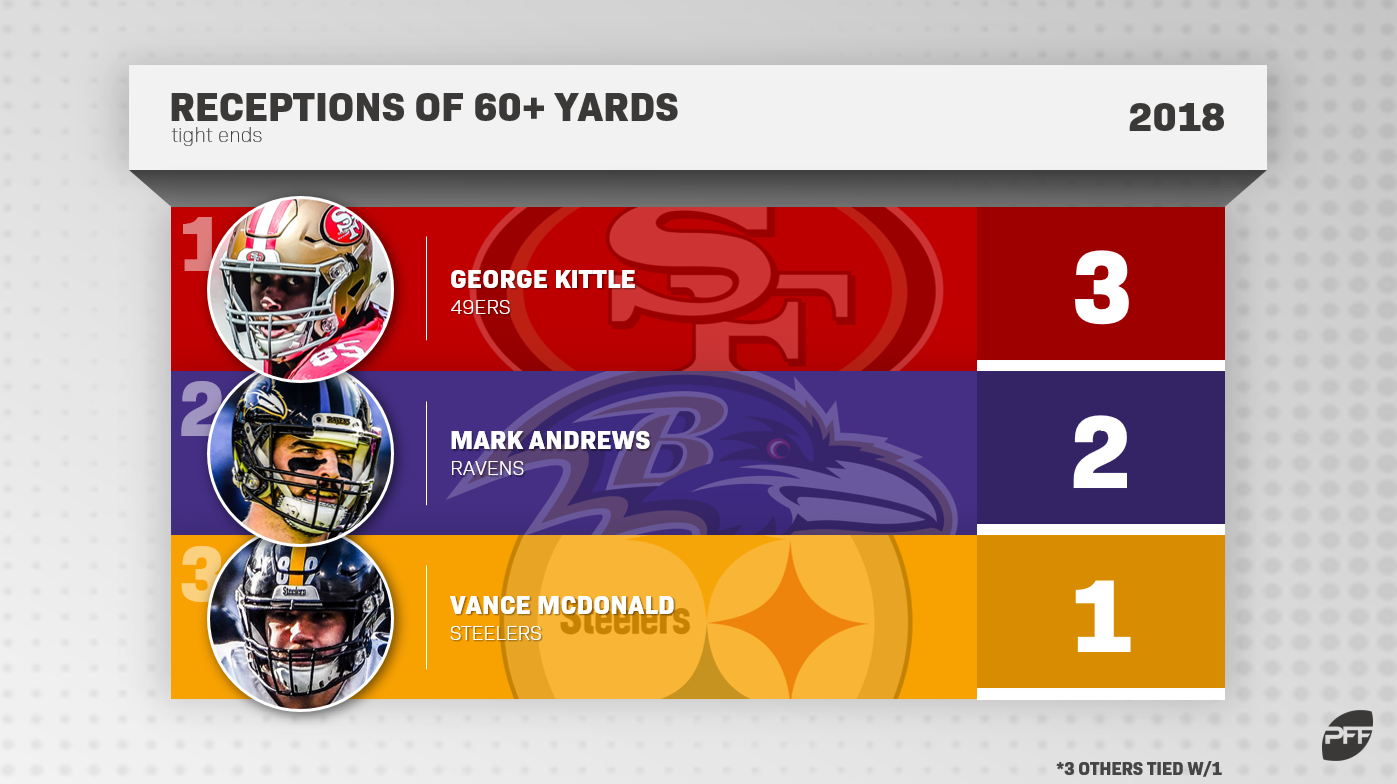 Andrews was a surprise as a rookie in 2018, putting up a 78.0 PFF receiving grade and finishing 17th in TE PPR points despite being part of the deepest TE depth chart in the league, with Baltimore fielding Andrews, Hayden Hurst, Maxx Williams, and Nick Boyle. His specialty was the deepest plays — as a position, tight ends had nine plays of 60-plus yards in 2018. George Kittle accounted for three of them, Andrews two. No other tight end had more than one. It only takes one play for Andrews to have a fantasy-relevant game — which is good, because he might not get much more than that with Lamar Jackson as his quarterback. But with the lightest WR depth chart in the league, Andrews has high potential.
(Current PFF best ball rank: TE23)
Gesicki had a more typical "rookie tight end" year than most of the second-year players on this list. He had a poor 50.7 overall PFF grade, struggled as a blocker, and only had 202 receiving yards with no scores. But he came into last season as PFF's No. 2 tight end on our draft board (behind only Goedert) and had a 563-yard, 9-touchdown final college year in 2017. The Dolphins don't have a very deep group of receivers, and as of now we don't even know the team's quarterback, but if Gesicki can develop at all, he has strong value.
(Current PFF best ball rank: TE30)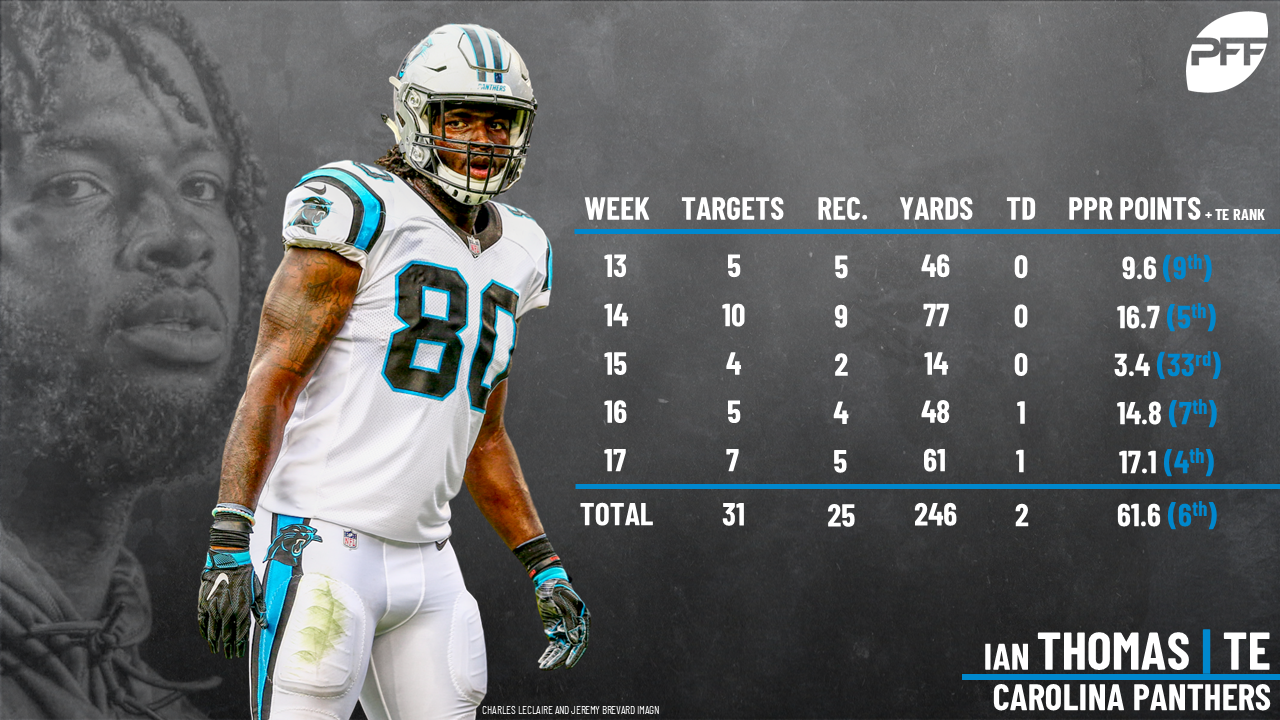 As of the time I'm writing this, we don't know what Greg Olsen's future looks like. There have been rumors he could retire and take the Jason Witten Monday Night Football role. If that happens, Thomas would immediately shoot up the draft boards. He was the No. 6 PPR tight end over the season's last five weeks in 2018 (ahead of Eric Ebron and Jared Cook, among others) after Olsen got hurt again. But even if Olsen returns, he's miles away from a sure thing at this point in his career. After playing every game from 2008 to 2016, Olsen has totaled 16 games combined over the last two seasons, and only has 482 yards and 5 touchdowns to show for those games. He might return in 2019 and not even be the Olsen we have grown to know over the years. Thomas could displace him even if Olsen sticks around.
(Current PFF best ball rank: TE35)
Butt was firmly in the TE2 radar early last year, with six receptions on eight targets for 77 yards in Weeks 1-2 before tearing his ACL (for the third time) in Week 3. Reports are he should be ready for training camp, and with the massive changing of the guard in the Denver offense, he has a high ceiling as one of the few options who has been there more than a year (especially if Emmanuel Sanders isn't ready for the start of the season, as seems likely). Butt could be a sneaky long-forgotten player if he can stay healthy.
(Current PFF best ball rank: TE49)
I don't think Dissly can repeat his first two weeks of 2018 in 2019, but then I didn't think there was any chance he could have done it in 2018 to begin with. He had six receptions for 147 yards and two touchdowns in Weeks 1-2 (and was the PPR TE3) as a rookie last year after 25 receptions total as a college player. Best guess is that Dissly would have faded hard the rest of the way and been the blocking tight end we expected him to be, and best guess is that's what happens to him in 2019. But you can get him essentially for free in drafts, and if there's any chance he does that again, it would pay off.